Red Sox bias? What Red Sox bias?
By
From ESPN.com's MLB homepage at approximately 12:30 a.m. on Thursday morning: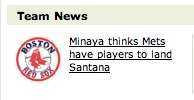 What does Omar Minaya's discussion about the Mets prospects have to do with the Red Sox? I know the Sox are interested in Santana, but please, ESPN, make a show of talking about some other team now and then.