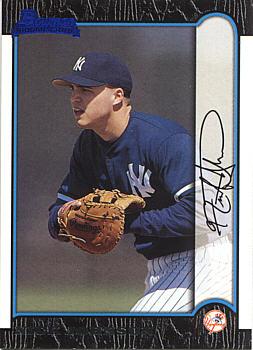 On Thursday afternoon, Joe sat in for a few hours at MLB Trade Rumors. On one of his posts, he pointed the way to this Washington Post piece about Nick Johnson's 16-month rehab for a horrible broken leg. Joe then told us how this is a rumor:
He'll be competing with Dmitri Young for the starting first base gig. Both are signed through 2009, with roughly the same salaries. But there isn't room for both of them on the Nats roster. Each has his pitfalls, making a trade difficult.

So what do you do if you're Jim Bowden? Johnson is the team's second highest-paid player, and Young is just a tick behind. Do you really let one of your top five highest paid players languish on the bench?
At around the same time, Mike, Joe and I all came up with answer to that question. What do you do if you're Jim Bowden? Why, trade Nick Johnson to the Yankees of course. The Yanks are an organization not afraid of paying a full salary and in need of a first-baseman.
After leaving New York, Johnson continued to do what he has always done: get on base and get injured. In 2006, before his collision with Austin Kearns, he seemed to be breaking out. Injury-free, he had 23 home runs in the über-pitching paradise of RFK Stadium and was hitting .290/.428/.520. That's a drool-worthy .948 OPS out of the first base position. The Yanks haven't seen that since Jason Giambi's 2006 campaign, and even then, he DH'd for much of that year.
The keys here of course are convincing the Nationals that they want to give up the younger Nick Johnson instead of the older Dmitri Young, settling on the other pieces of the trade and seeing that Nick Johnson is healthy. But, hey, we can dream, right?