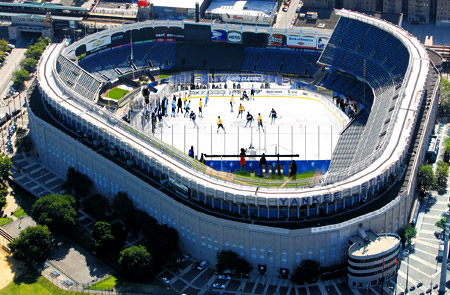 Not very much effort went into creating this photo illustration. (Courtesy of the Daily News)
In a perfect world, the last game at Yankee Stadium would be late in October this year. It would be Game 7 of the World Series, and the Yankees would of course emerge victorious. An ending like that would be an utter lovefest for the Stadiums; fans just wouldn't leave, and Frank Sinatra on repeat would be the Yankee Stadium swam song.
If my fantasy can't come true, no one other than the Yankees should be allowed to play the last live sporting event at Yankee Stadium. But if the Yankees and the NHL have their way, the New York Rangers may be the last local team to play in the House that Ruth Built, according to a report in the Daily News. John Dellapina has more:
The NHL is working with the Yankees' high command and representatives of the city to try to play a game at Yankee Stadium next winter. While there are plenty of logistical hurdles to clear, the principals are interested. "We'd love to do it," said Rangers GM Glen Sather, who is always up for a new hockey adventure.

Obviously, the NHL feels the same way. The Yankees might figure to be a bit hesitant about having the final pro sporting event at the old Stadium be a hockey game. But sources familiar with the discussions insist that the Bombers' brass is into it, with COO Lonn Trost serving as the Yankees' point man in discussions with the NHL.
The NHL has been inspired to search for other outdoor venues for games after a successful New Year's Day contest in the snow in Buffalo. Someone should probably tell the NHL that temperatures in New York in early January these days routinely reach into the lower- to mid-50s. That's hardly ideal weather for outdoor ice hockey.
While the Islanders and Devils now seem to be competing over who gets to play the Rangers in a hypothetical outdoor match-up at Yankee Stadium, I can't endorse this game. Yankee Stadium should go out with the Yankees. It shouldn't go out with a crowd watching an outdoor hockey game that's as much a marketing tool for the NHL as it is another regular season hockey game.
Hat tip to BBTF for this one.