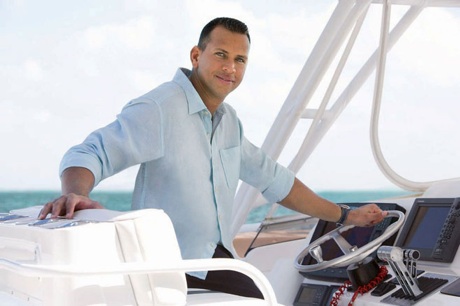 Nice boat. (Photo by Patrick Demarchelier/Men's Vogue)
Stop the presses! It's another tell-all A-Rod magazine piece. This time, it's written by self-professeed Red Sox fan and blogger Seth Mnoookin, and it appears in next month's issue of Men's Vogue.
Setting aside issues of objectivity — it's only a little fishy that a Red Sox blogger gets tabbed to write a cover story on Yankee poster boy Alex Rodriguez — Mnookin's piece is mind-numbingly the same for anyone who's followed the A-Rod Saga at all over the last few years. It starts out in October and rehashes the whole opt-out/falling-out triangle between A-Rod, Scott Boras and the Yanks. It backtracks to the early 1990s and follows A-Rod to Seattle, to Texas, to the Yanks, to the post-season where he struggled in 2007 and still managed to out-hit the rest of his teammates.
As the pieces drags on, it's obviously heading to the same place: A-Rod is a great baseball player, but he doesn't allow the public to see the Real Alex Rodriguez. Heaven forbid the man wants a little bit of privacy. A-Rod poses for photos; he answers questions by e-mail. But no one else wants to comment. While Mnookin tries to hint that this is some shortcoming of A-Rod's, I'd like to think it's a bunch of people attempting to respect the guy. The need to tear him down is overwhelmingly ridiculous.
Where Men's Vogue gets it right is in a sidebar piece about A-Rod's workout. I'm sore just pondering his routine.
But in the end, it's all the same. Maybe one day, we'll hear something new about A-Rod. We know Boras was a father figure; we know they don't talk; we know A-Rod and Derek Jeter had to bury the hatchet on some seven-year-old comments. Until someone finds something new on A-Rod, do we really need to keep reading this?