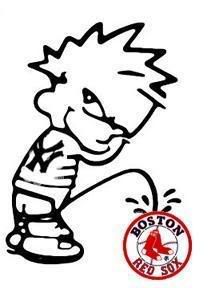 So how hot are the Yankees right now? They're so hot that they picked up a half-game in the standings during their off-day yesterday. They've won 11 of their last 14, outscoring their opponents 64-35 in the process, and they managed to shave a full six games off their deficit in the division race. And make no mistake about it, it's very much a race. The last 60 games of the season should be a blast.
Primo pitching matchup in that hideously ugly high school field where even the birds are unruly, as the wicked awesome Josh Beckett takes on Joba "ZOMG teh 8th inning!!!1!!1!!" Chamberlain. Joba's posted a 2.64 ERA since becoming a starter, good for 8th in AL, and he's held opponents to a .653 OPS against. Basically, he's turned everyone into Melky Cabrera (.654 OPS). How's that for some perspective?
Boston gets David Ortiz back in their lineup tonight for the first time since May 31st, but everyone should be paying attention to the Joba vs Kevin Youkilis matchup; those two have a bit of a history, most of which involves Youkilis whining like the bitch he is. Hopefully Joba gives him a little double-chin music tonight.
Remember guys, the only thing that matters is if you win or lose, not how you play the game.
1. Damon, DH
2. Jeter, SS
3. Abreu, RF
4. A-Rod, 3B
5. Giambi, 1B
6. Cano, 2B
7. Melky, CF
8. Molina, C
9. Gardner, LF
And on the mound, Joba "fist pumps show I care" Chamberlain.
Notes: I can't remember the last time the Yanks & Sox played a series this late in the season in which neither team was in first; hell, I don't even know where I'd go to look that up (it's probably this game though) … wanna talk trade rumors? then do it in this thread … there's going to be lots of comments this weekend, so please review our Commenting Guidelines before telling us how much you hate Dustin Pedroia … we Yankees' fans are going to deserve a medal after this weekend, we get Michael Kay tonight, Buck & McCarver tomorrow, then Joe Morgan on Sunday (yikes) … the game is on MY9 tonight, not YES