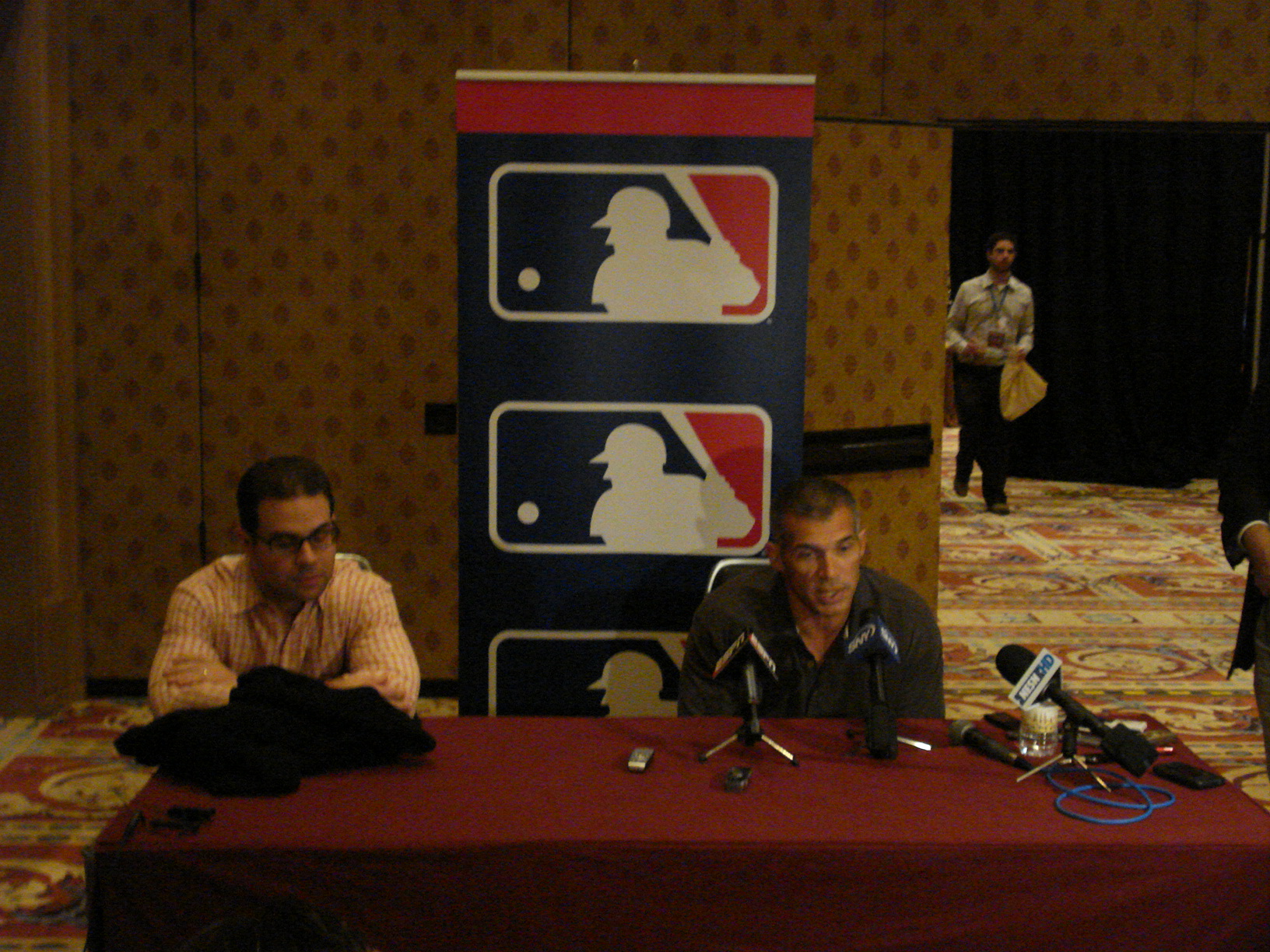 Girardi and Media Relations guru Jason Zillo
Pictures by Mike, commentary by Joe
As with most managerial interviews, we didn't learn a whole ton by listening to Girardi. He did seem loose, though, and took the time to elaborate on all answers. Judging from just this interview, I have a hard time believing he's not good with the media. Joe's a friendly guy by all appearances, and I hope he takes this into the season with him. Perhaps the media will be a bit easier on him this time around.
Here are some tidbits we picked up:
He was very impressed with Ben Sheets after meeting him yesterday. I suppose he'd have to be, considering the Yankees plan to offer him between $26 and $30 million.
On CC, he says that the lefty is still trying to figure out the whole situation. Girardi then went on to talk about his own transition to New York after the 1995 season, noting that while he wasn't getting nearly the money or years offered to Sabathia, he could understand what the free agent is going through.
On Andy Pettitte, he said that both parties are interested in bringing him back. But: "There's a process that has to take place." Emphasis mine. It seems that line is bandied about frequently regarding Pettitte. Now that we know the team's offer is $10 million, it seems that "process" means "convincing him to take a paycut."
On the coaching staff: They won't take long to mesh. He noted that Mick Kelleher has been around Spring Training for a few years, and everyone's familiar with him. Other than that, the staff remains basically the same, save for a few minor moves.
On Hideki Matsui: Girardi sees him as a fourth outfielder as well as DH. I wonder if that changes as they get further into workouts. Clearly, Hideki is more valuable as a full-time DH if that means he can stay healthy. It's a huge risk if they play him in the outfield with any regularity.
Update by Mike (5:00pm): Forgot to mention this, but Girardi said that Posada's rehab was going fine. He's throwing from 60 feet and is on schedule.