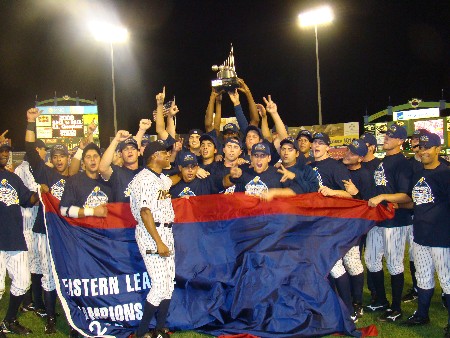 Over the years I've gone through phases when it comes to these lists. A few years ago I was all about upside; if you had a significant ceiling you were making my list, regardless if you struck out 195 times in 134 games (coughTimBattlecough). These days I find myself favoring probability and closeness to the majors. Don't get me wrong, upside is still a huge part of prospect rankings, but I'm definitely starting to weigh readiness more in my rankings. It just makes sense considering the shift towards younger players in today's game.
The Yankees' system was definitely in the red this year. The losses sustained due to graduation, trades, injuries and ineffectiveness outweigh the gains brought on by breakouts and player acquisitions. Three players from last year's top ten are no longer with the organization, and just one player from the top five makes a repeat showing there this year. On top of that the Yanks failed to sign their first and second round draft picks. While they'll reap the benefits of the compensation picks this year, it's unlikely they'll be able to match the potential of Gerrit Cole, nevermind Scott Bittle. Forfeiting their first, second and third round picks in next year's draft for signing free agents means they'll be working at a disadvantage as they try to rebuild the system.
Despite all that, the Yanks' affiliates did a whole lotta winning this year. Triple-A Scranton and Double-A Trenton (pictured) each won their league titles this year, and it was Trenton's second consecutive championship. All told the minor league affiliates combined for a 406-287  record (.586 winning percentage), far and away the best in baseball. They were the only club to eclipsed the 400 win mark, and the next best organization (Rangers) had a .556 winning percentage. Winning obviously takes a back seat to development in the minor leagues, but it's always nice to give your young players a taste of success.
As I was putting this list together, I didn't have to put too much thought into figuring out who the organization's top three prospects were. Barring a trade I knew exactly who numbers one, two and three were going to be basically since September. Numbers four through seven are pretty interchangeable in my eyes, eight through nineteen even more so. Don't get too worked up if I ranked your favorite prospect lower than you would have liked, quite often the difference between a set of two, three or ten prospects is smaller than you may think.
It's always fun to go back in time and see how things worked out, so here's my 2007 and 2008 lists. Otherwise, the fun starts after the jump. Ages are as of Opening Day.
30. Steven Jackson, RHRP, 27

The only player left from the Randy Johnson trade two years ago, it all finally came together for Jackson last year after the Yanks adjusted his mechanics. The result: his slider improved and his strikeout rate jumped from 6.37 Kper9 prior to 2008 to 10.40 last year. The tinkering also made him tougher on lefties, who hit just .212 off Jackson last year after tattooing him for a .336 avg from 2005-2007. Jackson was manager Dave Miley's go to reliever down the stretch as Triple-A Scranton made their title run, and the Yanks rewarded his breakout year by adding him to the 40-man roster after the season. Jackson will get a long look in Spring Training with an outside chance of winning a bullpen job, but more than likely he'll return to Scranton to start the year, where he'll again serve as one of Miley's most trusted bullpen arms. He'll make his Major League debut at some point in 2009, and could become a set-up man if his improvements against lefties were real.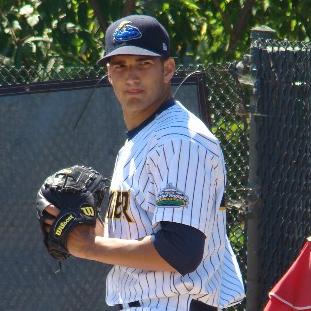 29. Chris Garcia, RHSP, 23
Last year was more of the same for Garcia, who continues to demonstrate his plus-plus injury tool. He's missed time over the years with a strained oblique, a knee strain that required surgery, several elbow issues including Tommy John surgery, and last year he added a sore shoulder for good measure. Garcia reached Double-A last year (albeit briefly) for the the first time in his career, and all told he's thrown just 265.1 IP in four and a half years as a pro. His fastball-curveball combo is still electric, but it hasn't completely returned to it's pre-TJ levels. Everything comes in a little bit slower right now and his command was never great to begin with, but a proper Spring Training routine should help bring him all the way back. Garcia was added to the 40-man roster after the season to avoid exposure to the Rule 5 Draft, so the Yanks' braintrust obviously still has faith in him. My patience is growing increasingly thin, however. He's ready for Double-A, but the Yanks could start him in High-A Tampa to keep him out of the cold weather. A September call-up is likely, assuming he's healthy.
28. Kevin Russo, 2B, 24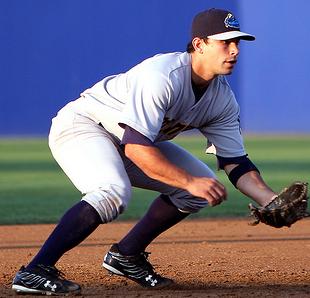 One of the Yanks' few breakout players in 2008, Russo's season was split into two halves after he took a liner to the face, requiring surgery. Before the injury he was arguably Double-A Trenton's best hitter, posting a .305-.365-.444 batting line. Russo hit .313-.347-.375 after returning, then cruised to a .309-.377-.464 line in the hitter friendly Arizona Fall League. Those slash stats look nice, but Russo projects to have below average power and is prone to being overly aggressive at the plate, which limits his offensive ceiling. Russo's best asset is his versatility, as he spent time at second, short, third and left field last season, handling each with aplomb. He's a classic bench/utility player prospect, especially for a team like the Yankees, but if he improves his plate discipline he could be a league average second baseman. Russo will get a look in Spring Training, but will man second everyday for Triple-A Scranton in 2009.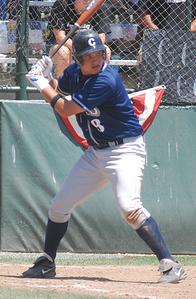 27. Brandon Laird, 1B, 21
Laird is one of the more controversial prospects in the Yanks' system. His supporters point to his quick bat and strong yet still developing power, but his detractors point out that just about everything else in his game is either below average or a question mark. He did improve his defense somewhat over the season, but he's still below average at the hot corner and passable at first. Luckily for Laird he excels at the one thing that gets guys noticed: hitting. He has an advanced but aggressive approach, and he'll have to make some adjustments as he climbs the ladder and faces more experienced pitchers. Laird will have to prove himself at each level along the way, which he'll do while splitting time between first, third and DH for High-A Tampa this year.
26. Frankie Cervelli, C, 23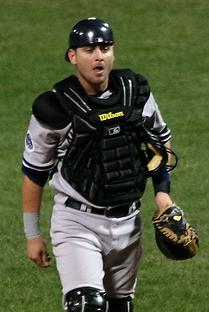 Perhaps best known to the casual fan as "the guy that had his wrist broken in that bush league Spring Training collision," Cervelli is the Yanks' most advanced catching prospect. After recovering from the wrist injury as well as a slight knee issue, he spent a month or so as Double-A Trenton's every day catcher, hitting .315-.432-.384 in the process. That performance is out of line with his career stats, and by all accounts Cervelli is a well below average hitter but a premium defender. He represents the organization's best hope for a homegrown backup catcher in the near future, and ideally he would be ready to step in and replace Jose Molina once his contract expires after the coming season. Cervelli will return to Trenton to start 2009, and could be in line for a mid-season promotion to Triple-A Scranton. He is all but assured of another September call-up.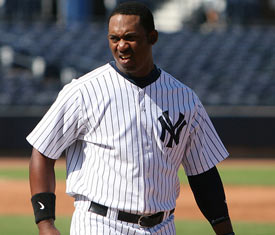 25. Juan Miranda, 1B, 25
The Yankees signed Miranda two years ago hoping he would develop into a long term first base solution, but halfway through his four year deal he's blocked behind the team's shiny new $180M toy. He's proven to be a classic platoon hitter, mashing righties to a .300-.397-.514 line while slumping to .208-.279-.329 against southpaws. Miranda has value because he's cheap and Major League ready, but he's most useful to the Yankees as a trade chip or a bat off the bench. He'll get a long look in Spring Training with a remote shot of winning a bench job, otherwise he'll head back to Triple-A where the Yanks hope he'll boost his trade value by improving against lefties.
24. Humberto Sanchez, RHRP, 25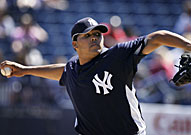 Yankee fans finally caught a glimpse of Hungy Hungy Humberto in 2008, as Tommy John surgery and various other ailments delayed his pinstripe debut by over a year. Acquired in the Gary Sheffield deal, Sanchez is finally healthy and ready to contribute a full season to the organization in 2009. He has been developed as a starter his entire career, but it appears he'll ultimately end up in the bullpen long term because of his extensive injury history and poor command. He does have three quality pitches (and a fourth usable one), so if he doesn't break camp with the Major League squad he may work out of Triple-A Scranton's rotation to start the season. Sanchez will be given a chance to earn that bullpen spot in Spring Training, however he's at the back of the line.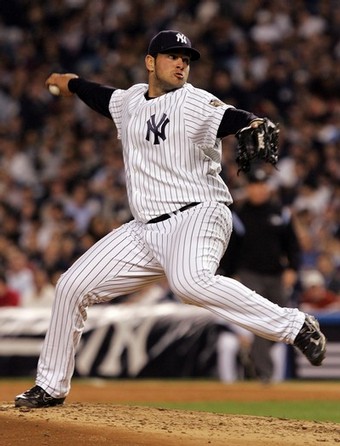 23. Jon Albaladejo, RHRP, 26
It seemed like Brian Cashman was acquiring nothing more than a spare part when he dealt Tyler Clippard for Albaladejo last offseason, but it turned out that he brought in a valuable asset. Albaladejo made the Opening Day roster last year because Andy Pettitte started the year on the disabled list, and he proved to be a valuable middle innings arm before suffering a stress fracture in his throwing elbow. He capped off some rehab appearances at the end of the year with a dominant winter ball showing (22 IP, 13 H, 1 R, 2 BB, 18 K), proving that his elbow is sound. Albaladejo's pure stuff isn't overwhelming, but he pounds the zone and does a good job of keeping the ball in the park (3.13 K/BB & 0.64 HRper9 over the last three years). He'll be given every opportunity to win a bullpen job in Spring Training.
22. Manny Banuelos, LHSP, 18
The Yankees landed Banuelos in the same talent haul out of Mexico that gave them Al Aceves. The diminutive southpaw draws raves for his mound presence and pitching aptitude, which allows his fringy stuff to play up. Banuelos' fastball typical sits around 90 mph, and all of his secondary pitches are in their infancy stages. He pitched extremely well in his pro debut (42 IP, 1.07 WHIP, .208 avg against) mostly by outsmarting inexperienced hitters. Banuelos is still extremely young and offers a good amount of projection, and he has a chance to develop into a true frontline pitcher if his stuff comes together. The Yanks love him, and will challenge him with an assignment to Low-A Charleston to start the year.
21. Carmen Angelini, SS, 20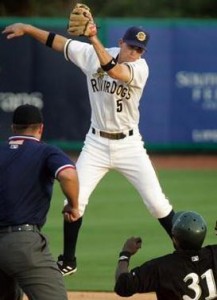 I had high hopes for Angelini coming into the year, and despite his atrocious first full season as a pro I still hold out hope. The knock on him was that more advanced pitchers might knock the bat out of his hands, and that was certainly the case when he hit just .236-.302-.295 with Low-A Charleston. Angelini is a true shortstop and there's plenty of time for him to add some bulk to his wiry frame (listed at 6'2″, 185 lbs) because he's still so young. The Yanks gave him a seven figure signing bonus and aren't about to give up on him after a bad first season, and neither am I. He's ticketed for a return to Charleston to start the year, and could earn a mid-season promotion to High-A Tampa a la Austin Jackson circa 2007.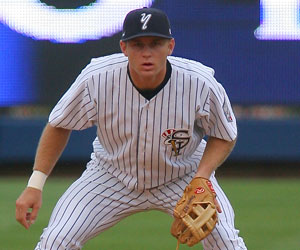 20. David Adams, 2B, 21
From the looks of it I'm the only one with any real expectations for Adams. The former Cape Cod League doubles champ didn't take that expected big step forward as a junior at Virginia and went from a potential late first round pick to third rounder. Adams isn't as dynamic a hitter as the oft-injured Damon Sublett, but he's better defensively and has a better all around game. He can handle himself all over the infield, and his strong track record with wood bats suggests he could develop into a solid hitter if he finds the stroke that made him one of the nation's best middle infielders as a sophomore in 2007. I guess I'm just optimistic. Adams will probably start 2009 with Low-A Charleston, but he's just another Sublett injury from a High-A Tampa assignment.
19. Wilkins DeLaRosa, LHRP, 24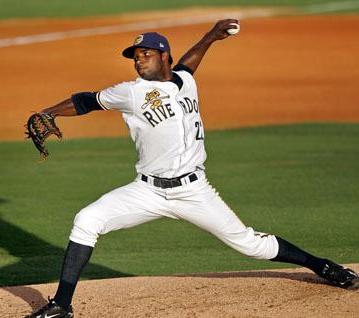 Once a no-hit outfielder (.232-.342-.279), DeLaRosa blossomed last year in his first full season as a pitcher. After starting the year working out of Low-A Charleston's bullpen he moved to the rotation and finished the year with three strong starts for High-A Tampa. DeLaRosa dominated both right (.194 batting avg against) and left handed (.184) batters with his fastball-power breaking ball combo. His command and control were exceptional for a recent convertee and kept improving, as he went from 6.32 BBper9 in April to 2.32 in August/early September. Added to the 40-man roster after the season to keep him from becoming a minor league free agent, DeLaRosa profiles best as a reliever and is officially on the fast track. He'll likely start 2009 in High-A Tampa for the warm weather, but look for him to get a quick bump to Double-A Trenton as the season marches on. It wouldn't completely shock me if he gets a September call-up.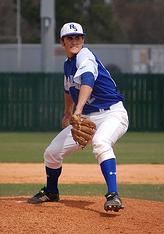 18. Brett Marshall, RHSP, 19
Marshall received the largest bonus of the Yanks' 2008 draftees, and he has the biggest arm too. He's a classic Texas fireballer with three legitimate power pitches and is working on adding another breaking ball and offspeed pitch to his repertoire. Marshall was impressive in his tiny Rookie ball debut (6 IP, 8 K, 4 baserunners) and his arm doesn't have many miles on it because he's only been a full time pitcher for just over two years. Because his command is still a work in progress and his delivery needs some ironing out, Marshall could start 2009 in Extended Spring Training. A strong showing in camp could land him a spot in Low-A Charleston's rotation, however.
17. Arodys Vizaino, RHSP, 18
Outfielder Kelvin DeLeon received a larger bonus during the 2007 international signing period, but Vizcaino beat him the States. The Dominican born right hander has already started to fill out his gangly frame and projects to add even more heat to his low-90's fastball. Rookie level hitters stood no chance against his power breaking ball, as he struck out 9.82 batters per nine innings while allowing just a .222 batting avg against. Command is still a work in progress as is a changeup, but there's no rush. Vizcaino has one of the highest ceilings in the organization, and Keith Law labeled him a sleeper for 2009 (subscription req'd.). He's a prime candidate for Extending Spring Training followed by a trip to Short Season Staten Island.
16. George Kontos, RHSP, 23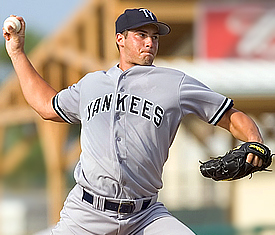 I've never been shy about my KontosDoubt, but it's getting to the point where it's impossible to ignore his success at a high level. Long billed as a guy with firm stuff but little results to show for it, Kontos broke through last year by taking the ball every fifth day for Double-A Trenton. His 6-11 record doesn't do him justice, as he struck out more than a batter per inning, did a good job of keeping the ball in the park, and held opponents to just a .236 batting avg against. Rule 5 Draft eligible after the season, Kontos might end up trade bait because of the Yanks' perpetually crowded 40-man roster. I fear he may be this year's Jeff Marquez, the guy who's bandwagon I finally jump on only to have him fall flat on his face during the season. Kontos is ready for Triple-A, but could start the year back in Trenton due to the number's crunch.
15. Mike Dunn, LHRP, 23
The Yankees put Dunn back on the mound after he hit just .160-.269-.230 over two seasons (he was a two-way player in college), and the move was an instant success. After a breakout season in Low-A Charleston's rotation in '07, Dunn moved to the bullpen in the second half of 2008 and became one of manager Tony Franklin's most trusted relievers during Double-A Trenton's march to the league title. Dunn's fastball jumped a full grade when he made the switch to the bullpen, and he's always shown a put away slider. He's held lefties to a .216 batting avg against in his career thanks to a 11.52 Kper9 rate. Dunn's in the bullpen for good, which suits his bulldog mentality, and to become more than a lefty specialist he'll have to do a better job of throwing strikes with more consistency. Because he was added to the 40-man after the season the Yanks could push him to Triple-A Scranton to start the year, although a return to Double-A is more likely. Dunn should make his big league debut at some point this year.
14. Bradley Suttle, 3B, 23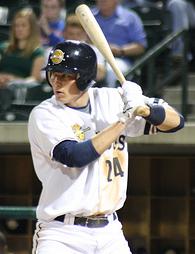 Billed as the best pure college hitter in the 2007 draft by Baseball America, Suttle was an easy guy to pick on last year because he landed a gigantic $1.3M bonus as a draft eligible sophomore, was poor defensively and didn't hit a lick in his brief pro debut. Although he battled through hip issues, Suttle improved his defense substantially and picked up his performance at the plate, batting .271-.348-.456 with a .350 wOBP. He's more of a contact oriented guy with a keen eye from both sides of the plate, and doesn't offer the typical power output associated with corner infielders. Given his improved defense and no need for a long term third base solution by the organization, Suttle may get shifted out to right field in the future, possibly even second if he maintains some athleticism as he fills out. He'll start 2009 manning the hot corner in High-A Tampa.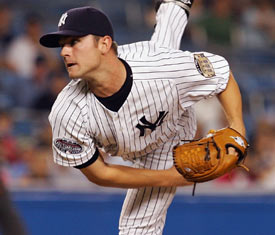 13. David Robertson, RHRP, 24
Robertson's baseball life changed forever during the summer of 2006, when Yarmouth-Dennis pitching coach Taylor Childress taught him a curveball during the Cape Cod League season. He took to the pitch immediately and was named Playoff MVP after retiring all 22 batters he faced in the postseason, 15 via strikeout. The Yanks jumped in and signed their 17th round pick to a well over slot $200,000 bonus, and have no reason to regret the signing. D-Rob dominated across four different minor league levels in the span of fourteen months (0.93 WHIP, 12.39 Kper9) before making his big league debut in late June. Undersized (listed at 5'11", 180 lbs) but still armed with the knockout curve and low-90's heat, a middle relief gig is his to lose in Spring Training. He should fill a set-up role down the road.
12. Jairo Heredia, RHSP, 19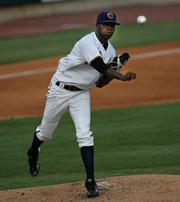 An unheralded signing out the Dominican Republic in 2006, the Yankees eagerly bumped Jairo to full season ball last year, where he held his own. He dealt with a tender arm that caused him to miss some time in May, and spend most of the year working on his control (3.78 BBper9). Heredia also wore down a bit at the end of the year, giving up at least four runs in five of his last six starts. His ability to change speeds and pitch like someone five years his elder are still his strong points, although his stuff is merely solid and not holy crap good. The Yanks skipped him over the Dominican Summer League and had him in Low-A Charleston as a teenager, so it's easy to foresee Jairo "don't call me Felix" Heredia starting 2009 with High-A Tampa.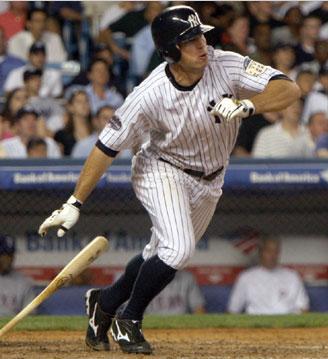 11. Brett Gardner, CF, 25
Perpetually doubted because of his old school game built around speed and making contact, Gardner cracked the big league roster in mid-season, then held down the fort in center field for just about all of September. Typically a slow starter at a new level, his big league debut was no different. Gardner hit .153-.227-.169 before a demotion back to Triple-A, then returned a month later and hit .294-.333-.412 the rest of the way. He fits the classic leadoff hitter profile, but unfortunately he has less power than you would like out of even that kind of hitter. Gardner's future will depend on his ability to maximize his slap hitting approach while not having the bat knocked out of his hands by big league fastballs. He'll be given every opportunity to win the center field job in Spring Training.
10. Phil Coke, LHRP, 26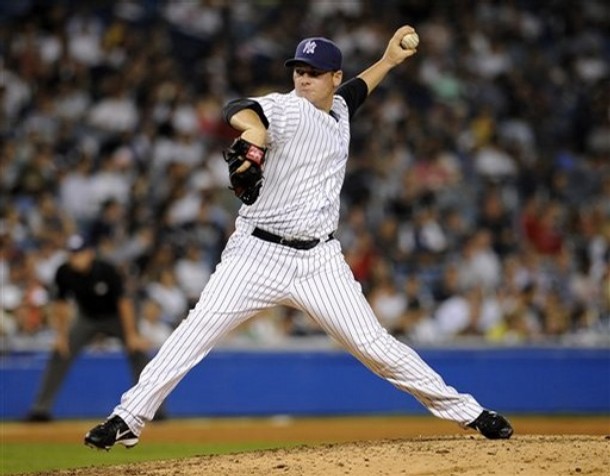 Coke's been a lurker in the Yanks' system since he was drafted way back in 22nd round of 2002. He was in danger of being released following the 2005 season when he put up a 5.42 ERA and 1.51 WHIP in the Low-A South Atlantic League when he was old for the league. He picked a great year to finally breakout, as he would have been a minor league free agent after the season if he wasn't added to the 40-man roster. Brilliant in his first foray into the Double-A level, Coke forced the Yank's hand and earned himself a September call-up. With three solid pitches Coke could still make it as a back-end starter, however his stuff and ceiling are much greater when he works in relief. Lefties handled him better than righties last year (.293 BAA vs .223), however that's inconsistent with his career splits and is likely just a fluke. Unless he falls on his face in Spring Training, he'll likely be the second lefty out of Joe Girardi's bullpen to start 2009.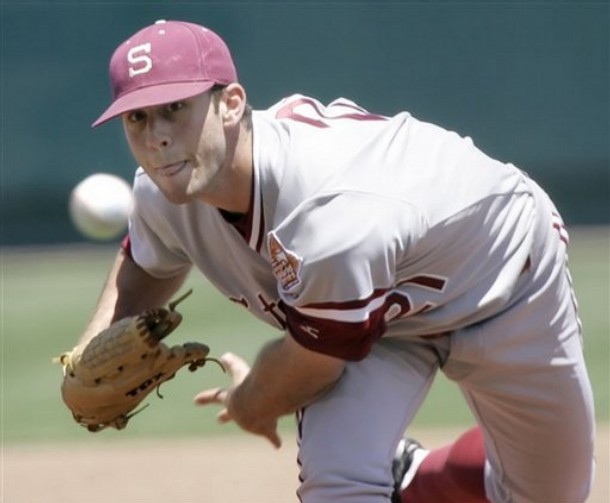 9. Jeremy Bleich, LHSP, 21
The Yanks' highest signed pick from the 2008 draft, Bleich is the Yanks' best lefty pitching prospect since Sean Henn. Unlike Henn, who's sole claim to prospectdum was his high-90's pre-Tommy John surgery heat, Bleich is a classic pitchability lefty that succeeds by mixing his pitches all over the strike zone and attacking hitters' weaknesses. He made his pro debut in the now defunct Hawaii Winter Baseball league, finishing second in the circuit with 35.2 IP and second amongst starters with a 1.77 ERA. Despite constant knee-jerk reactionary rumors that he needs elbow surgery, Bleich's elbow is sound and has been since returning from an elbow strain during the spring college season. He'll begin next season with High-A Tampa and has a chance to blow through the minors.
8. Al Aceves, RHSP, 26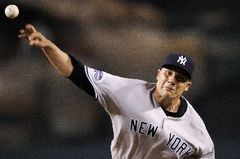 The Mexican Gangster literally came out of nowhere last year; I wasn't aware of his signing until his name popped up in the box score for High-A Tampa's fourth game of the year back in April. He signed for just $450,000 last winter and dominated across three levels of minor league baseball before displacing Darrell Rasner from the rotation late in the season. Aceves started 2008 at just 25 years old despite being a six year veteran of the Mexican League, and he didn't walk a soul in the minors (1.73 BBper9) before pitching admirably during his September cup o' joe. His diverse repertoire includes a total of five pitches, the best of which is a fading changeup. He often succeeds on guts as much as talent. Due to his age and lack of a put away offering Aceves is what he is at this point, but what he is is a serviceable back-end option for a big league rotation. Now that Andy Pettitte resigned, the chances of TMG winning rotation job out of Spring Training are remote. He'll have to settle for a spot in Triple-A Scranton's rotation if he doesn't make the club as a swingman.
7. Austin Romine, C, 20
One-half of Low-A Charleston's stud catching prospect tandem, Romine established himself as one of the best all around catching prospects in the game this year. He finished at .300-.344-.437 while doing most of his damage with RISP (.376-.434-.486). Romine's two best assets are his good power and top notch arm, although poor footwork and a raw transfer allowed him to only throw out 20.4% of attempted basestealers. He'll have to work on his footwork and receiving to reach his considerable defensive ceiling, but there's plenty of time for that as he climbs the ladder. A natural leader, Romine made significant strides with his game calling and takes command of the clubhouse. He'll jump up to High-A Tampa and will presumably do the catcher tandem thing again.
6. Dellin Betances, RHSP, 21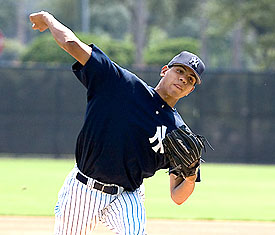 Perhaps the biggest project in the entire system, Betances took a major step forward this year after returning from a bum shoulder that caused him to miss all of June. Prior to the injury Betances was walking 6.54 batters per nine innings, but when he returned he cut that down to 2.83. His strikeout rate never wavered from approximately 10.5 Kper9, but his hit rate did jump a bit (6.05 Hper9 to 7.46) simply because he was putting more pitches in the strike zone. Betances struggles with his mechanics because he's so big (6'8″, 245 lbs), and it's going to take a few years to straighten things out. With a fastball that touches the upper-90's and a power curve, there's no doubt Betances has frontline potential. His changeup and ability to control the running game need work, typical of 20 year old pitchers. He'll be part of a star studded High-A Tampa rotation in 2009.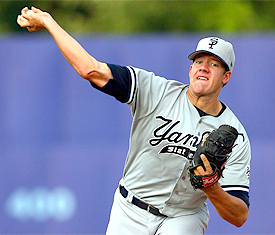 5. Zach McAllister, RHSP, 21
My breakout pick for 2008 didn't disappoint as McAllister dominated across two levels as a 20 year old in his first full season ball experience. Finishing with the fourth lowest ERA in A-ball (2.08) and the seventh lowest in all of minor league baseball, Z-Mac has all the ingredients needed to be a true workhorse in the middle of a rotation. His frame is a scout's dream at 6'6″, 230 lbs, and he's able to induce ground balls for quick innings by working off his filthy low-90's two seamer. He has strong command of his four seamer, slider and changeup to round out his four pitch repertoire. The only drawback is that McAllister lacks a true out pitch which limits his ceiling from being any higher, but he still has plenty of time to sharpen his slider. The Yanks may decide to start him back with High-A Tampa to keep him in the warm weather, although a jump to Double-A Trenton to start the year isn't out of the question.
4. Mark Melancon, RHRP, 24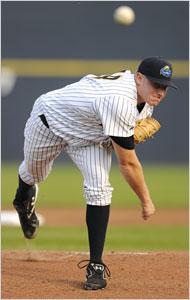 The closest to a sure thing in the Yanks' system, Melancon returned from Tommy John surgery to annihilate three levels (.202 BAA, 8.43 Kper9, 0.96 WHIP) in his first healthy professional season. His devastating fastball-curve combo eventually returned to it's pre-Tommy John surgery levels, and he even added a changeup for good measure. Melancon established his durability last year by throwing multiple innings in all but four of his 44 appearances, and his makeup and work ethic have long been billed as top of the line. Melancon will again participate in Major League Spring Training this year, with a slim but real shot of breaking camp with the big boys. If not, he'll return to Triple-A Scranton for a few weeks before inevitably coming up. It's not hard to imagine a scenario in which Melancon's a key cog in the Bombers' pen by the second half.
3. Andrew Brackman, RHSP, 23
A year and a half later, the Yankees will finally be able to turn their 2007 first round pick loose. Set back by Tommy John surgery, Brackman put together a strong comeback performance in Hawaii Winter Baseball (.235 BAA, 9.53 Kper9), but more importantly flashed his old stuff (with the typical command and control issues associated with a TJ comeback). A top notch athlete with a legit mid-90's fastball and a knockout curve, Brackman's supreme athleticism gives him an advantage over other 6'10" pitchers. Still raw on the mound, the crucial elements for his development are improving his command and control and finding comfortable mechanics. Since he missed all of 2007 due to injury, the Yanks can request an extra option year for Brackman, giving him four full years before he has to stick in the bigs. He'll start the year fronting a great staff, and close to the braintrust, in High-A Tampa.
2. Jesus Montero, C, 19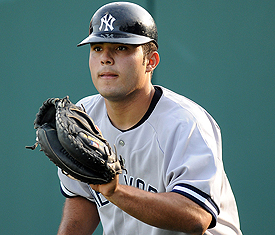 The Bombers' prized international free agent signing in 2006, Montero made his long awaited full season debut in 2008 and did not disappoint. He led the South Atlantic League with 171 hits, and went from a .309-.348-.453 line with a 3.14 K/BB ratio in the first half to .344-.407-.534 with a 1.70 K/BB in the second half. Montero's calling card is his top of the line hitting ability and power thanks to his strong bat speed, but his downside is his lack of athleticism and defensive questions. Standing 6'4″, 225 lbs as an 18 year old, he needs to improve just about everything he does behind the plate, from his footwork to his transfer on throws to his blocking ability. He'll probably add a bit more bulk to that frame as he matures, and the difference between Montero and other big bodied catchers like Joe Mauer and Matt Wieters is their extraordinary athletic ability. There's no sense in moving Montero out from behind the dish just yet, he has three levels ahead of him to improve his defense, and a move to first would decrease the value of his bat. And besides, it's first base, not the most difficult of positions to pick up. He'll head to High-A Tampa in 2009 to do the catcher-DH tandem thing with Austin Romine again.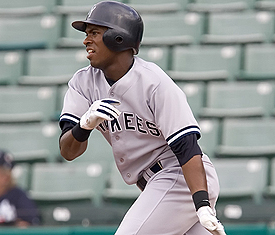 1. Austin Jackson, CF, 22
Expectations for the Yanks' eighth round pick in 2005 were sky high following his breakout .962 OPS and .415 wOBP in the second half of 2007 with High-A Tampa, and he followed it up by holding his own in Double-A, hitting .285-.354-.419. Jackson's athleticism and tools are exciting, however he's still learning to translate them into on-the-field performance because he's been a full-time baseball player for just under four years. The most encouraging thing about Jackson is the improvements in his plate discipline. He's improved his strikeout rate in each of his three full seasons (4.05 PAperK in '06, 5.09 in '07, 5.17 in '08) while improving his walk rate from 11.56 PAperBB in '07 to 10.43 in '08. The best thing for Jackson's development in 2009 would be a full season in Triple-A, but don't be surprised if he makes an appearance in the Bronx at some point during the summer.
* * *
If you're curious, I would have ranked Jose Tabata right behind Jesus Montero, Gerrit Cole behind Andrew Brackman, Dan McCutchen behind Jairo Heredia, and Jeff Marquez behind Juan Miranda. Alberto Gonzalez, Scott Bittle and Jhonny Nunez would have been in consideration for the last few spots, although they probably would have fallen short. Ross Ohlendorf graduated from prospect status in 2008 and wouldn't have been eligible for the list, and Chase Wright was in the 31-35 range prior to being dealt to Milwaukee.
Aceves was the most interesting guy to rank. When I first started compiling the list, I had him in the 15-20 range, but as I learned more and more about him, he just kept climbing. He doesn't have the highest ceiling or the sexiest stuff on the list, but there's something to be said for a guy that's a surefire contributor at the Major League level.
After compiling the list, my first thought was that there are way too many relievers. Eight players on the list work out of the bullpen, and at one point before I made my final revision I had as many as ten relievers crack the top thirty. A dozen players on the list have never set foot above Low-A ball, and half of those players have never played in a full season league. In general, the Yanks' system is short on impact talent at the upper levels, but is loaded with it in the lower minors. Hopefully some of these players develop like we hope they will.
I'm going to be holding my weekly Friday chat as usual this afternoon (2pm), so make sure you bring your questions there. We're goin' long today.
Click here to see the list of photo credits.