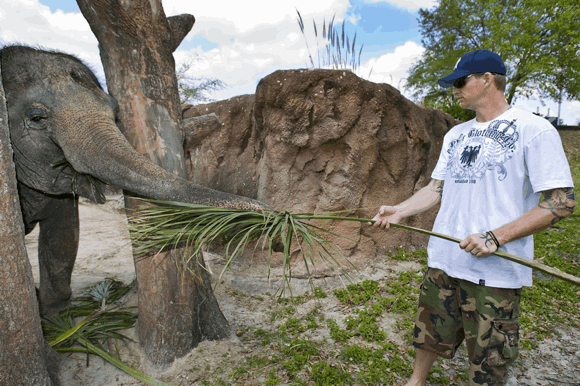 One of the publicists for Busch Gardens in Florida sent us this photo of A.J. Burnett feeding Karnaubi, a 7300-pound Asian elephant. The park has five of these endangered animals in its Nairobi area, and Burnett, looking rather thrilled, helped feed one of them with his family on Thursday.
Now, that's all well and good, but that is also a stunningly boring caption. So RAB faithful, let's have a caption contest. The winner will receive a copy of The Greatest Game and the undying affection of everyone on RAB. We'll do it run-off style with a general big vote and then one or two rounds of voting with the top entries.
To be eligible for the voting and the prize, make sure to put a valid e-mail address in the e-mail field down below. We'll leave the caption contest open through Monday night. Click the image for a larger version, and have fun.