You gotta love baseball. Given all their big money signings and returning young starters, who would have guessed that the first Yankee pitcher to fire seven innings of one run ball this year would be the 36-yr old number four starter who wasn't even on the team as recently as January 25th? Granted, it was against the Royals, but Andy Pettitte was brilliant yesterday afternoon, and he did so by using every trick in the bag. He threw 99 pitches in total, and here's how they broke down according to Pitch f/x:
36 fastballs (88.1 mph on avg)
24 sliders (80.9)
19 cutters (85.6)
10 changeups (79.3)
10 curveballs (75.3)
That's quite a bit of variety, especially compared to CC Sabathia, Chien-Ming Wang, and AJ Burnett, all of whom operated primarily with two pitches. Forgive the clutter, but here's the pitch trajectories. Remember to click for a larger view.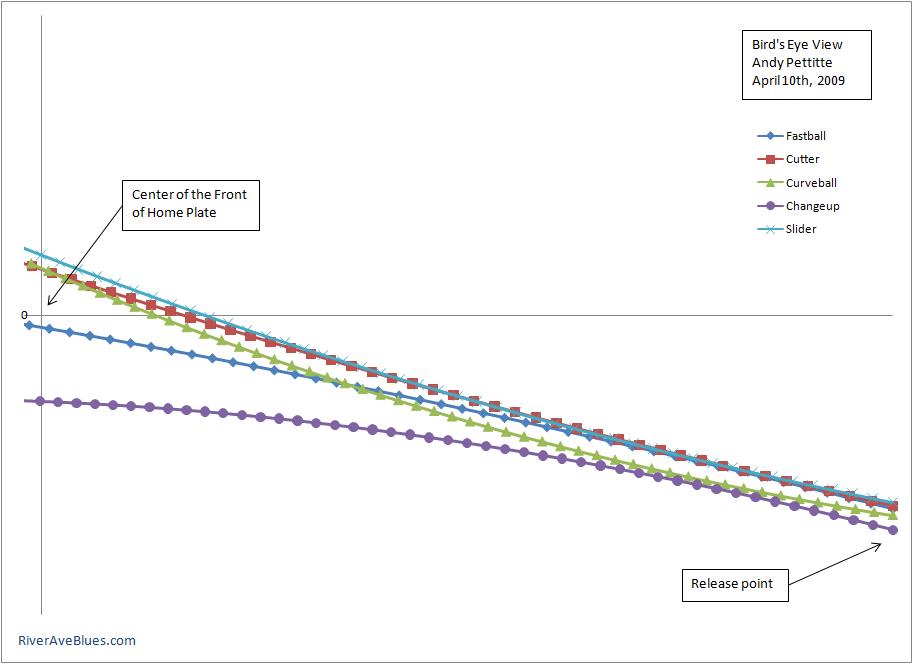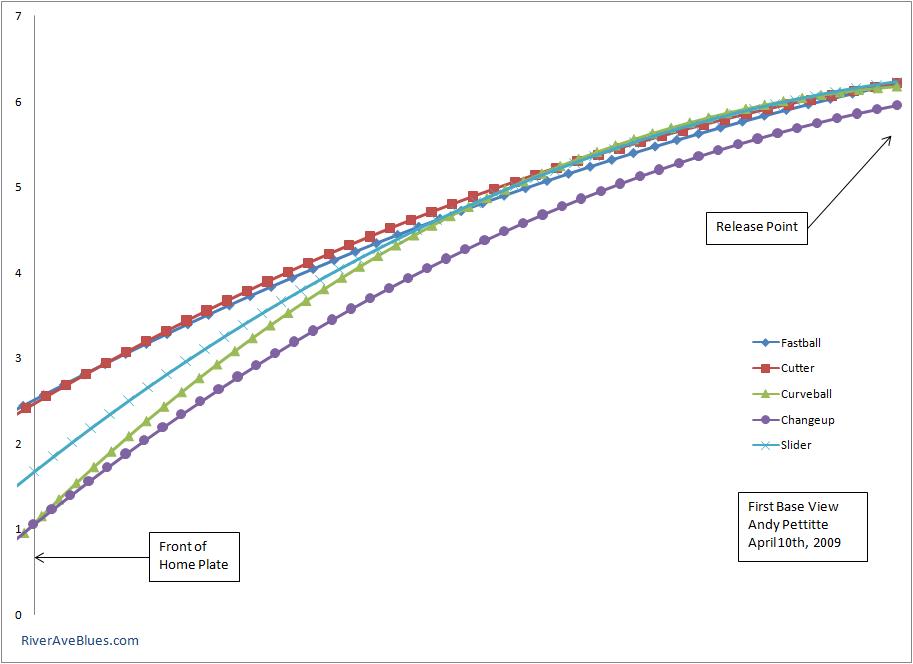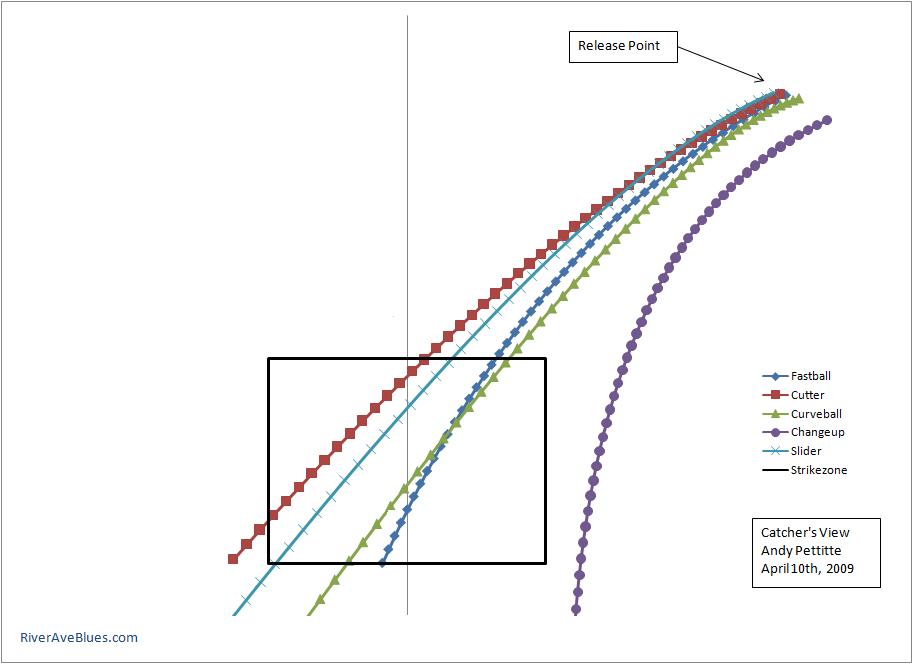 Heh, this is awesome. Pettitte's got a pitch for every direction – up, down, left right, whatever he needs, he's got it. In case you're wondering, only one of his ten changeups was called a strike, the rest where taken for balls. Here's Andy's release points: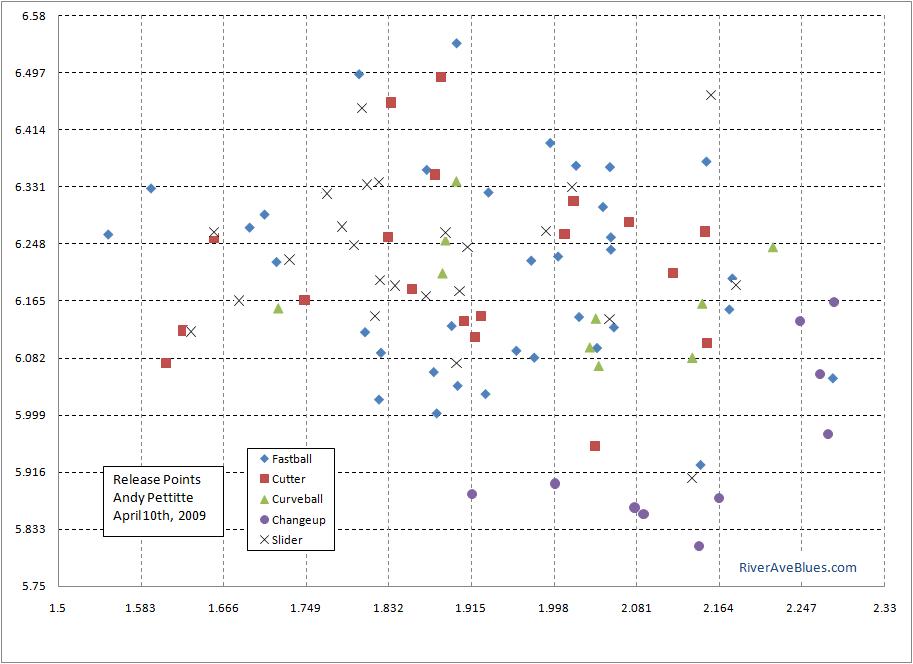 Man, that's crazy. Pettitte released all 99 of his pitches from a tiny little 10-inch by 10-inch box, microscopic compared the other three starters. Think about it, if you're the batter standing over fifty feet away from where he releases the ball, all of his pitches look like they're coming from exactly the same place. When you don't have overpowering stuff, that deception is a huge help.
I noted the velocities of Pettitte's pitches above, so let's look at something different for the final graph. Home plate ump Rob Drake was calling a very wide strike zone for both team's pitchers, so here's a look at the balls and strikes Pettitte threw: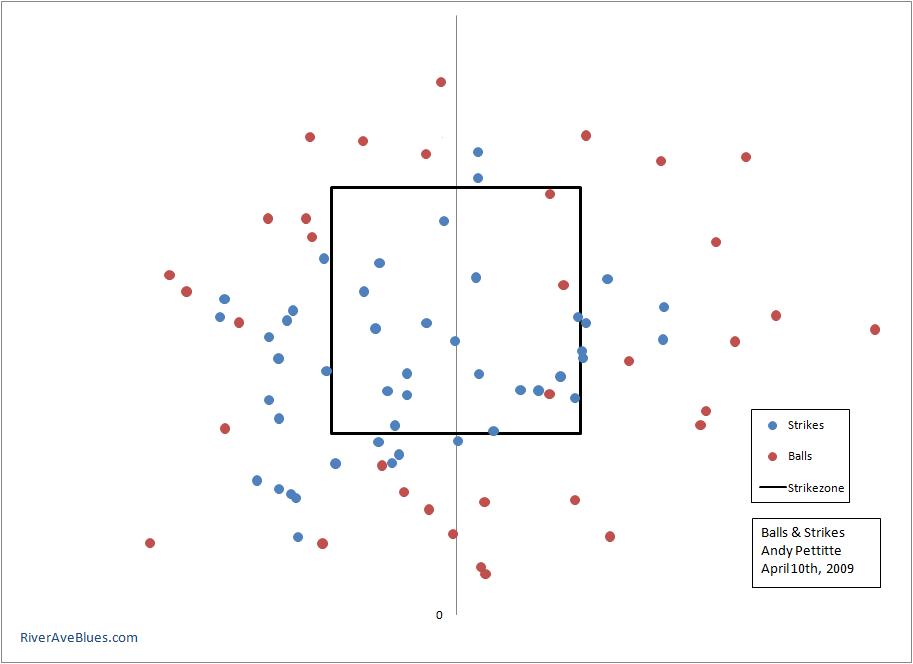 A wide zone indeed. Given how Drake was calling that outside corner, it's no wonder that left-handed batters combined to go 2 for 18 off Pettitte. Hopefully Andy continues to pitch like he did yesterday for the rest of the season, it would be such a huge advantage for a team already stacked with quality starters.
Update (11:47am): Accent Shallow made a good point in the comments. The balls and strikes graph doesn't differentiate between swinging and called strikes, so the the strike zone probably isn't as wide as it appears to be. Here's an updated version: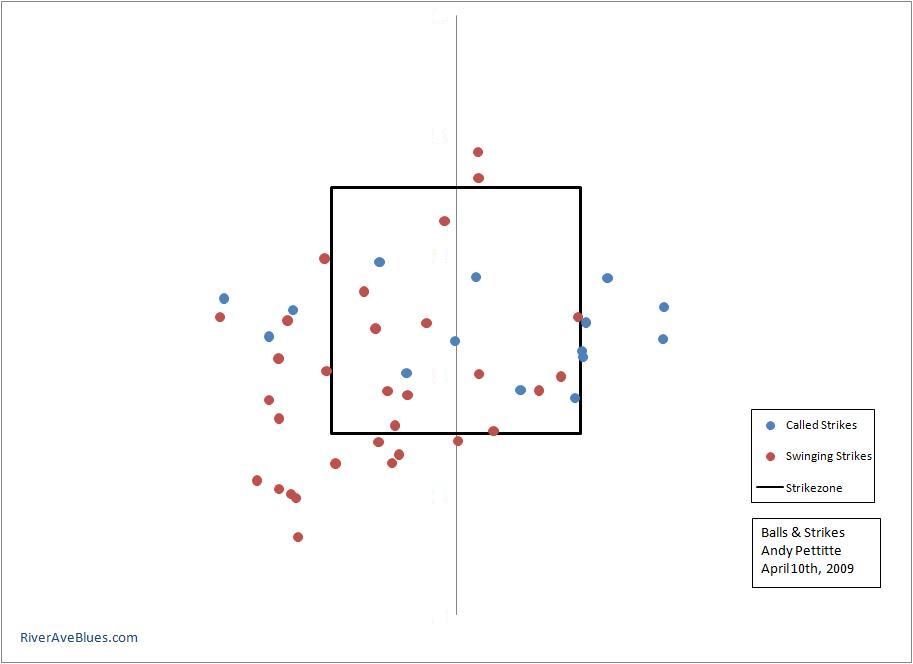 Yeah … so the strikezone only looked so big because the Royals hitters have no plate discipline. Swinging strikes isn't just swings and misses, it's fouls, foul tips, all that stuff. Pettitte still got some help on the outside to righties though.