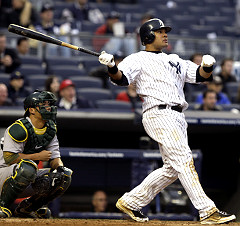 In a season in which it seems that everything that could go wrong has gone wrong for the Yanks, one of the few bright spots has been Melky Cabrera. RAB's favorite whipping boy has shown off some newfound plate discipline en route to taking the everyday center field job from the obviously overmatched Brett Gardner. But Melky's teased us before. Just last year he hit .299-.370-.494 in April before sliding to .235-.281-.300 the rest of the season. Why should we think that this season will be any different?
Well, for starters there's that new plate discipline. Melky has seen just over four pitches per plate appearance (4.09 to be exact) in 2009 after seeing between 3.65 and 3.67 P/PA over the last three years (props for the consistency). He's seeing more pitches because he's swinging at less pitches, and in fact he's swinging less than he ever has at any point in his career. Here, check it out: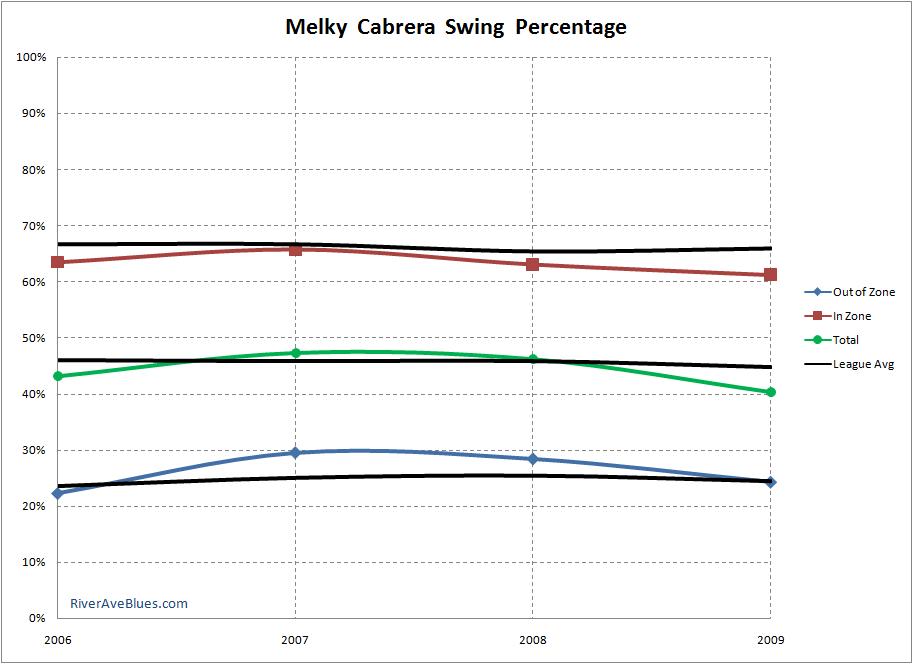 First of all, remember to click on the graph for a larger view, just like every other graph in the history of RAB. Secondly, all this data comes from Melky's player page at FanGraphs. Thirdly, you can see that Melk is on a three year trend of swinging at fewer and fewer pitches. The most important thing is that he isn't hacking at as many pitches out of the zone, and as anyone who's watched him swing at a ball at his eyes for strike three knows, those are the most frustrating swings. Unsurprisingly, Melky's walk rate this year is a career best 11.0%, an increase of nearly 33% from his career walk rate.
But taking more pitches out of the zone isn't just about drawing more walks however, it also means that Melky has been putting himself in more good counts to hit in. He's worked a 2-0 count in 17.6% of his plate appearances this year, and a 3-1 count 12.1% of the time. Last year those numbers were just 16.1% and 7.7%, respectively. There's more to this than just taking pitches, though. Making contact when the Melkster has swung also has something to do with it. Let's have a look: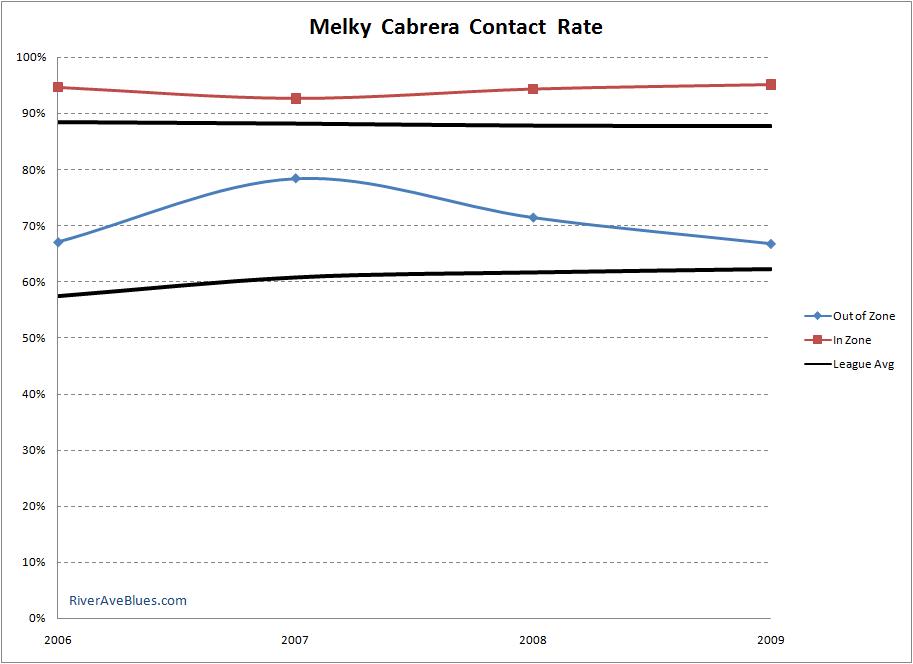 Melky's always had a knack for getting the bat on the ball, the reason why he's always posted well below average strikeout rates (career K% = 13.1%, lg avg over the last four years is around 19.0%). This year though, Melky's making less contact on pitches that are out of the zone. That means fewer weak grounders on pitches down and fewer pop ups to the infield on pitches up. The combination of taking more pitches out of the zone and not making as much contact on those you do swing at appears to have worked out well for the Melkman so far. Now, is this a significant, and more importantly a sustainable skill? I have absolutely no friggin' idea, so it's something we'll have to monitor throughout the year.
Looking around at the rest of his numbers, Melky's BABIP is a little high at .354 (.298 career), but it's not absurdly high like Kevin Youkilis' AL leading .446 BABIP. That'll regress some, but it shouldn't drop to the point that he becomes totally useless with the stick again. His line drive percentage is through the roof at 24.6%, far above his career mark of 18.9%. That will certainly come down as the season goes on, sapping a little production. I don't think anyone was expecting Melk to remain a .937 OPS player the rest of the year, but we're all hoping that he doesn't turn back into the .641 OPS player he was last year.
Obviously this post gets all sorts of small sample size warnings. The season is just thirty-one games old and Melky has started just twenty of those games, so we're really going out on a limb here. The good news is tha Melky's improved plate discipline isn't isolated to just 2009; he had a 12.3% walk rate in winter ball this past offseason, which is apparently part of the reason why the Yanks didn't acquire Mike Cameron. I'm cautiously optimistic that Melky's taken a step in the right direction, and is on his way to becoming a league average, or even (gasp!) above-average Major League center fielder. He is only 24, after all.
Photo Credit: Frank Franklin, AP