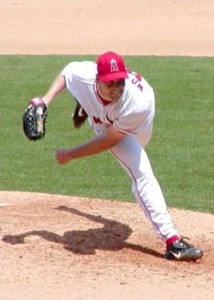 Before we get into this post, let's make something very clear: The Yankees are not moving Phil Hughes back into the rotation this year. It's just not happening, no matter how much we want it to. They've expressed zero desire to take him out of the bullpen thus far, and there's no reason to expect that to change. I don't like it and you probably don't like it either, but it's just the way it is. And because of this, the Yankees are in need of another starting pitcher.
Oh sure, Sergio Mitre might do a splendid job filling in for the injured Chien-Ming Wang, and I sure hope he does. The problem is that at some point Joba Chamberlain is going to hit his innings limit (he's at 95.2 IP right now), and of course there's always the threat of an injury or two. The Yanks pitching depth is as stretched as stretched can be now that Ian Kennedy is recovering from an aneurysm while Hughes and Al Aceves have become bullpen staples. The team needs another arm to help take the load off the other guys, just because it's better to be safe than sorry (plus we all hate Sidney Ponson). It doesn't have to be a Roy Halladay-type (though it would be nice); someone like Jarrod Washburn would be just fine.
The Yanks were reportedly close to completing a deal for Washburn before last year's deadline, but Seattle got greedy and overplayed their hand. Then-GM Bill Bavasi was fired over the winter and his replacement – former Brewers scouting director Jack Zduriencik – appears to have his head screwed on straight. The Mariners are just four games back in the division and five back for the Wild Card with the league's third most favorable schedule ahead of them, so there's a chance Washburn might not even be available at all. However if they tank between now and the deadline, expect the former Angels hurler to be shopped around a bit. A waiver wire deal could also be pulled off after July 31st should the M's stay in contention passed next Friday.
As for Washburn, the deal makes more sense now than it did last season because he's actually pitching, you know, effectively. Through his first 18 games last year he had a 4.83 ERA, a 4.37 FIP and a .817 OPS against, but those numbers have dropped to 2.87, 3.77 and .632 in '09. And while that improvement is nice, it's even nicer that there's actual tangible evidence to support it, rather than the usual "maybe he just figured it out" shtick. Washburn's added about a mile an hour to his heater and two miles an hour to his changeup this year, but the biggest adjustment is the incorporation of a two-seamer into his arsenal.
While he has done a swell job against southpaws in his career, righthanders have hit Washburn up for a .265-.323-.758 batting line. Those problems against righties were exacerbated last year when they pounded him to the tune of .299-.361-.504. The two-seamer has allowed Washburn to neutralize righties better than he has in some time (.252-.307-.382 this year), and he's been death to lefties (.175-.211-.278). It's a new pitch hitters haven't seen before, and they've yet to adjust to it. His strikeout rate is up a tick, his walk rate is down nearly a full walk per nine innings, and his BABIP is touch low but not outrageous. The big difference between Washburn's ERA and FIP can be explained by Seattle's insanely good defense, particularly in the outfield since he's a flyball pitcher.
Washburn will be a free agent in the offseason and is making $10.35M this year, so if Zduriencik decides to move him at the deadline he stands to save about $3.5M. Given how the Yanks had the Pirates pay half of Eric Hinke's measly salary when they picked him up late last month, I don't think it's safe to assume the Bombers will just absorb that money. Regardless, I can't imagine the M's would expect a significant return since we're still talking about a soon-to-be 35-yr old pitcher who hasn't been above league average in four years. Think two low-level minor leaguers, neither of them significant prospects, and salary relief. Something along those lines. Probably the biggest obstacle in any deal for Washburn is his full no-trade clause. That's just something you worry about when the time comes, but if he wants an extension, then forget it. Obviously.
What do you guys think? Should the Yanks make a move for Washburn to shore up the rotation, or hold off and go with what they have? Any other starters out there you'd like to see them kick the tires on (non-Halladay and Cliff Lee division)?
Photo Credit: Flickr user Saltimbanco