As Joba Chamberlain labored through yet another start last night, there was plenty of talk that the kid was relying way too much on his slidepiece, particularly whenever he needed to make a pitch. If he runs into a 3-2 count these days, you can bet the house on him throwing a slider down and away from righties or down and in to lefties. And if the catcher doesn't call for it, Joba will shake him off until he gets it. The pitch is nasty enough that he can still get away with it despite the obvious pattern at times, but better hitters (like the ones the Rangers trot out there day after day) will lay off it.
It's seems like the more that Joba struggles, the more he goes to his slider. I assume it's his comfort pitch, the one he feels he can throw for strikes at anytime. But is he taking it too far? Let's take a look at Joba's pitch selection by start this year via the magic of PitchFX. Remember to click to the graph for a larger view.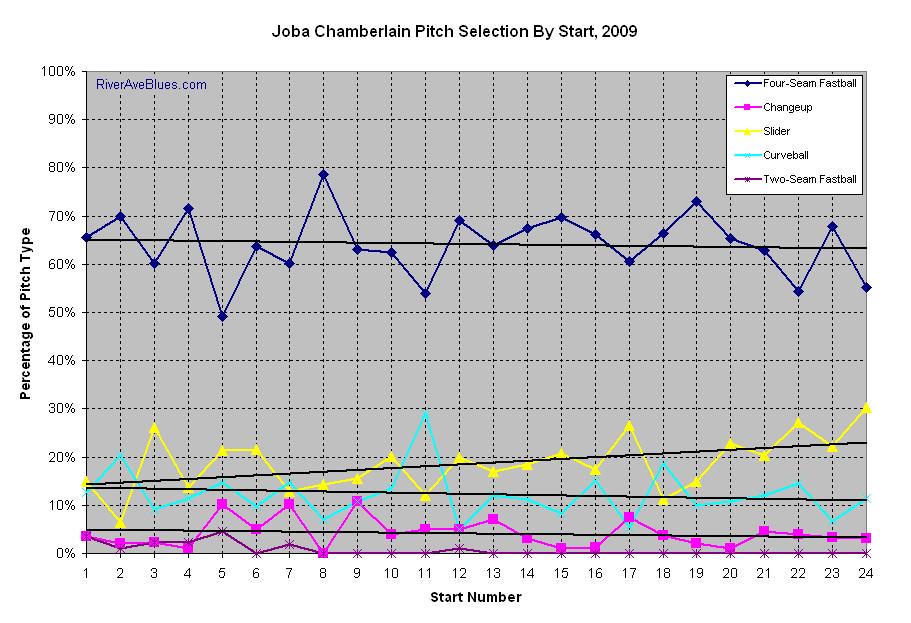 What you're looking at is how much Joba threw each pitch in a given start. So, for example, in his first start of the year he threw 65.5% fastballs, 14.9% sliders, 12.6 curves, 3.4% changeups, and 3.4% two seamers. It grabbed the exact values out of my data table, but you can see where they come from on the chart. I didn't bother to add a trendline for two-seamers because he doesn't throw it anymore.
Start #8 was the one when he took that liner off his shin and left after just two-thirds of an inning. Starts #18, 19 and 20 are those three great starts Joba made immediately after the All Star Break. As you can see, since those three great starts he's throwing more sliders each time out, peaking yesterday when he threw sliders with 29 of his 96 pitches, or 30.2%.
All those sliders are coming mostly at the expense of his curveball, but also his heater to a degree. Believe it or not, Joba actually has a really good curve when he does decide to use it, which is far too infrequently right now. Despite all that talk about decreased velocity, Joba is still averaging 92.5 mph with the pitch, which is above average velocity. It's just 0.1 mph slower than Tim Lincecum's average fastball, and ahead of noted flamethrowers like Rich Harden and Javy Vazquez. Joba's fastball is good enough that he can throw it 65-70% of the time and still succeed, particularly when he needs to make a pitch.
Part of the problem is that Joba, like many young pitchers, was rushed up through the minors and didn't have to deal with any adversity until he got to the big leagues. Hell, the first time we ever saw Joba struggle was the midge game in the 2007 playoffs. Whenever he got in the trouble in the minors, he probably just threw a slider or two and those poor kids couldn't lay off it. Now he's finding out that big league hitters aren't so forgiving.
We expect instant gratification, but this is all part of the growing pains we'll have to deal with. It's not fun, it's frustrating, and it's enough to make us reconsider how good we think Joba will really become. A pennant race in the AL East is a tough place for a kid to learn to how to pitch, but Joba still needs to do a better job than what he's been doing.
Dan Brooks' invaluable PitchFX tool was used for his post