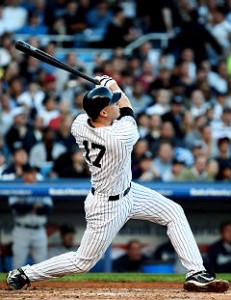 Man, you know the season is  almost over when we start talking about possible September callups. In case you don't know what those are, teams are allowed to expand their rosters on September 1st, which allows them to rest their regulars and get a look at some younger players. Because these guys aren't on the active roster by August 31st, they are ineligible for the postseason roster. Teams can still finagle them on there if there's an injury, though, which is exactly what the Angels did with K-Rod back in 2002. So who are the Yankees going to call up in September this year? EJ Fagan at TYU already took a shot at figuring out who it would be, and now it's my turn.
Now, one thing to remember is that not all Sept. callups actually happen on Sept. 1st. Last year, the Yanks only called up two players on the 1st – a third catcher in Chad Moeller and another arm in Phil Coke. Melky Cabrera was recalled three days later, after the minor league regular season ended. David Robertson, Phil Hughes, Humberto Sanchez, Frankie Cervelli, and Juan Miranda weren't brought up until the minor league playoffs ended in the middle of September.
In 2007, essentially the same thing happened. Ian Kennedy and Alberto Gonzalez were recalled on the 1st, and it wasn't until the minor league season/playoffs ended a week or two later that the likes of Tyler Clippard, Sean Henn, Kei Igawa, Matt DeSalvo, Jeff Karstens, Bronson Sardinha, and Ross Ohlendorf were brought up. 2006? Same thing. Wil Nieves, Jose Veras, and TJ Beam on the 1st, everyone else in the middle of the month. Obviously this year's team is in a different spot since they're so far out in front, but they have a history of throwing their upper-level affiliates a bone and letting them keep their best players for a playoff run.
Assuming they stick with this trend, don't expect to see much action next Tuesday. Frankie Cervelli seems like a given to add that third catcher, ditto Ramiro Pena since the team only has three bench players right now. As for another arm, Jon Albaladejo seems like the logical choice since he can give some length and has been on the NY-SWB shuttle all year. Remember that the team is also likely to get Brett Gardner back off the disabled list around this time, so that's like calling up another outfielder.
Anthony Claggett, Edwar Ramirez, Mark Melancon, Juan Miranda, and Shelley Duncan are already on the 40-man roster and have been in bigs before, so they seem like locks for a call up once Triple-A Scranton's playoff run ends. After that though, things get tricky. Chris Garcia, Ian Kennedy, and Kevin Cash are on the 40-man, but are out for the season with injuries sustained while playing in the minors. The team can't slide them over to the 60-day DL to free up 40-man spots because of that, so there's basically three dead spots they have to maneuver around. There really isn't anyone else DFA'able in there, and it would be pretty stupid to cut someone like Sergio Mitre just to add another pitcher likely to perform at a similar level while paying both salaries.
Zach Kroenke and Mike Dunn are two lefty relievers that have had tremendous seasons in the minors. Kroenke, drafted by the Marlins in the Rule 5 Draft last offseason but returned in Spring Training, is holding lefthanders to a .169 AVG against and can go multiple innings if needed. Dunn is holding all batters to a .218 AVG against and has struck out 94 in just 70.1 IP. Both guys were reportedly told that they would head to the Arizona Fall League if they didn't receive a Sept. call up, which, if nothing else, tells us that they're at least considering bringing them up. I think Dunn has a leg up because he's already on the packed 40-man roster.
Wilkins DeLaRosa is another lefty bullpen option on the 40-man, but his performance has been up and down between injuries this year. I don't see it happening. The only other player on the 40-man roster not accounted for is Andrew Brackman, and he hasn't done anything to deserve a call up. It's a shame, really.
The other group of players they could consider for possible Sept. call ups are the players eligible for the Rule 5 Draft this winter. Generally speaking, high school draftees from 2005 and college draftees from 2006 are eligible this year, so that means players like Austin Jackson, Kevin Russo, Ivan Nova, and Mr. Kroenke. I don't remember the Yankees ever calling a player up in September before he had to be added to the 40-man, and I don't see that happening now given how crowded the roster is. It's more likely that you'll see these four guys, plus DeLaRosa and Brackman possibly, come up to the Bronx to work out with the team and hang around the clubhouse and stuff, but without being activated. They'd then have to watch games from the stands since they can't be in the dugout. The Yanks do this with a few guys every year, and some alumni include Phil Hughes, JB Cox, Alan Horne, and Jeff Marquez.
So just to recap, look for Cervelli, Pena, and a pitcher like Albaladejo to be brought up immediately, with Dunn, Melancon, Edwar, Shelley, Miranda and Claggett to follow once the Triple-A Scranton season/playoff run is over. Realistically speaking, the Yankees just need enough position players in September to make sure they can rest everyone in the infield as well as Johnny Damon at the same time down the stretch, and that would be possible with Hinske, Hairston, Pena, Miranda, and Shelley. They'd also need just enough arms to soak up maybe 50 innings tops, mostly in blowout games and spot starts once a playoff spot is clinched. This group accomplishes all of that.
Photo Credit: Antonelli, NY Daily News