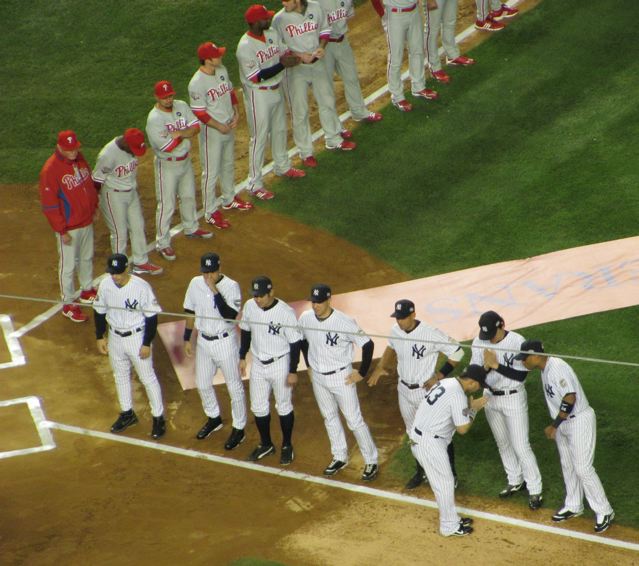 In just one season, Nick Swisher has fast become a fan favorite in New York City. Last night, he again displayed his antics in a moment that Amanda Rykoff caught on camera. She posted the above image to her Posterous site and called Swisher's bow to Hideki Matsui during lineup introductions a sign of the Mohawk Godzilla Nation.
Tonight, Nick Swisher will rest though. After going 0 for 3 with a strike out against Cliff Lee last night, Nick is mired in a terrible slump. He is just 3 for his last 35 with 12 strike outs. Considering his 7-for-42 end to the season, Nick is now hitting just .130 since mid-September with 12 walks. No lucky Mohawk can save him for that.
When the Yanks released the lineup about 45 minutes ago, Nick Swisher found himself a part of the Yankee bench. On a night when Jose Molina will bat ninth and catch, Jerry Hairston will hit seventh and play right field. Apparently, it is a part of the Yankee strategy to put two inferior hitters into the lineup one night after scoring just one run. Hairston, for what it's worth, has played just one game in right field all season. I could rant about this lineup forever, but back to Swisher.
As an aside, it appears as though Joe Girardi has opted for Hairston over Brett Gardner or Eric Hinske because of Hairston's career numbers against Pedro. Although Hairston is 10 for 27 against Martinez, all but eight of those ABs came in 2002 and 2003. Hairston hasn't faced Martinez since July 26, 2004. If Girardi is making his decision based upon numbers that are at least five years old, that is, honestly put, a stupid move.
I would never have advocated for benching Nick Swisher. He's just off right now. Fack Youk, in a Nick Swisher futility report, summed it up best using a PitchF/x chart and some observations from the game:
Swish was even given a generous ball on the second pitch of the at bat – the green square which was clearly high enough and right down the pike. So what did Swisher do with the five (really 6) pitches that were in his – or Major League hitter's – wheelhouse? He took three for strikes (and one for a ball) and fouled the other two off.

You don't take four strikes in those respective locations in one at bat unless you are completely lost at the plate and are simply resorting to guessing. You don't foul the other two off unless your rhythm and timing are out of whack. It was as if Lee & Ruiz had figured out that Swisher wasn't going to hit the ball no matter where it was and decided to just lay it right down the middle…

Swisher is prone to extended slumps and he picked a pretty terrible time to have one of his worst of the year. The sporadic schedule has probably negatively affected as a switch hitter since he has two swings that he needs to keep working and both have seemingly fallen into a state of disrepair.
The best way for Swisher to move beyond this slump is more ABs, but the Yankees don't really have the luxury of more at-bats. If they lose three more games, their season is over, and if they lose tonight, they face longs World Series odds on the road. And so Nick Swisher will sit, and I won't mind.
Joe Girardi shouldn't be employing a lineup without both Swisher and Jorge Posada, but tonight, he is. He should have used Brett Gardner or even Hinske over Hairston, but the ink has dried on that one. The top of the order can overcome some poor decisions at the bottom, and hopefully, Nick lets his head clear on this one. After an unexpectedly good season from Swisher, the last thing we want is a fade into oblivion after a bad postseason.