Like most (all?) of you guys, I spent my Sunday evening watching Phil Hughes pitch part of the 8th inning in the Yankees' series clinching win over the Twins. And also like most of you, I was waiting for Hughes to throw either Denard Span or Orlando Cabrera a curveball, a curveball that ultimately never came. In fact, just 3 (3!) of the 59 pitches Hughes threw in the ALDS were curveballs, that's it. This wasn't the first time I found myself wondering if St. Phil was ever going to break out Uncle Charlie, and it seemed like I was waiting for it more and more as the season progressed.
Since your memory can deceive you ("Memory can change the shape of a room; it can change the color of a car. And memories can be distorted. They're just an interpretation, they're not a record, and they're irrelevant if you have the facts," said the guy in Memento), I decided to turn to good ol' PitchFX and dig up the facts. First things first, let's take a look at Hughes' pitch selection this season. Remember to click any chart in this, or pretty much any RAB post, for a larger view.

As you probably expected, Hughes went fastball heavy once he shifted to the bullpen, as he should. There's no point messing around with your third or fourth best pitch as a reliever, and you can clearly see that his velocity spiked after the move. As for how much he was throwing each pitch as the season progressed, well that graph comes after the jump.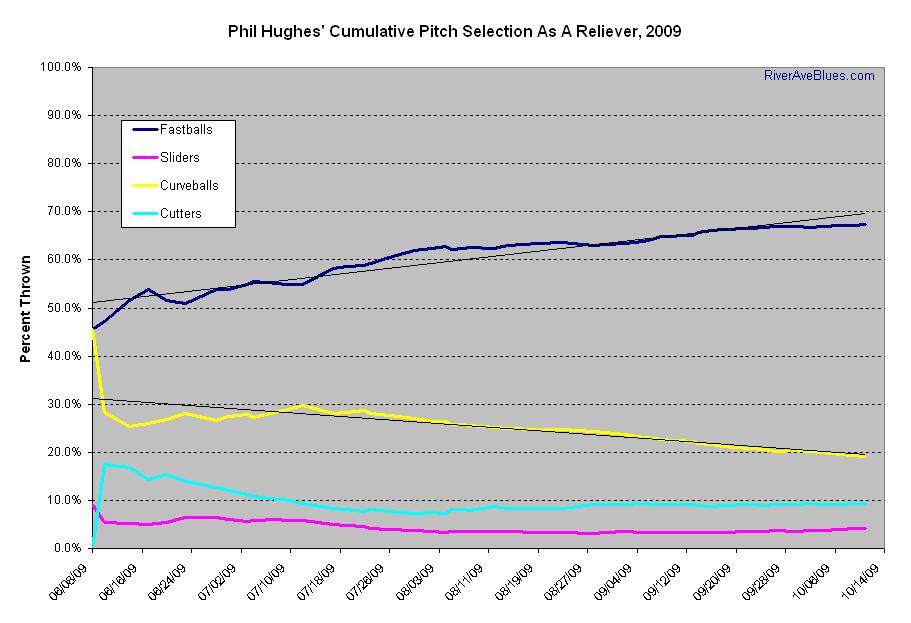 What we have here is how much Phil Hughes threw each of his four pitches (as a reliever) as the season went along. In mid-July he was throwing about 58% fastballs and about 28% curveballs. By the end of the regular season, those numbers were 67% and 20%, respectively. So obviously my suspicion was correct, Hughes was throwing more fastballs and fewer curveballs later in the year than he did while he was making a name for himself as a setup man.
Why is Hughes going more and more to his fastball now? I have no idea, and frankly it's unlikely we'll ever know. There are so many variables in play that it's not even worth speculating. Maybe he has a blister, maybe he's just struggling with the pitch, maybe he's hurt, maybe he's just too proud of his fastball. Who knows. The real question is this: is it affecting his performance?
In an attempt to find out, I took a look at how Phil's FIP changed as the season went on, so let's check that out: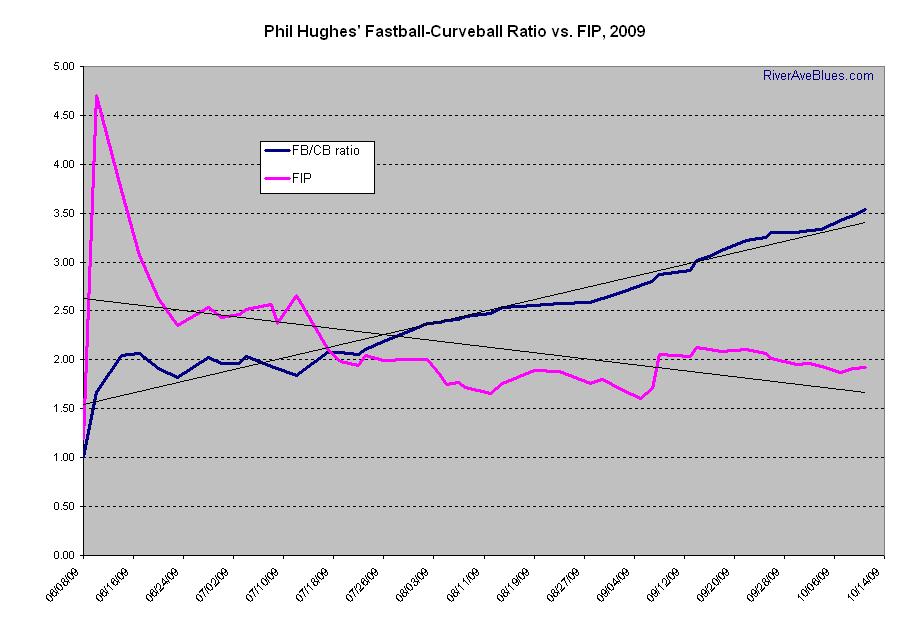 The blue line is Hughes' fastball-curveball ratio. So if we go back to that mid-July reference point again, Phil was throwing 2.07 fastballs for every one curveball. At the end of the season, he was up to 3.54 fastballs for every yakker. That big spike in FIP in early September was when he gave up the leadoff homer to Jason Bartlett, tying the game in the 8th. The Nick Swisher walk-off game. It would have taken months to bring his FIP back down pitching just one inning stints every few days.
Anyway, as you can see from the graph, Hughes was still pretty damn excellent even though he was going more and more to his fastball. His K/BB ratio remained excellent, and he wasn't even giving up many hits, looking at the game log. Heck, I even ran the numbers and found out that the numbers of pitches he needed per batter faced didn't change, so it's not like he's having trouble putting guys away with just his heat.
So maybe this is all for naught, and I just wasted a bunch of time to dig up the data and create some pretty graphs. We do know for a fact that Hughes is throwing fewer curveballs now than he did all that summer, and we also know that it really isn't affecting his performance. So what's the problem?
Well, the problem is predictability. Jonathan Papelbon blew Boston's season Sunday afternoon because he threw fastball after fastball after fastball, 26 straight at one point. Ex-Yank Bobby Abreu admitted in the post-game press conference that he was just waiting for a fastball on the outer half to flip towards the Monstah, knowing he'd get it eventually. Sure enough, Papelbon gave it to him, and Abreu did exactly that with it. It might not happen right away, but eventually hitters will just sit fastball against Phil, and eventually they'll start to catch up to it and do some real damage. It might not happen in the playoffs, but if he keeps it up, it's bound to happen eventually. No one lives on fastball alone.
That's why it's important for Hughes to keep that big bender in his repertoire, especially since he's going to move back into the rotation next year. As good as Hughes is, he's not Justin Verlander or Josh Johnson. He's not a guy that can throw his fastball 67% of the time and dominate, he needs that knockout breaking ball to succeed like most mere mortals. For now though, the mostly fastballs approach is working. Just don't expect it to work forever.