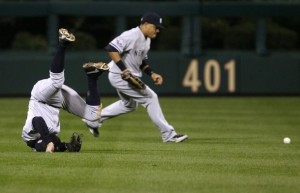 Projection season is upon us, folks. Bill James' 2010 projections have already been posted on individual player pages at FanGraphs, and CHONE's batter projections hit the interwebs yesterday. Instead of talking about projected offense today, I'm going to change gears and focus on projected defense. Jeff Zimmerman at Beyond the Box Score created weighted UZR projections for the 2010 season based on the last four years of data, and I can't remember ever seeing advanced defensive metric projections before (though I'm sure they're out there).
I'm not going to bother to explain Jeff's methodology, but all of the math is explained here. The individual projections can be found in this big Google Spreadsheet. Let's kick off this post by taking a look at the projections for the players that we can assume will be back in pinstripes next year, and how they compare to last year's UZR.
| | | | |
| --- | --- | --- | --- |
| | Position | 2009 UZR | Projected 2010 UZR |
| Mark Teixeira | 1B | -3.7 | +0.6 |
| Robinson Cano | 2B | -5.2 | -1.7 |
| Derek Jeter | SS | +6.6 | -1.9 |
| Alex Rodriguez | 3B | -8.6 | -3.8 |
| Brett Gardner | CF | +7.2 | +3.7 |
| Melky Cabrera | LF | -2.5 | +0.9 |
| Melky Cabrera | CF | +1.4 | -1.9 |
| Melky Cabrera | RF | -0.5 | -0.1 |
| Nick Swisher | LF | -0.5 | +0.7 |
| Nick Swisher | RF | -0.7 | +0.4 |
There's more red than black, but the  good news is that in general, the projections see most of the Yankee regulars improving in 2010 (Jeter, Gardner, and Melky in center being the notable exceptions). Pitcher and catcher defense is so hard to quantity that UZR doesn't even bother to try, hence Jorge Posada's exclusion. As a team, the Yanks had a -18.5 UZR this season, 8th best in the AL and 19th best overall, so an improvement would be pretty sweet.
The only position in the field the Yankees have to fill this offseason is leftfield, and Johnny Damon has to be considered the odds on favorite to fill that vacancy. The incumbent leftfielder had a -9.2 UZR last season, a drop of nearly 16 runs from the year before and 17 runs the year before that. It was noticable watching the games too, as every routine fly to left in 2009 seemed like an adventure. Zimmerman projects Damon to bounce back to -2.1 UZR in 2010, which would be a welcome improvement.
If Damon doesn't return, my personal choice to replace him would be Mike Cameron, who hasn't played leftfield in the big leagues since 2000 and has just 9.2 career innings at the position. Regardless, it would be a waste to use him in left, because his centerfield defense is still very good. Cameron put up a +10.3 UZR in center in 2009, and projects to post a +3.9 UZR next year. Assuming Melky slides over to left to make room for Cameron, you're looking at a combined +4.8 UZR between left and center in 2010. If you instead have Damon in left and Melky in center, it would be -2.2. Hell, even if it was Damon and Gardner, it would be +1.6 UZR between the two positions. Cameron and Melky would clearly be the best defensive alignment in this scenario.
Moving on to actual leftfielders, the two big names are obviously Matt Holliday and Jason Bay. Holliday projects to post a +4.9 UZR in left next year after +5.7 this year. Bay projects to have a -9.8 UZR next year, which is actually an improvement over this year's -13.0 mark. The guy is just awful in the field. Whoever signs him for huge money and three or four or however many years is going to regret it by year three.
A Holliday and Melky arrangement would be good for +3.0 UZR in 2010, Bay and Melky an unsightly -11.7. Replace Melky with Brett the Jet, and you're looking at combined UZR's of +8.6 and -6.1, respectively. Matt Holliday would clearly be the best defensive option in leftfield among free agents for the Yanks, although factoring contracts, adding Cameron and sliding Gardbrera to left would be more cost efficient.
Of course, if the Yanks really want to go big for leftfield defense, the answer is trading for Carl Crawford. The Other CC has long been the best defensive leftfielder in the game (he leads all LF in UZR over the last two years, and has ranked either first or second every season since 2003 with just one exception), and he projects to put up a +10.6 UZR next year, the best at the position. Whether or not the Yankees decide to part with a few quality young players to get him is another story all together, I'm just making an observation about Crawford's defense.
By no means are those the only leftfield options for the Yanks, they're just the most discussed options. They could bring Xavier Nady back (projects to have a -1.9 UZR next year) and hope the elbow holds up, but that's quite a risk. Neither Mark DeRosa or Chone Figgins played enough leftfield over the last four years to qualify for the projections (minimum 63 games), though DeRosa projects to have a +2.7 UZR in right while Figgins projects to -2.7 in center. Rick Ankiel projects to have a -2.4 UZR in center but doesn't qualify for left, while Marlon Byrd projects to have +0.8, -0.8, and +1.0 UZR's going left to right. A trade for David DeJesus would bring a studly +8.9 UZR to leftfield in 2010.
Obviously defense is only half the equation when it comes to evaluating a players worth, or maybe even less depending on how you feel (a run saved is as good as a run scored in my book), otherwise Randy Winn and his projected +2.5, -1.1, and +8.8 UZR's in the outfield (going left to right) would make a lot of sense for the Yanks. However his .262-.318-.353 batting line with a .302 wOBA (fifth worst among all outfielders) in 2009 scream "STAY AWAY!" Ditto Endy Chavez and his projected +3.1 UZR in left and .300 career wOBA.
Remember, these are just projections for one year. UZR is best used with multiple year samples, however we're all guilty of referring to one year totals to prove a point. Zimmerman's projections are just that: projections. Just an educated guess at what might happen in the future, so don't take them as gospel. Sure would be nice to see the defense improve again next year, though.
Photo Credit: Tim Shaffer, Reuters