Over the next week or so, we'll again break down what went wrong and what went right for the 2009 Yankees. The series this year will be much more enjoyable than the last.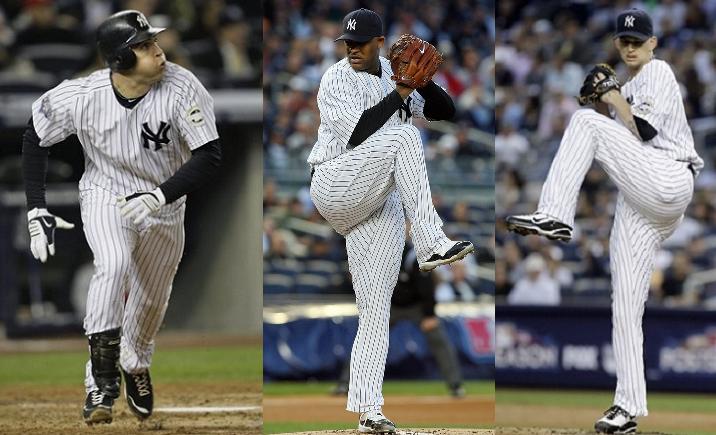 Every season starts with some new faces in Yankee pinstripes. Some are more notable than others, but they're all expected to produce. The offseason brought three big time free agents to the 2009 Yanks, and after several high-profile flops in recent years, Yankee haters and the MSM were chomping at the bit to tear into the club should they fail. Unfortunately for those folks, they didn't.
Mark Teixeira joined the Yanks on an eight year deal that will put $180M into his bank account, and his poor start (.182-.354-.338 in his first 99 plate appearances) already had some questioning his ability to play in New York. Tex answered all the doubters in a big way, hitting .308-.388-.598 the rest of the way, tied for the AL lead in homers (39), runs batted in (122), extra base hits (85), and total bases (344). His defense at first was top of the line, whether he was snagging line drives, ranging to his right, or scooping throws from other infielders.
The playoffs weren't kind to Teixeira, but it seemed like each of his hits came at a crucial time. He singled off Joe Nathan ahead of Alex Rodriguez's game tying two-run homer in the bottom of the ninth in Game Two of ALDS, winning the same game with a walk-off homerun in extras. Teixeira doubled in three runs to help mount a comeback in Game Five of the ALCS, and his homer off Pedro Martinez in Game Two of the World Series ignited the offense. His 5.1 WAR was the most by a Yankee first baseman since Jason Giambi's monster first season in pinstripes.
For the first time in history, a team handed out two contracts worth over $100M in the same offseason, and that means Tex wasn't the only new star in town. CC Sabathia signed on for seven years and $161M, giving the Yankees a sorely needed front-of-the-rotation starter still in his prime. Just like Tex, Sabathia struggled early, posting a 4.85 ERA as the team lost four of his first six starts. After those first six starts, though, Sabathia was everything the Yankees hoped for and then some. He pitched to a 3.06 ERA with a .226-.281-.360 batting line against in his final 28 starts, completing at least seven innings in 22 (!!!) of those starts.
The regular season was a sign of things to come for Sabathia, who was the absolute man in the postseason. He beat the Twins to start off the ALDS, the Angels twice (once on short rest) in the ALCS, and put together two commanding performances (again, once on short rest) against the defending World Champion Phillies in the Fall Classic. Sabathia threw 36.1 IP with a 1.98 ERA in five postseason starts, knocking more than three-and-a-half runs off his career playoff ERA in the process.
As if Teixeira and Sabathia weren't enough, the Yankees added another impact player in A.J. Burnett, who inked a five year, $82.5M deal. Given his questionable medical history, Burnett had the highest flame-out potential of the three big free agent signings, but he proved to be the team's most durable starter. He made every start without incident and didn't have to leave any games with health concerns (even Sabathia had his little run-in with biceps tendinitis against the Marlins), and pitched into the sixth inning in all but two if his 33 starts.
Burnett may have been Robin to Sabathia's Batman, but he turned in the biggest performance of the season (and his career) in what was the team's most important game of 2009, shutting down the Phillies in Game Two of the World Series to tie the series up at one heading to Philly. Sure, he was frustratingly inconsistent, but the Yankees do not get to where they ended up without him.
The Yankees didn't just stop at the free agent market, however. They also added an impact player via a trade. Long before Teixeira, Sabathia, and Burnett agreed to come to the Bronx, Brian Cashman fleeced Kenny Williams imported Nick Swisher from the White Sox in exchange for Wilson Betemit and two disposable minor league pitchers. Slated to begin the year as the fourth outfielder, Swisher was pressed into full-time duty after Xavier Nady blew out his elbow, and did more than replace Nady's production.
Swisher hit .249-.371-.498 with 29 homers, seeing the second most pitches per plate appearances (4.27) in the AL. His .869 OPS was the 12th best among all outfielders in the game, better than brand names like Ichiro, Matt Kemp, Bobby Abreu, and Nick Markakis. While Swisher's defense in the outfield was adventurous at times, he was solid overall and turned in several spectacular, heads-up plays in the postseason.
It's not often that a team is able to bring in four above-average players in one offseason, let alone two that are bonafide franchise cornerstones, yet that's exactly what the Yankees did last winter. They flexed their financial muscle to grab Tex and CC, used tremendous foresight to target A.J. over the imminently declining Derek Lowe, and flat-out stole Swish in a shrewd move. All four players met or exceeded expectations, and all four were huge reasons why the season ended on the Canyon of Heroes.
Photo Credits: AP, Getty Images, AP