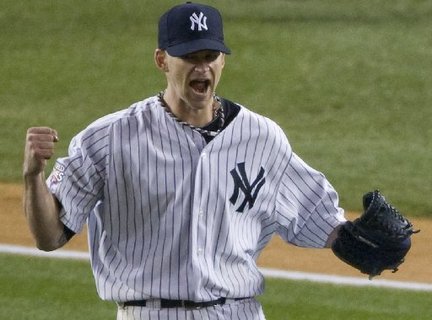 Tonight, in the first elimination game of the 2009 World Series, the Yankees will send A.J. Burnett to the mound on just three day's rest. The tactic makes sense. The alternative is Chad Gaudin, who hasn't started a game since late September and who has a well-documented deficiency when facing left-handed hitters. With such a significant drop-off between the Yankees third best starter, Andy Pettitte, and their fourth, Gaudin, the choice was not a difficult one.
Burnett has experience starting on three days' rest, and most of it came in the 2008 season with Toronto. His performance in those games might have helped influence Joe Girardi's decision, so let's take a look at exactly what happened when Burnett took the mound a day earlier than normally scheduled.
July 4, 2004
Burnett underwent Tommy John surgery in early 2003 and made his return in June, 2004. He had a few blips, including a 4.1-inning, eight-run outing against Cleveland, but generally pitched well in his first month back. Unfortunately, the Marlins could not pick him up, losing each of Burnett's six starts that month. This included back to back starts in which Burnett allowed just two runs over seven and eight innings.
On July 4, the Marlins called on Burnett to start on three days' rest against the Tampa Bay Rays, against whom he had thrown the aforementioned eight-inning game. He didn't pitch quite as well, allowing three runs over 7.2 innings, but it was enough to earn his first win of the season. He struck out six Devil Rays that day, including Carl Crawford to lead off the game. Atypical of Burnett, he also didn't issue any walks — though Tampa Bay drew the fifth fewest walks of any MLB team that season.
It might seem strange for Burnett to start on three days' rest so shortly after recovering from elbow surgery. That seems like the kind of move that could lead to a relapse. Burnett, however, had thrown just 30 pitches on June 30, leaving the game two batters into the second inning after allowing five hits and walking two. That light workload made the short-rest start make a bit more sense.
July 13, 2008
Burnett started off July 2008 with two horrible starts. In seven innings against the Angels on Independence Day, Burnett allowed eight runs, six earned, on 12 hits over seven innings. The next time out he allowed seven runs on seven hits and three walks over 5.1 innings to the Orioles. Why, then, would the Blue Jays bring back Burnet on there days' rest to face the Yankees on July 13?
I'm not quite sure. It was the last game before the All-Star Break, so perhaps Cito Gaston didn't want Burnett to have such a long layoff. Whatever the reason, it worked. Burnett took a shutout into the ninth inning, though Jason Giambi ruined it with a solo home run. B.J. Ryan came on after a Jorge Posada single to record the final two outs. Still, Burnett was magnificent, and it's one of the reasons that the players lobbied the team to sign him over the off-season.
September 13, 2008
At the end of August, Burnett found him with quite the challenge. On the ledger for his final three starts of the month: the Yankees twice, with Boston in the middle. While the Blue Jays were out of the race, it was still an audition for both teams. He killed the Yankees, but faltered a bit against the Red Sox. He'd get his chance for redemption against them, though, as Gaston named him the starter on September, just three days after his seven-inning, one-run performance against the White Sox.
It wasn't an easy six innings for Burnett, as he used 102 pitches, walking three. But at the end of the sixth he had allowed just one unearned run. The Blue Jays went to town, scoring eight runs in support of their free-agent-to-be, helping him pick up his 18th win of the season.
The phantom three days' rest start — April 16, 2008
When looking up Burnett's short-rest starts, I first went to his Baseball Reference splits page, where it says he has started four games on three days' rest. Yet I found only three such games. It comes down to a nitpick: does a start count as being on three days' rest when the previous appearance was in relief?
On April 16, 2008, then-Blue Jays manager John Gibbons called on Burnett to come into the 14th inning of a game at home against the Rangers. It was tied 5-5, and the Blue Jays needed some more innings out of a dwindling pen. He had last pitched on April 13, also against Texas, and didn't pitch particularly well in that start, allowing four runs over 5.2 innings. It seemed curious that Gibbons would call on Burnett two days later, but he did and paid for it. Burnett allowed two runs on three hits and a walk in the 14th, leading to a 7-5 Blue Jays loss.
Then, three days later, Burnett came out to start against the Tigers. It was six days after his last start, but just three days after his last appearance. He allowed three runs over five innings, walking six in the game. It was easily his worst start on three days' rest, yet the Blue Jays offense put him in line for the win, his second of the season (the first was against the Yankees in his first start of the season).
In a way, I don't want to count it because the start on three days' rest did not follow another start, but a relief appearance. Then again, Burnett did throw 24 pitches in that span, six short of the 30 he threw on June 30, 2004, which he followed with a start on three days' rest. Is there much of a difference there? I thought so at first, but I'm not so sure after thinking it over some more.
None of this guarantees Burnett anything tonight. It proves that he's physically capable of throwing on three days' rest and succeeding, but that's about it. Knowing his track record is a bit reassuring, at least.