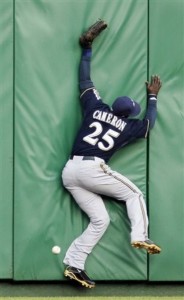 Earlier today we heard that the Yankees are looking for a way to keep both Johnny Damon and Hideki Matsui around in 2010, a fine strategy as long as they both come back on short, one year deals. But what happens if one bolts? What if someone guarantees Damon two years, or Matsui really wants to play alongside Ichiro? If either leaves, the Yanks would have to bring in another above average outfielder to replace the lost production.
There are over 30 outfielders on the free agent market, but most of them aren't full-time players, which is what the Yankees would need. For one reason or another, there's no point in talking about guys like Garret Anderson, Coco Crisp, Cliff Floyd, Ken Griffey Jr., Vlad Guerrero, Austin Kearns, or the like. Instead, lets take a look at nine players that a) could be realistic options for the Yankees if Damon, or Matsui, or both leaves, and b) we'll hear suggested as fill-ins by fans, the MSM, etc.
These guys are listed alphabetically, so don't read anything into the order. Ages are as of April 1st, 2010.
Rick Ankiel, 30
After a storied return to the majors after his pitching collapse, the blush is officially off the rose. Ankiel batted just .231-.285-.387 in 404 plate appearances in 2009, missing time with a shoulder injury after crashing into the wall. Lefties completely neutralized him (.234-.265-.294), and his .288 wOBA was ahead of only Willy Taveras' unfathomable .259 mark among guys with at least 400 plate appearances. Ankiel's defense in center and right field was abysmal (-12.0 and -12.2 UZR/150's, respectively), though he was solid in left (+53.5 in a limited sample) and his arm somewhat makes up for it.
That said, Ankiel is a lefty swinger with above average power, and those guys tend to mix well with Yankee Stadium. By no means is he someone you'd slot into the outfield every day, but he could be a very useful fourth outfielder, like a more athletic Eric Hinske. There's just no telling how Scott Boras will market him, and anything more than one year with a low base plus incentives is too much.
Jason Bay, 31, Type-A
One of the big two free agent outfielders, Bay's name is frequently bandied about in Yankeeland because he just so happens to pay for the rival Red Sox. There's no denying that Bay's a superb offensive player (.397 wOBA), but his ineptitude against non-fastballs will always hold him back.  Despite his excellent OBP and crazy good IsoP, Bay's defense is so atrocious that it negates a large chunk of his offense. His -11.2 UZR/150 in left was simply awful, and because of that his WAR was an unspectacular 3.5 in 2009, exactly the same as Nick Swisher's.
The Yankees have been making tremendous strides in recent years with getting younger and more athletic while improving the defense, and Bay goes completely against the plan. Considering that he's balking at Boston's four year, $60M offer, there just doesn't seem to be a fit for Bay in the Bronx, especially when you consider they'd have to forfeit a first round pick to sign him.
Marlon Byrd, 32, Type-B
Believe it or not, Byrd was once ranked as the 26th best prospect in the game by Baseball America, ahead of guys like Adrian Gonzalez and Miguel Cabrera back in 2002. After bouncing around between the Phillies and Nationals early in his career, Byrd finally blossomed in Texas, where he's hit .295-.352-.468 during his three year tenure. He's benefited greatly from playing in Arlington, putting up a .309-.375-.522 line at home over the last three years, while hitting just .281-.328-.414 on the road. Byrd's defense in center is unacceptable (-9.5 UZR/150), but he's solid in the corners.
As a Type-B, the Yankees wouldn't have to forfeit a draft pick to sign him, but those home road splits are concerning. Like Ankiel, he'd be fine as a fourth outfielder, but he's not an everyday player for a championship club.
Mike Cameron, 37, Type-B
The oldest player featured in this post, Cameron was also the second most productive player in this group last year thanks to his 4.3 WAR. He's been a consistent .340 OBP/.200 IsoP player for nearly a decade, though that comes with the caveat of lots of strikesouts, more than one every four plate appearances. Not quite the legendary defender in center he once was, Cameron's +10.3 UZR/150 is nothing to sneeze at. He's been on great teams, been to the playoffs, and played in New York, so the adjustment period should be minimal.
Like Damon, Bobby Abreu's contract may have set the market for Cameron, meaning $9M a year. It's a perfectly reasonable salary for a one year deal, and he'd fit in well with the Yankees as a complementary piece. The strikeouts are ugly, but the defense and pop make up for it.
Jermaine Dye, 36, Type-A
Mike Cameron might be oldest player in this post, but Dye has certainly aged the most. His .340 OBP/.200 IsoP is solid, though he struggles against same side pitchers (.236-.323-.434 vs RHP) and has shown a tendency to wear down late in the season over the past few years. By all accounts, Dye is a DH masquerading as an outfielder, because his best UZR/150 over the last four years is the -21.4 mark he put up in 2008. If you think Nick Swisher is an awful outfielder … heh, you ain't seen nothin' yet.
Much like Bay, Dye goes completely against the Yanks' plan of getting younger, more athletic, and better defensively. Maybe they bring him in on a non-guaranteed contract to compete for a spot in Spring Training, but other than that, stay the hell away.
Matt Holliday, 30, Type-A
The big free agent fish, Holliday was the third most productive outfielder in baseball last year thanks to his 5.7 WAR (trailing only Ben Zobrist and Franklin Gutierrez, of course). We're all aware of how Holliday struggled in the AL with Oakland, but that probably had plenty to do with their big home ballpark and acres of foul territory. The fact of the matter is that he's an extremely productive hitter, but one that struggles against quality fastballs and has seen his IsoP decline for three straight years. His defense is well above average, though his UZR/150 has also declined for three straight years.
Reports say that Boras is seeking Mark Teixeira money for Holliday, but he's simply not that kind of player and will likely have to "settle" for Carlos Beltran money, if he's lucky. I'm not sold on his ability to be a difference maker in the AL East like Tex is, and at that price tag the Yankees should steer clear. It's not hard to envision a Carlos Lee scenario playing out, where after two years whoever signs Holliday is looking to unload him.
Xavier Nady, 31, Type-B
The incumbent, the interest in Nady should be directly related to the health of his elbow. He is what he is when healthy, a solid complementary player that'll get on base 33% of the time and knock about 20 balls out of the park. Unlike the other guys in this post, Nady is versatile, capable of playing the outfield corners as well as first base, and he could even fill-in at third base in an emergency. He's below average with the glove pretty much everywhere, though.
Nady's a bit of a 'tweener, he's too good for straight up fourth outfielder duty, but he's not a starter on a top tier club. Since he's a Type-B and made an affordable $6.55M last year, the Yankees can offer him arbitration and at worst get stuck paying him about $7.5M for one year. Nady would be a fine Plan C, though everything depends on that elbow.
Marcus Thames, 33
Chances are you already know Thames' story. He grew up in the Yankee system, then homered off Randy Johnson on the first ever pitch he saw in the big leagues. Traded away less than two years later, he's since developed into a power factory (.260 (!) IsoP over the last four years) but not much else with the Tigers. He's a two-and-a-half true outcomes guys, drawing the occasional walk when he isn't busy striking out or hitting homers. Thames' defense is awful, well into the negative double-digit UZR/150's in the corner spots.
The ability to hit for considerable power keeps Thames out of the Jermaine Dye stay the hell away grave, but he's got one foot in. He's an okay bat off the bench, or maybe the righty half of a DH platoon, but that's pretty much it. Frankly, there's nothing Thames does that Shelley Duncan couldn't do.
Randy Winn, 35, Type-B
The Giants told Winn to take a hike yesterday, so he'll have to take his slap hitting act elsewhere. His offensive output dropped off a cliff last year, as his OBP sunk below .320 and his IsoP dropped below .100 despite a normal BABIP and line drive rate. Winn's defense in the corners is what keeps him from being replacement level, but at his age, who knows how long that will hold up.
No longer a starting caliber player, we might have to dip into the veteran leadership jar to artificially boost Winn's value. The Yankees don't really have a place for a guy like this, they can get similar production out of Brett Gardner for a fraction of the price.
* * *
So there you have it. The Yankees could choose to go all in with the likes of Bay or Holliday, or they could go for a stopgap like Cameron or even Nady for the time being. Ankiel or Byrd could be brought in for bench roles, though they both might be able to land full-time gigs elsewhere.
I've made it no secret that I'm a Cameron fan, especially since he's a better value than Bay. Assuming one of Damon and Hideki Matsui walks, Cameron could step right in to provide rock solid defense and an above average stick while playing every day. The short term commitment means that not only is it an easy move to back out of, but it also means there's still a clear path for Austin Jackson in the future. As Buster Olney would say, it's a great fit.
Photo Credit: Gene J. Puskar, AP