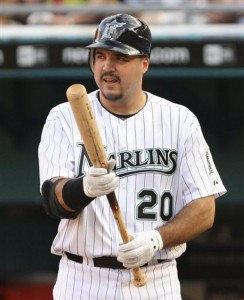 With the returns of Johnny Damon and Hideki Matsui still up in the air, Ken Rosenthal mentioned yesterday that the Yanks have gotten in touch with Nick Johnson about a return to New York. Johnson surely can't handle the outfield, which means that the Yanks are thinking about him as a fallback option at DH.  Keith Law recently ranked him as the 13th best free agent, right behind another RAB fave in Mike Cameron.
The Yankees are certainly familiar with Johnson, having drafted him in the third round way back in 1996. Baseball America ranked Nick among the top 18 prospects in baseball every year from 1999 to 2002, and he was long considered the heir apparent to Tino Martinez. It's easy to forget that Larry Bowa's nephew put up a .284-.422-.472 batting line for the Yanks as a 24-year-old in 2003 (406 plate appearanes), only to be banished to Montreal the following offseason as part of the Javy Vazquez trade.
Johnson's calling card is the military style plate discipline that's allowed him to post a .414 OBP (!!!) with more walks (432) than strikeouts (410) over his last 2,597 plate appearances. Only Jayson Werth (4.50) and Kevin Youkilis (4.42) saw more pitches per plate appearance in 2009 than Johnson (4.38), so even when he makes an out, he'll go down with a fight.
Of course, the real name of the game with Nick Johnson is injuries. He's been on the disabled list eight times in his career, spending a total of 565 days on the shelf. That a little more than three full seasons. The biggest culprit was the broken femur that required three surgeries and cost Johnson the entire 2007 season, though an outfield collision with Austin Kearns is as fluky as it gets. More recently, Johnson missed most of the 2008 season with a wrist injury he suffered on a swing. The injury required surgery, which will usually sap a hitter's power for about a year.
Predictably, Johnson's power output dropped off a cliff after surgery, as he picked up just 32 extra base hits (24 doubles, 2 triples, 8 homers) in 574 plate appearances last season. He slugged just .405 with a .114 IsoP, which is Scott Podsednik territory. Thankfully, there's statistical evidence that suggests Johnson's power might be on the way back. Let's tabulate:
| | | | | |
| --- | --- | --- | --- | --- |
| | GB% | FB% | LD% | HR/FB |
| 2009 | 22.2 | 43.4 | 34.4 | 6.2% |
| Career | 22.4 | 43.6 | 34.0 | 13.0% |
You see that? Johnson hit grounders, fly balls, and liners last year at the same rate he has his entire career, yet it resulted in fewer homers.  Roughly 10% of all the fly balls hit in the big leagues last year turned into homers, yet Johnson was well below that. As you can see from his hit charts, Nick definitely hit plenty of deep fly balls, so it's not like he turned into a bloop singles hitter. It's reasonable to expect Johnson to progress back to the mean next season, dumping a few more balls beyond the fence. Heck, Joe Mauer had a 6.5% HR/FB in 2008, and we all saw what that statistical correction was like. Obviously, you shouldn't expect Johnson to go that nuts, but a return to his normal levels seems more than reasonable.
Unlike Juan Miranda, Johnson wouldn't require a righthanded caddy for the Jon Lesters and David Prices of the world. He has a reverse split just like Matsui, hitting .316-.440-.444 against lefties last year (.281-.420-.389 vs. RHP), and .292-.424-.438 against southpaws in his career (.266-.394-.450 vs. RHP). If you're a fan of Matsui's clutchiness (and who isn't), then I feel obligated to mention that Nicky J.'s a career .279-.457 (!!!)-.470 hitter with runners in scoring position. Johnson's a very well rounded hitter that uses all fields, and even though he won't match Matsui's raw production, he's still an above average offensive player.
The biggest problem in all of this is that Johnson is a really, really good defensive first baseman, so you know other teams are going to be hard after him as well. His UZR wasn't good last year (-5.6), but it was the first time since 2003 he was in the negatives. As a DH, Johnson's defensive abilities would be going to waste, yet he and his agent would (should) want to compensated for that ability. It'll be tough to pry Johnson away from the starting first baseman jobs that will surely be offered to him this offseason, though DH'ing will probably keep him healthier.
You're not going to find a bigger Nick Johnson fan than me, but that's not the only reason why I'd love to see him in pinstripes. He fits the Yankee mold of patient hitters (imagine Johnson and Nick Swisher hitting back-to-back), and coming to the homer happy Yankee Stadium might beef up his offensive output more than a normal rebound from last year's drought would. Rosenthal's sources said Johnson is seeking a multi-year deal, which is certainly doable under the right circumstances. The bottom line is that the Yankees will need to replace Matsui's production should he go elsewhere, and Johnson's a pretty good fallback option.
Photo Credit: Wilfredo Lee, AP