Over the next week or so, we'll again break down what went wrong and what went right for the 2009 Yankees. The series this year will be much more enjoyable than the last.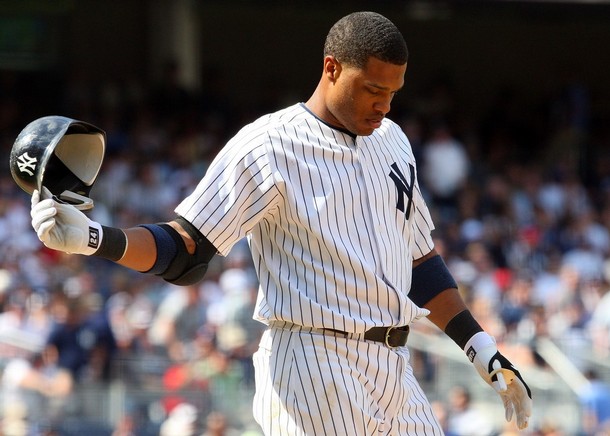 In many ways, Robinson Cano's 2009 season was the finest of his career. He rebounded from a substandard 2008 campaign to hit .320-.352-.520, setting career highs in games played (161), hits (204), runs scored (103), doubles (48), homers (25), and OPS+ (129). His 331 total bases were fourth most in the league, just 13 behind right-side-of-the-infieldmate and league leader Mark Teixeira. Unfortunately, it wasn't all good news for Cano in 2009, as he struggled immensely when runners were in scoring position.
Robbie hit just .207-.242-.332 in those spots this season, easily the worst performance with RISP of his career. There were 247 individual runners in scoring position for Cano in 2009, yet he drove in just 55 of them (not including himself four times on homeruns), or 22.3%. For comparison's sake, Teixeira drove in 70 of 257 runners in scoring position, or 27.2%. It's only a 4.9% difference and that might not seem like much, but with 250+ chances, that's more than a twelve run swing.
Ironically enough, Cano has all the tools you'd want to see in a guy batting in RBI situations. He's got a gorgeous swing and makes contact so easily that he rarely strikes out (he struck out in just 9.9% of his plate appearances last year, ninth best in baseball). He hits the ball to all fields with authority, and he straight up murders fastballs (.328 AVG off them in 2009, 1.59 fastball runs above average per 100 pitches according to FanGraphs). Sure, you would like him to work the count a little better, but we saw earlier this morning that Cano excels at swinging early in the count. It's in his DNA, he's just not ever going to be a very patient hitter.
If there's any good news in all of this, it's that Cano had an unsustainably low .210 BABIP with RISP in 2009. His career BABIP is .324, so we're talking about a huge difference here. Working backwards, Cano "unlucked" out of 17 hits with RISP this year because of his abnormally low BABIP (assuming he would have had his career BABIP in those spots), and those 17 extra hits would have pushed his batting line to a much more respectable .299-.328-.434 (assuming they all would have been singles) with men on second and/or third.
Cano admitted during the season that his struggles with RISP got to him, and you could clearly see that he was pressing in those spots as the season wore on. He's human, it happens. The offseason is probably the best thing for him, because he gets to go home and clear his head, then come into camp with a fresh start next spring. His performance with runners in scoring position has nowhere to go but up, and that's exciting.
Photo Credit: Jim McIsaac, Getty Images