Roy Halladay has the headlines right now. Every major national outlet features a story about him on their MLB page. SI.com even has an homage to Halladay titled "The Race for Roy." We've written about him just a few times over the last two weeks. When the best pitcher in baseball hits the trade market, he's bound to capture our attention for a while. Eventually, though, the Halladay trade rumors will die down. Next up on the list of players connected to the Yankees could be John Lackey.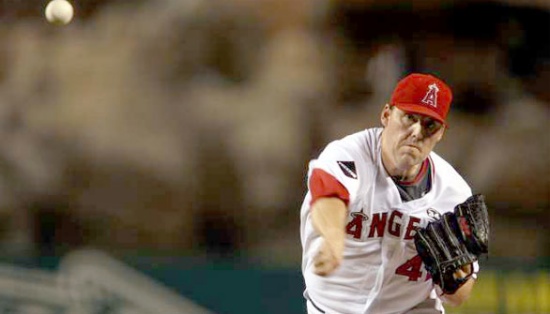 Though he's taken a backseat to Halladay so far this off-season, Lackey is the best starting pitcher on the market. There are others with as much talent — Rich Harden, Erik Bedard, and Ben Sheets at their best can be as good, even better than Lackey, but they're not as sure a bet as Lackey. Even tough he's missed time the past two seasons, he's still managed to pitch over 160 innings in each. Good innings, too. Even in a depressed free agent market he'll get paid.
By not offering arbitration to any of their free agents, the Yankees have, like last winter, kept free the most possible payroll. This might have been a move related to the individual players — i.e., they thought that there was a good chance the player would accept and they didn't want to pay the player an amount determined by an arbiter. But it might be that they want available payroll so they can replace one of their departing free agents with a new, younger player. Lackey makes plenty of sense in this regard. Adding him to the Yankees rotation could solidify it for 2010 and beyond.
If the Yankees do seek Lackey's services, they'll face plenty of competition. The rumors might be light now, but at the right price the Red Sox, Phillies, Mariners, Rangers, Brewers, and of course the Angels could be interested. It's tough to say how high any of them will go, but it's a good bet that, if they're interested, the Yankees would be near the top of that pack. As they showed with A.J. Burnett last winter, they don't like being outbid.
Jon Heyman talked up the Yanks' interest in Lackey a month ago.1 "Word is that the Yankees probably will be willing to repeat A.J. Burnett's $82.5 million, five-year contract for Lackey," he wrote. Whose word that is I don't know, but it sounds reasonable enough. Lackey's stuff might not be as imposing as Burnett's, but he's generally been healthier, has comparable ERAs, and has better control than Burnett. If this were two years ago, Lackey might see $100 million. But in this market, I'll buy that a five-year, ~$80 million deal is the best he'll do.
Assuming they structure a potential deal the same as Burnett's, the 2010 payroll would be $186.8 million, plus arbitration raises to Melky Cabrera, Brian Bruney, Chad Gaudin, and maybe Sergio Mitre, plus a left fielder and a DH, plus possibly Andy Pettitte, plus roughly half a million dollars for every other player to fill out the roster. In other words, if the Yankees are truly interested in Lackey, they'll have to commit to a higher payroll in 2010, something they've hinted isn't likely. Not only that, but as we've discussed, it would mean a commitment to keep payroll above $200 million for most of Lackey's deal.
Lackey's most obvious destination remains the Angels. They have only $77 million committed to 2010 payroll, though they do owe first-year arbitration raises to six players, including Erick Aybar, Jered Weaver, and Joe Saunders. Even so, their rotation would be severely weakened without Lackey. Since they stand to lose the most, I think they'll make a serious run to bring him back. If they can spend $18.5 million per season on Torii Hunter, they can do something similar for John Lackey.
When the off-season began, I didn't think the Yankees would be too serious about Lackey. He's the best free agent pitcher, sure, but with the Yankees payroll commitments and the risky nature of giving pitchers long-term contracts — and especially after doing it twice last off-season — I didn't think the Yankees would do it again. After they declined to offer arbitration to any of their free agents, though, I'm beginning to wonder. Lackey would cost them only money, rather than money and prospects, and he would fit in perfectly behind A.J. Burnett in the rotation.
I wouldn't count on the Yankees signing John Lackey. They have plenty already committed to the 2010 payroll and still have a few holes to fill. But I wouldn't be surprised to see them make a serious run, nor would I be disappointed if they signed him. Paying your top three pitchers almost $60 million per season isn't ideal, but if they're quality pitchers and the team is winning, I doubt they'll mind much.
---
1And Lackey isn't even a Boras client. (Up)