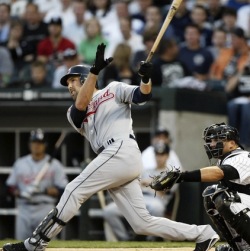 Brian Cashman does not love this year's free agent class. He apparently loves next year's, and he certainly loved last year's, but that does not appear to be the case this year. A few attractive names topped, and still top, the free agent market, but none of them fit into the Yankees' plans like Mark Teixeira, CC Sabathia, and A.J. Burnett. Unless he plans a super-stealth acquisition of Matt Holliday, which seems highly unlikely at this point, the Yankees are done shopping the top of the market. It's time to start looking at the next few tiers for more complementary players.
Yesterday afternoon we linked to a story about Mark DeRosa's desire to play for a winner, "period." Plenty of players say that, though, and end up signing where the dollars take them. For a minute, though, let's assume that DeRosa will sacrifice dollars for wins, and that he wants to play for his boyhood team, the Yankees. At what point does adding DeRosa to the roster make sense? Does it at all?
Mike examined DeRosa's merits earlier this off-season when reports surfaced that his agent had talked to the Yankees. That was under the impression that DeRosa wanted three years and $27 million. No team will pay that for a soon-to-be 35-year-old, so Mike dismissed the idea out of hand. Recent reports suggest that DeRosa's demands have come down, and are now in the $18-21 million range over three years. Even then, though, the price is too steep, especially to the Yankees, who in all likelihood view DeRosa as a luxury.
The only chance DeRosa has of playing for the Yankees is if he's willing to sign a one-year deal in the $3 million range. Otherwise, I don't see the Yankees biting. So does DeRosa's statement still hold up here? Would he be willing to sacrifice that many dollars for a chance to play for the Yanks? Or will he take more dollars to play for a lesser organization? That is one of the most difficult decisions a baseball player has to make. They have a very small window to earn money at this profession, so many, if not most, of them opt for the most guaranteed dollars. I'm fairly certain there are teams that would offer DeRosa more than three million guaranteed dollars.
Even at a drastically reduced price, DeRosa comes with a red flag or two. As Mike mentioned earlier this month:
DeRosa is coming off wrist surgery, which I already mentioned a few times, and that generally saps a player's power for a year or so. He's also swinging at more pitches out of the zone (19.5% in 2007, 20.9% in 2008, 23.5% in 2009), and (not coincidently) he's also making contact on a fewer percentage of the swings he takes (82.5%, 79.3%, 77.9% in those three years, respectively). Moving to the AL East, where power pitchers are plentiful, could lead to further regressing from DeRosa.
DeRosa suffered his wrist injury mid-season and played through it, though it clearly affected his numbers. Up until he "tweaked" his wrist on June 30, in just the third game of his Cardinals career, he was hitting .263/.336/.446, mostly with the Indians. From the point of injury through the end of the season he hit .235/.296/.417. His power remained, as he hit 10 home runs and 10 doubles in 254 plate appearances over that span, but all other aspects of his game fell off. The concern now is that his surgery will sap his power, his one strong point in 2009, in 2010.
If DeRosa makes a full recovery in time for the season, however, he can be useful to the Yankees. Many see him as a super-sub, but it's unlikely he'd be the primary utility player. He played just two innings at second base in 2009, and has played 51 innings at shortstop since his 2005. Even if the Yankees were to sign DeRosa they'd still need to carry a true shortstop/second baseman. So where does that leave DeRosa?
We've spent many words discussing the Yankees outfield situation for 2010, and if DeRosa comes aboard his most likely role will be out there. If Curtis Granderson continues to struggle against lefties, DeRosa can spell him, taking over left field while shifting Melky Cabrera over to center. In 2008 DeRosa hit .310/.398/.397 against lefties. Even in his down 2009, he hit .278/.341/.587 against lefties, smacking 10 of his 23 home runs against them despite pacing them in just 138 of his 576 plate appearances. He holds a career .859 OPS against lefties.
The plan, however, is for Granderson to face lefties. Upon trading for him, Cashman noted that, "There's nothing you can see that explains why he didn't hit left handers." DeRosa, then, would be a backup plan in case Kevin Long and the Yankees' staff can't turn around Granderson's failures against lefties. Yet he'd still have a place on the team. Not only could he spell Alex Rodriguez at third base (though that won't be as much of a need as it was in 09), he can also help out with a streaky outfield.
Both Melky Cabrera and Nick Swisher are streaky hitters. They go through long stretches of futility, followed by hot streaks. All players do this, really — there's no such thing as a robotically consistent hitter. But it seems to be more pronounced in Cabrera and Swisher. DeRosa could step in during a slump, eating up some plate appearances, hopefully providing production while either Cabrera or Swisher rests. With those three roles — part-time platoon partner for Granderson, slump caddy for Cabrera and Swisher, and occasional third baseman — maybe DeRosa can work in 350 to 400 at bats. Maybe.
When it comes time for DeRosa to decide, chances are he won't choose a paltry offer from the Yankees, even if they were his boyhood team. Mike put it well: "I don't see why an accomplished player like DeRosa would accept a handyman role with the Yanks when other clubs will be offering full-time gigs at a set position." I don't either. That is, unless it's not all about the money for DeRosa. The only way he plays for the Yanks is if that's the case. Otherwise he'll likely find more money and a better situation elsewhere.