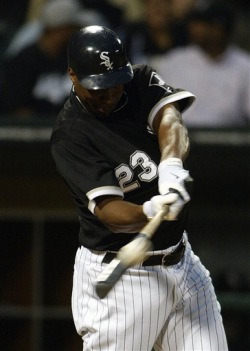 Since all we're going to talk about is left field, how about this rumor from Phil Rogers of the Chicago Tribune: "Jermaine Dye is drawing interest from the Yankees." As we've discussed, the Yankees could use another outfielder. Even if they want to give Gardner every shot, a solid backup should be in the plans. Since Jamie Hoffman is not that, we could see the Yanks make a move for a lower-tier left fielder.
Dye has name recognition value, but not much beyond that. He's coming off a horrible year in which he hit .250/.340/.453. To sign him would be to bank on a significant bounce back year. For a younger player it might be worth the gamble, but Dye will turn 36 in a month. It might have been an off-year, or it might be a sign of declining skills. At what point is that a worthy gamble?
In 2009 Dye posted his worst offensive season since an injury riddled 2003. His power faded, as his .203 ISO was his lowest since 2004, and a .044 drop-off from 2008. His BABIP fell to .269, his lowest in a decade, apparently driven by an alarmingly low line drive percentage, 16.9, again his lowest since 2003. Defense has never been a strength, and over the past four seasons he's posted a lower than -21 UZR/150.
There are some indicators, however, that Dye could bounce back from his poor season. While he hit fewer line drives, they turned almost exclusively into ground balls. His 43.6 fly ball percentage nearly matched his 2008 mark. Also nearly equal was his HR/FB ratio, at 15.6 percent, just a tick down from his 16 percent mark in 2008. Most of his power loss came in the gaps, as he hit just 19 doubles in 2009. Despite the down year he still hit 27 home runs. He also greatly increased his walk percentage, to 11.3 percent. Because of that he posted a .340 OBP, impressive considering his .250 batting average.
Considering the risks attached to Dye, combined with his poor defense, I wonder if the Yankees would also consider Eric Hinske. A much cheaper option, Hinske could probably post numbers similar to Dye in 2010, on offense and defense. UZR likes Hinske a lot more than Dye rating him positive at all but one position, third base, throughout his career. That doesn't quite pass the eye test — Hinske seemed a butcher in the outfield last season, but I think it's a safe bet he's better than Dye.
The biggest difference between the two players is their handedness. Hinske, a lefty, has hit righties far better throughout his career, while Dye, a righty, does most of his damage against left-handed pitching, though his career platoon split isn't dramatic. Since the Yankees feature a lefty-heavy lineup, perhaps they'd prefer Dye, a righty, to caddy Brett Gardner in left.
The good news is that Dye's price tag shouldn't be out of the Yankees' range. He's a second-tier corner outfield in a robust market, and will likely settle for a low base salary contract sometime in January. At that point, he might be worth the risk. A righty outfielder with the potential for a big season, especially at a low cost, should certainly interest the Yankees. They might have to wait him out, but his price could drop below what Bobby Abreu signed for last winter.
The Yankees have no reason to rush to seek outfield depth. Many options remain on the market, and likely will remain through January. By taking their time, the Yankees can watch the asking prices for many second-tier outfielders fall. Then they can slide in and sign a player they prefer. Dye is just one of many choices. If he wants a situation where a job is his to lose, he won't choose New York. But if he wants the chance and is willing to sign for the Yankees' price, I don't see why the Yankees wouldn't give him serious consideration.
Of course, there are plenty of players they should give serious consideration. In the end, they have room for only one. Dye could be as good a choice as any.