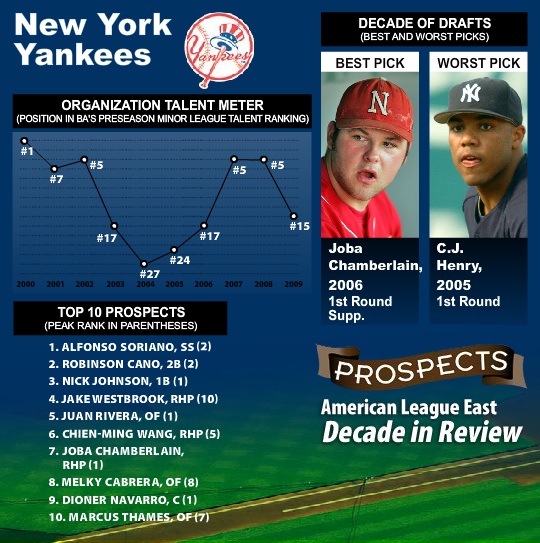 Baseball America might be a few weeks late on this one. After all, the decade's been over for almost a month now, and we covered the the Yankees' decade a few weeks ago. But the prospect publication just released their decade retrospective, and as you can see, the Yanks' list is as expected. In fact, it looks awfully similar to Mike's list.
The biggest omission in the BA list, in my opinion, is Phil Hughes. At no point in the decade would I have taken Marcus Thames over Phil Hughes, and I'd probably opt for Hughes over Melky — a BA prospect just once all decade — and Dioner Navarro who never lived up to the hype.
As Mike noted in December, after the ten guys listed here, the Yanks system didn't produce much of lasting value this decade. Phil Coke is a useful, if average, player, and David Robertson stands to be a key cog in the bullpen in 2010. Ian Kennedy could still emerge as an adequate Major Leaguer.
The misses are nearly as compelling as the hits though. Amongst David Parrish, Jon Poterson — the comp pick for Andy Pettitte in 2004 — Drew Henson, C.J. Henry and Eric Duncan, the Yanks had some spectacularly hyped prospects and high draft picks who just didn't come through. Such were the way of things mid-decade.
In the end, the Yanks had a pretty unbalanced decade prospect-wise. They started the 2000's at the top of the list and stayed in the top 10 until an epic mid-decade collapse. Only recently have their rebounded, but with a few trades this winter, the system has been depleted. Right now, the Yanks have a solid Major League club, some high-ceiling young kids and Jesus Montero. If all goes according to plan, he'll front this list when it comes around again in ten years.
Added to by Mike: I completely forgot about Westbrook, which is why he was omitted from my list. I would have placed him third, behind Soriano and Cano. As I explained in my post, Joba is far and away the team's best draft pick of the last ten years, and frankly it's not even close. He has more than double the WAR of the next closest player despite spending just over two years in the bigs.
As for the worst pick, yeah Henry flamed out in glorious fashion, but a guy with his athleticism and raw skills at a premium position is a legit first round pick. It didn't work out, but that doesn't make it a bad pick in my book. Poterson, on the other hand, was awful because he was such an overdraft. In all seriousness, they could have gotten him in the 5th or 6th round if they hadn't taken him in the first.
As you can see from BA's fancy little chart, the system was completely in the dumps for a good chunk of the decade. You can't have a system that bad for one particular reason, it takes a group effort; the team forfeited so many picks over the years to sign free agents, and for quite some time they adhered to slot and drafted low-ceiling college players with their top picks. They weren't always willing to pay for premium young talent, and it wasn't until Brian Cashman fired scouting director Lin Garrett and put Damon Oppenheimer and his people in place in 2005 that things started to turn around.