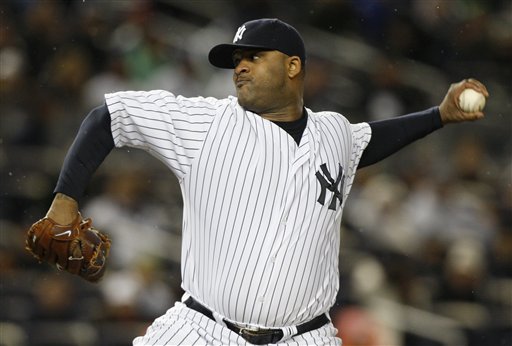 When the Yankees signed CC Sabathia last offseason, everyone pretty much knew what he was. He was a dominant, hard throwing lefthander that put you away with his hard slider. However, as the 2009 season went on, something became very apparent about the big guy: he had a damn good changeup. We saw many a righthanded batter flail at the low-and-away change last season, and there's perhaps no better example of this than Jayson Werth in the fifth inning of Game 4 of the World Series. With runners on first and second in a two-run game, CC threw Werth five changeups in a seven pitch at-bat, getting two swings and misses, the last for an inning ending strikeout.
FanGraphs' pitch values say that Sabathia's change was worth 3.59 runs above average per 100 pitches in 2009, which was the best mark in the American League. And not by a small margin, either. Felix Hernandez's changeup was second at 2.63 runs above average, almost a full run difference. This isn't a one time fluke thing either. CC had one of the game's 15 best changeups in 2006 (1.33), 2007 (1.65), and 2008 (2.30) as well. In case you didn't already notice, his changeup has gotten more and more effective in each of the last four (really five) seasons.
I was completely oblivious Sabathia's changeup before he wore pinstripes, so I asked Keith Law if it was always a good pitch for him. "Yes, but he didn't use it much," said KLaw, and he's right. Over the last three seasons, CC has thrown his changeup approximately 19% of the time. During the five seasons prior to that, he threw it just ~13% of the time. All those extra changeups came the expense of his curveball, which went from being used 15.5% of the time in 2005 to so little that it registered with FanGraphs as being used 0.0% of the time last year. I know he threw at least a handful in 2009, I remember seeing them.
I've always felt that a knockout changeup was the most dominant pitch in baseball. If you could throw it with identical arm speed to your fastball and keep the separation between the two pitches to around 10 mph or so, then forget it, batters had no chance no matter how hard you throw because they're unable to tell the two pitches apart until it's too late. Just look at Trevor Hoffman, or Tom Glavine, or Johan Santana, or Pedro in his prime. All dominant changeup guys. I'm not suggesting that CC can be like that, but he has a clear cut weapon against righty batters now, and that makes him even more dangerous than he already is.
Over the course of his career, Sabathia has evolved from a dominant power guy that relied on a fastball-slider-curve combo to get by, though like most young pitchers he had trouble with the free pass (4.22 BB/9 in his first two seasons). Now he's a fastball-changeup-slider pitcher that is stingy with walks (2.03 BB/9 over the last four years) and baserunners in general. He's not just a meathead thrower folks, CC's a pitcher, as the old schoolers are wont to say.
Photo Credit: Kathy Willens, AP