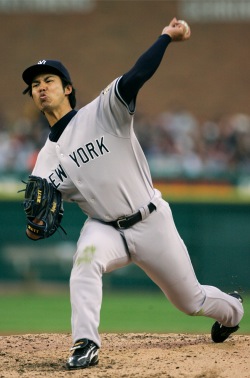 Since 2006, when George Steinbrenner granted him autonomy over baseball operations, Brian Cashman has signed four free agent pitchers: Andy Pettitte, Kei Igawa, CC Sabathia, and A.J. Burnett. Three out of four represents an excellent mark, especially considering the crop of free agent pitchers the team signed in the few years before '06. Still, the one stings a bit. The Yankees bid $27 million when the Hanshin Tigers posted him, and it seemed like overpayment at the time. That fee, plus his five-year, $20 million contract, add up to quite the blunder. But can the Yankees salvage something in deal's final two years?
If Igawa plays any role for the 2010 or 2011 Yankes, he'll do it from the bullpen. The Yankees have built plenty of rotation depth, leaving Igawa somewhere around sixth or seventh in line for an open rotation spot. Even if the Yankees suffered six separate misfortunes, of which there's an outside chance, they might not turn to Igawa. There's little in his track record which suggests an ability to get through a major league order multiple times with limited damage. But perhaps he can prove of value pitching in short bursts out of the bullpen.
At The Hardball Times today, Jeff Sackmann examines minor league starters who might make quality major league bullpen candidates. After all, since many, if not most, relievers were starters who failed, a number of these middling starters will eventually make the move. Identifying them now can perhaps expedite the process. The Yankees, as we know, prefer to develop their young arms as starters, but we also know that they will move a starter to the bullpen if the need arises. With Igawa, it might be the only way to extract even a modicum of value.
Sackmann identified three qualities which might suggest an easy bullpen transition. First, that they pitch well the first time through the order. Or, as I'll examine, that they pitch well in their first inning of work. Second, they have a large platoon differential. This goes hand in hand with the short bursts, and matters much more for a lefty like Igawa. If he's only coming in for a few batters, chances are that more than half will be lefties. And third, he pitches well out of the stretch. So how does our K-man stack up?
The only area where Igawa doesn't rate well is in his FIP the first time through the order. In lefty-lefty situations last year Igawa posted a 2.54 FIP, inducing 40 percent ground balls. He strikes out more lefties, but more importantly he walks far fewer — just four over 169 lefties faced last season, while he walked 38 out of 491 righties. Predictably, he allows far more home runs against righties as well. With men on base Igawa actually pitches a bit better than with none on, with a FIP of more than a run lower. This is mostly attributable to his home run rate with runners on, an important factor for a reliever. Of the 260 batters he faced with men on, he allowed just five home runs, while 17 of 400 batters with the bases empty took him out of the park.
Using Igawa's minor league splits, there is evidence that he can pitch well in short bursts as well. While Sackmann rated him 3 on a 5-point scale in that category, he based it on the pitcher's first time through the order. But most relievers won't face nine hitters. In Igawa's first inning of work he boasts a 4.08 FIP, his best mark of any inning in which he faced more than 100 batters in 2009. He induces more ground balls and fewer line drives, and allows fewer home runs. He also showed this tendency during his brief major league stint in 2007, performing far better in the first inning than in any other.
These numbers, of course, provide no guarantee that Igawa could succeed even in a limited role. They do, however, suggest that the Yankees could do worse than giving him a shot. As it stands Boone Logan is the second lefty out of the pen, but the Yanks could cut him loose if he pitches like he has over the last couple of years. At that point they might stick with Damaso Marte as the sole lefty bullpen arm, but they could certainly give Igawa a shot. There's little harm in it. They have just 38 men on the 40-man roster, and could have up to three open spots if they end up returning Jamie Hoffman to the Dodgers. It doesn't look like they'd have to make much of a sacrifice to get Igawa on the roster.
Most of us have a set opinion of Igawa, based on his 2007 performance. It's pretty clear that he won't work out as a major league starter. The Yankees, however, probably want to get any value out of him that they can at this point, and there are numbers that suggest he could capably fill a bullpen role. With open 40-man spots, why not give him the chance? Worst case he sucks and they send him back to AAA. If they need to remove him from the 40-man at that point, I don't think they'll mind letting him walk as a free agent. But before it comes to that, I'd like to see him get his shot.
Credit: AP Photo/Duane Burleson