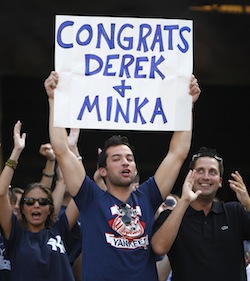 In news that led my sister to proclaim, not entirely jokingly, today one of the ten worst of her life, The Post reports that Derek Jeter and Minka Kelly have set a date for their wedding. The story has not been confirmed by Jeter's people yet, but it does feature some rather creative Page 6-style reporting from Rupert Murdoch's tabloid.
According to Taylor Vecsey and Brad Hamilton, the two will tie in the knot at Oheka Castle in Huntington on November 5, a few days after a potential Game 7 of the World Series. How the Post got the story makes for a great lesson in tabloid journalism:
Oheka, known for fiercely protecting the privacy of its guests, would not comment. But a Post reporter, posing as a bride-to-be seeking to book a wedding that weekend, was shown a scheduling calendar printout as sales manager Rick Bellando explained that the castle hosts just one wedding per day — and the entire weekend in question was already booked.

A quick peek at the calendar revealed Jeter's name in big bold letters. When our spy asked if couples were ever open to switching dates for money, Bellando said most were so wealthy, money was not an issue.
Bellando, though, denied that the Jeter in their book is the Jeter we know and love. "Oh, that's not Derek Jeter. We wouldn't use his real name if it were," he said to the Post reporter. "When the Jonas brother got married here last month, we used a different name."
So take that for what you will. Considering the persistent rumors and Jeter's advancing age, it wouldn't be a surprise if the long-time couple were finally gearing up to the tie the knot this fall. It should be make, at least, for one star-studded wedding.
Anyway, if you still have open-thread items to discuss today after two football OTs, feel free to use this one as a free-for-all. The Nets play at 7 p.m., and the Devils' game is already in progress. We'll be back in a bit with more juicy tabloid rumors Yankee news and analysis later.
Above: A fan in August congratulates Derek and Minka on their then-rumored engagement. (AP Photo/Kathy Willens)