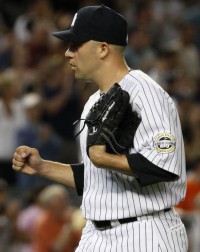 It's sometimes hard to believe that Alfredo Aceves, the forgotten man out of Spring Training who didn't arrive in the Bronx until May last year, finished with the fourth most wins on the Yankees. He always seemed to enter the game at exactly the right time, and he ended up with 10 wins and just one loss.
In many respects, Alfredo Aceves' 2009 campaign helps highlight a lot of statistical platitudes about pitching. Relief wins are rather meaningless when some of them come in extra innings and others are brought about by virtue of long relief, multiple-inning appearances. He did, as Steve Lombardi wrote at Was Watching over the weekend, vulture his wins.
As a Posnanskian aside, Aceves' 2009 splits also show how pitchers' numbers respond to luck. In the first half, he threw 43.1 innings, allowed 34 hits, walked nine and struck out 7.5 per 9 IP. His ERA was 2.49. In the second half, he threw 40.2 innings, allowed 35 hits, walked eight and struck out 7.3 per 9 IP. Despite allowing fewer home runs and sporting a WHIP just 0.065 higher in the second half, his ERA over those 40.2 innings sat at 4.65. Luck changed, and his ERA settled in at a respectable 3.54 for the season.
Basically, Aceves was an above-average reliever, Lombardi says, who won more games than he probably should have. As Steve rightly points out, the odds of Aceves doing that again are slim, and he says, "Let's hope the Yankees aren't banking a repeat of this from Aceves this season."
Now, I don't wish to denigrate Alfredo Aceves. He turned in a very respectable season for the Yanks after spending a month at AAA. He had a WXRL of 2.522 and an ARP of 12.9. By many respects, he was the Yanks' third most valuable reliever in 2009 due to his high innings total and relatively high-leverage usage. He can get a ground ball; he can get a K; he can throw short stints or make long appearances. All in all, he's a very good guy to have.
But the Yankees know Aceves' limitations as well. His shoulder started barking in late July, and he seemed to hit a mid-summer wall. He was not very consistent in limited October use and, as any pitcher, fares better against less patient hitters. How will the Yanks use him in 2010?
Well, from the start, Aceves will see his spot on the depth charts bumped down a bit. The Yankees will, in all likelihood, head into 2010 with Mariano Rivera as the closer, either Phil Hughes or Joba Chamberlain as the primary setup man, David Robertson as the go-to strike out guy, Damaso Marte as the lefty specialist and Chad Gaudin as the primary long reliever. Aceves stands to be the sixth guy out of the pen and the Yanks' seventh or eighth starter.
In the end, the Mexican Gangster adds some depth the Yankees' bullpen. He does a good job of keeping hitters off base and generally keeps the ball in the park. He's versatile and adopted well to different roles. With Javier Vazquez around, the improvement to Yanks' pitching staff trickles down the bullpen, and the team should, if all goes according to plan, not need Aceves to swoop in and nab those vulture wins this year.
Above: Al Aceves pitches against the Orioles in July. (AP Photo/Kathy Willens)