Back in the day, a move like this would have flown under the radar. But now we have schmucks, like the guy covering MLBTR today, digging up little tidbits to satiate our transactional thirst. As MLB.com's T.R. Sullivan reports, the Yankees have sent Mitch Hilligoss to the Rangers for outfielder Greg Golson. It's a small-time move, for sure — the Rangers DFA'd Golson last week to make room for Khalil Greene. The Yanks are the beneficiaries, trading a guy with no future on the team for a possible outfield option.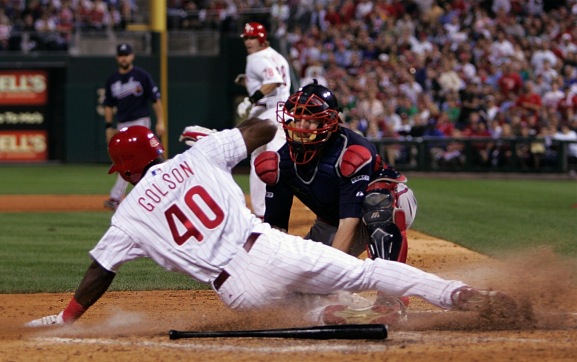 The 21st overall pick in the 2004 draft, Golson spent most of his professional career in the Phillies system. Known primarily for his speed, Golson didn't flash much of anything else during his journey from A ball to AA. His OBP never hit even .330 until his age-22 season, in AA, and even then it sat at .333. His contact and power numbers were decent for a speedster, however, as he racked up 120 hits, 35 of which went for extra bases, over 426 at-bats in 2008. The Phillies then traded him to Texas for John Mayberry.
Golson slipped in 2009, his batting average dropping to .258, his OBP to .299, and his SLG to .334, all while in the hitter-friendly PCL. But even before then he lost the prospect luster. John Sickels extended his top 20 Rangers prospects to 24, and still Golson fell into the "others" list. Baseball America clearly left him out of their top 10, though Golson did rank as the best athlete, fastest baserunner, and best outfield arm in the organization.
For the Yanks, this represents just another low-risk move. Hilligoss, most remembered for his 38-game hitting streak in the Sally League three years ago, probably won't amount to much, especially in the Yankees's system. All Golson costs is one of the free 40-man roster spots, and even then it doesn't seem like they'll hesitate to cut him if the need arises. For now he'll compete for a spot on the team in Spring Training, though chances are the Yankees will just stash him in AAA. It appears he was added to the 40-man roster after the 2008 season, so he'll have options.
Credit: AP Photo/Tom Mihalek