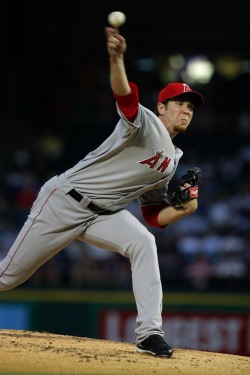 Spring Training non-roster invitees don't normally amount to anything. The Yankees have invited dozens over the years, only to see them spend the year in the minors, or, if they have an out clause, catch on with another organization. Even the ones who do head north with the big league team, like Morgan Ensberg in 2008, don't always stick around all season. The Yankees have invited a pair of former high draft picks to camp, 2002 first rounder Royce Ring and 2003 second rounder Jason Hirsh, and yesterday announced that they'd also bring along 2000 first rounder Dustin Moseley.
The newest invitee spent the last four seasons in the Angels organization, breaking camp in the rotation over the past three years. He never stuck, though, moving between the minors and the bullpen after April. The Yankees faced him four times, twice as a starter, in fairly unremarkable games.
In the 2000 amateur draft the Reds selected Moseley with a supplemental first round pick, 34th overall. He didn't sign until November and so didn't see any professional action that season. Still, Baseball America ranked him the Reds No. 7 prospect for the 2001 season. In 2002 he moved up to No. 5, where he remained for 2003. In 2004 he peaked at No. 4 in the organization.
His results in both 2002 and 2003 warranted the ranking. While he posted unspectacular strikeout rates, and saw those rates fall as he climbed the minor league ladder, he stuck to what he does best: keeping the ball on the ground. That, in turn, kept the ball inside the ballpark. Combined with a serviceable walk rate, it led to low ERAs for Moseley as he worked through A+ and AA ball in 2002, and then AA and AAA in 2003.
For the second straight year, in 2004, he split the season between AA and AAA. I don't have the game logs, but I wonder if this is akin to Jeff Karstens's 2006, where he started in AAA, pitched poorly, dominated AA, and moved back up. His 1.56 WHIP at AAA suggests that might be the case. After the season the Reds traded him to the Angels for Ramon Ortiz, who went on to get hammered at Cincinnati's hitter-friendly park.
Moseley didn't make Anaheim's Top 10 in 2005, mainly because they had a stacked system. Injuries limited Moseley to just 80 innings that year, and in that short span the Pacific Coast League took its toll. Whenever discussing the PCL, I find it necessary to mention that Bubba Crosby posted a 1.046 OPS there in 2003. Moseley allowed 11 home runs in his 80 innings, a far greater rate than he'd allowed in his career to date. He recovered a bit in 2005, bringing his home run rate back to his career norms and generally keeping the ball out of the air. His 4.68 FIP looked good in the PCL, and earned him a brief July cup of coffee before a September call-up.
In 2007 and 2008 Moseley broke camp in the Angels rotation, but didn't last long either year. He stuck around in the bullpen in 2007, pitching 92 innings between eight starts and 38 relief appearances and posting a 3.98 FIP, mostly because of his low home run rate. When that took a jump in 2008, Moseley suffered. It also didn't help that he allowed 70 hits in 50.1 IP. An forearm injury divided his season, landing him on the DL in early May. He came back to make a spot start in July, and then disappeared to the minors, not to return until rosters expanded. His 120.1 minor league innings went pretty horribly, resulting in a 6.94 ERA against a 5.62 FIP.
John Lackey's elbow injury cleared Moseley for another rotation stint, though this one lasted only three starts. He left his April 17th start with an elbow injury that landed him on the DL. Hip surgery in August ultimately ended his season. Between his last start and his hip surgery, he also experienced nerve problems in his neck. The Angels declined to tender him a contract in December, making him a free agent.
Clearly, the Yanks can't expect much from Moseley. Even if he pitches to his 2007 level, he's bullpen fodder at best. The Yankees seem to be full in that department, so if Moseley stays with the organizations he'll have to start in Scranton, joining Zach McAllister and Ivan Nova. Perhaps he'd provide an experienced depth option, but with the arms the Yankees have accumulated over the past year, including fellow NRI Jason Hirsh, it doesn't seem likely that Moseley dons the interlocking NY in 2010.
Credit: AP Photo/Matt Slocum