Nick Swisher kills the ball to left field. Even in his poor 2008 he still showed power to left field, from both sides of the plate. His recovery in 2009 comprised improvements in his hitting as a lefty to center field, and from both sides of the plate to right field. This makes me ask the obvious question: Did Yankee Stadium aid Swisher's 2009 rebound?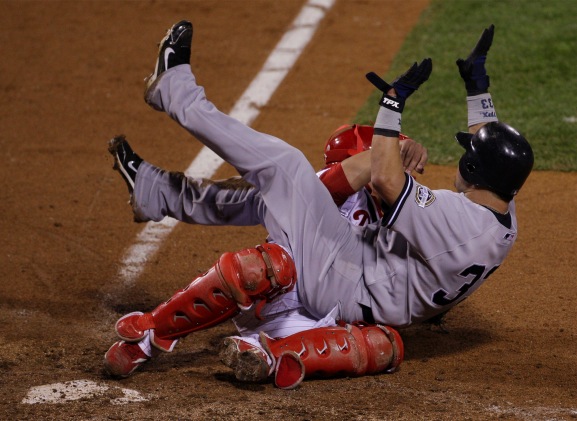 To get a better idea of an answer, we turn to my favorite new resource, FanGraphs splits. Here we can see how Swisher hit to each field over his career. The only downside is that we can't further break down these splits into home/road. Swisher's season stats, half of which he accumulated at Yankee Stadium, will have to suffice.
In 2007, when Swisher hit well, and in 2008, when he did not, he hit exactly zero extra base hits as a righty to right field. In 2005 and 2006 he hit one in each year, both times a double. That's four years in the majors with just two extra base hits to the opposite field when batting righty. In 2009 he hit three, two doubles and a triple. While we're dealing with small samples here, a matter of 17 to 30 balls in play per season, it's tough to ignore his 2009 numbers eclipsing the entirety of his career to that point.
Hitting as a righty to right field in 2009, Swisher put just 21 balls in play. Like the rest of his career, the majority of those were fly balls. What changed is that he hit almost no balls on the ground, just 4.5 percent, and hit plenty on a line, 18.2 percent. It still resulted in no home runs, but again, the two doubles and one triple were more than he hit in his entire career combined to that point.
As a lefty hitting to right, it appears that the short porch also aided Swisher. In 2008 he hit .391 as a lefty to right, on the power of a .320 BABIP (lower because home runs do not count as balls in play). In 2009 he hit .330 on a .247 BABIP, but also posted a .413 ISO, which beats his .365 mark from 2008. Again, we're working with relatively small samples here, around 110 balls in play (plus home runs) in each of the past two years. Over his career he's accumulated 648 plate appearances as a lefty hitting to right, about a full season's worth. In that sample he's hit .384 with a .393 ISO on a .314 BABIP. That sends some mixed signals.
In 2009 his BABIP fell far below his career average. The home runs didn't cause it, as the 12 he hit as a lefty to right lines up with his career totals. He did, however, hit more fly balls as a lefty to right in 2009. These are usually a BABIP killer. Yet, in Yankee Stadium, hitting fly balls to right field can bring good results — as in, more home runs. True to that, Swisher 40 percent of Swisher's fly balls sailed over the fence. Though, again, that includes all of his games, not just those played at Yankee Stadium.
As was clear when I asked the question, there's just not enough data to definitively answer whether Swisher benefitted from the dimensions of Yankee Stadium. We can see, however, that he certainly improved his power to right field upon joining the Yankees. For the bulk of his career he has been a dead pull hitter as a righty, but once in Yankee Stadium he took the ball the other way more often. Maybe this is a skill he'll improve upon in 2010, making him more of a complete player. He's never going to be a high average guy, and he'll always strike out a ton, but if he can balance himself from the right side of the plate he can still add a dimension to his game.
Credit: AP Photo/Julie Jacobson