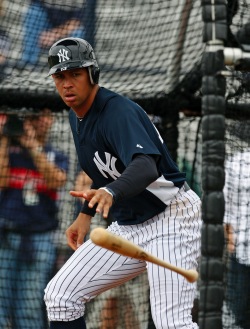 Spring Training went a bit differently last year. The players reported earlier because of the WBC, and by February 26 were already playing games. In fact, Alex Rodriguez hit a homer in his spring debut exactly one year ago today. This year we're still in the batting practice and press conference mode, and that too has a different flavor than last year. That happens when you're addressing a PED scandal one year and a World Series championship the next.
Want to read about what A-Rod said? You can find stories, quotes, and even full audio on basically any other Yankees-related website. If you want a quick summary, he basically repeated everything he said last year. The team felt like a family, he put all distractions aside and focussed on baseball, his hip feels great, etc. In fact, the most interesting part of the press conference came not from Rodriguez himself, but instead from MLB.com's Anthony DiComo.
Now, with eight seasons and some $216 million — plus a few historic incentives — remaining on his contract, Rodriguez is about to embark upon a most critical segment of his career. These next few seasons are the ones that will define him in history — either as a very good player who did a few special things, or as one of the most sensational, remarkable talents to play the game.
I'll echo Craig: That undersells A-Rod. By the numbers he's a Hall of Famer right now. Not just because he has 500 home runs, but that he hit 344 of them as a shortstop, one behind Cal Ripken for the all-time lead. He's currently 22nd on the all-time third baseman home run list with 229, remarkable considering he's only played the position for six seasons. His 99.1 career WAR ranks 21st all time, and he should pass Cap Anson sometime in April. In terms of Yankees lore, in 2005 he became the first Yankee right-handed hitter since Joe DiMaggio to hit 40 home runs in a season.
DiComo is right that the next few seasons will define A-Rod. Very good, however, is out of the question. He's already a great player. Without hesitation I'd define him as one of the most sensational, remarkable talents to play the game. The next few years will decide whether he's among the 10 best players of all time. Will he hit another 131 home runs as a third baseman, placing him third all-time? Will he add another 50 to that and become the career home run leader? Will he pick up another 469 hits to reach 3,000?
Most importantly, at least to us, will he win another championship? Another two? Three? How greedy are we? As greedy as A-Rod himself, I suppose. "It becomes an addiction," he said of winning the World Series. If he keeps doing what he's done during his first six years in New York, he'll play his part in future championship efforts. Maybe he'll even break a few records along the way.
Photo credit: Kathy Willens/AP