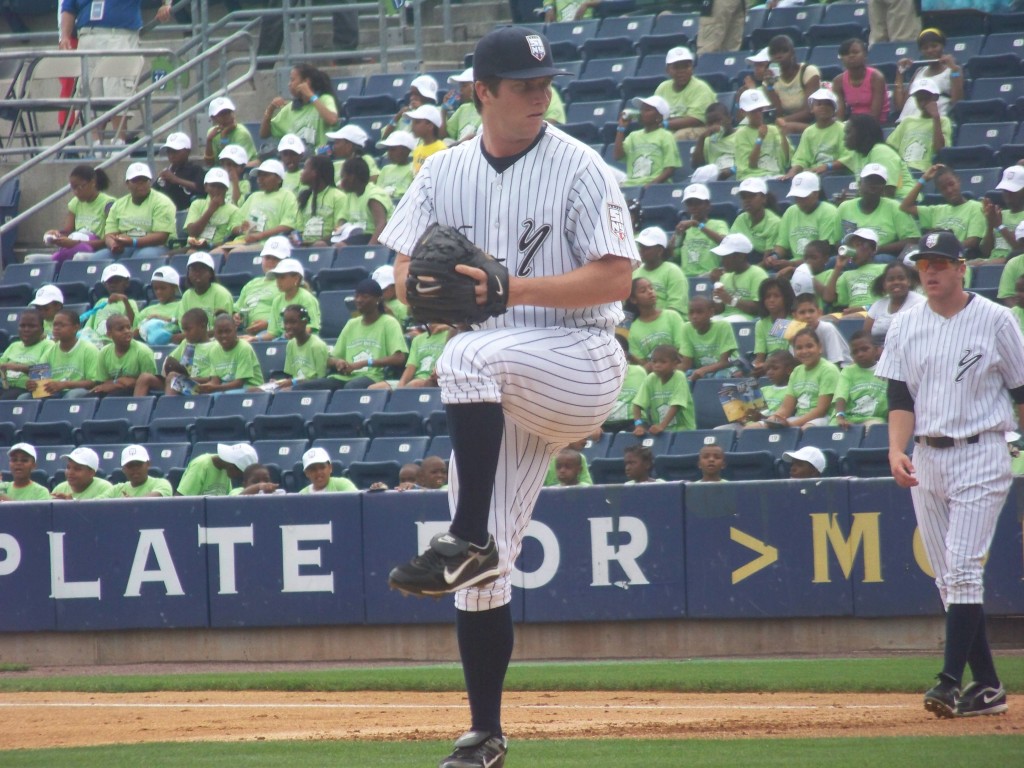 Adam Warren | RHP
Background
Warren grew up in the Inner Banks region of North Carolina, in New Bern. He attended the high school of the same name, and starred for four years both on the mound and in the infield. A three-time participant in the North Carolina State Games, Warren earned All-State and All-Conference honors as a junior, and was also named the New Bern Sun Journal Player of the Year. He repeated as an All-Conference honoree as a senior, and was selected to the East Coast Professional Showcase Team. Warren graduated fifth in his class in 2005, and it was going to take big money to buy him away from the University of North Carolina and their powerhouse baseball program.
Despite being ranking the 14th best prospect in the state by Baseball America, no team gambled that they could buy Warren away from UNC and he went undrafted. Unable to crack an established rotation that featured future first rounders Andrew Miller and Daniel Bard as a freshman, Warren worked mostly in relief, posting a 4.81 ERA with a 15-13 K/BB ratio in 24.1 IP. He allowed two runs in three postseason innings, then headed home to play with the New Bern River Rats of the Coastal Plain League over the summer, where he pitched to a 3.65 ERA with a 39-15 K/BB ratio in 37 IP.
Again unable to crack a stacked rotation that lost Miller and Bard but imported standout freshman and future first rounder Alex White, Warren became the Tar Heels' primary midweek starter as a sophomore. He went a perfect 12-0 in 12 starts (and three relief appearances), improving his K/BB ratio to 49-28 in 70.2 IP while cutting his ERA down to just 2.17. The American Baseball Coaches Association named him to the All-Atlantic Region second team, while ESPN The Magazine named him to the All-District III second team. Warren also took home the Francis "Tripp" Bourne Award as one of the team's most dedicated players.
UNC swept right through the Regionals and Super Regionals without Warren even making an appearance, though he picked up the win with 4.1 scoreless innings of relief against Mississippi State in Game One of the College World Series. With the Heels facing elimination, Warren started against Rice and picked up another win with six innings of three run ball, sending his team to the CWS Finals. UNC got swept in the best-of-three series by Oregon State while Warren was unavailable on such short rest. After the season, Warren appeared in eight games with the Brewster Whitecaps of the Cape Cod League, posting a 7.71 ERA with a 22-14 K/BB ratio in 23.1 IP.
Warren finally jumped into the rotation as a junior, usually working Saturdays as the number two starter behind White. In a team leading 18 starts, he posted a 4.23 ERA with a 73-46 K/BB ratio in 83 innings. Warren took his first career loss against #2 Florida State in late April, and the 19 consecutive wins to start his career was the longest streak by the Tar Heel in over 20 years. Again named to the All-District III second team by ESPN The Magazine, he was named Academic Team captain as well.
Warren took a no-hitter into the fifth against Coastal Carolina in the Super Regionals, eventually throwing six scoreless to give UNC the win and a berth in it's third consecutive CWS. He gave up four runs in four innings against Fresno State for his second career loss in the Heels' second game of the CWS, and he wouldn't make another appearance as Fresno eliminated UNC a few days later en route to the school's first National Championship. He returned to the Cape Cod League after the CWS, posting a 4.34 ERA with 28-14 K/BB ratio in 29 IP (five starts) for the Chatham A's.
Baseball America ranked Warren as the 21st best prospect in the state for the 2008 Draft, though he didn't get selected until the Indians called his name in the 36th round, with the 1,101st overall pick. Cleveland never made much of effort to sign him, so Warren returned to UNC for his senior year to complete his business administration degree.
Again playing Robin to White's Batman, Warren led the team with 16 starts and ten wins, and led the starters with a 3.31 ERA while posting a career best 103-39 K/BB ratio in 98 IP. Again facing Coastal Carolina in the Super Regionals, Warren again pitched UNC into the CWS with 7.1 innings of three run ball, making them the first ACC school in history to make it to Omaha in four consecutive years. He beat Southern Miss in the Heels' second game of the tournament by giving up three runs in six innings, and it would prove to be the final game of his amateur career because Arizona State sent UNC packing two days later. Warren finished his collegiate career with the best winning percentage (.889) and second most wins (32) in UNC history.
Draft eligible for the third time, Baseball America rated him the 10th best prospect in the state in 2009. The Yankees selected Warren with their fourth round pick, #135 overall, and he signed quickly for a straight slot bonus of $195,000.
Pro Debut
Assigned to Short Season Staten Island after signing, Warren predictably dominated less experienced competition. His 1.43 ERA was by far the lowest among pitchers with at least as many innings pitched (56.2), his peripheral stats (50-10 K/BB ratio, 2.90 GB/FB) were off the charts, and he tossed a scoreless frame in the league All Star Game. Warren helped beat Lowell in the first round of the playoffs by allowing two runs in 4.2 IP, then beat Mahoning Valley in Game One of the Finals with six scoreless frames. He wouldn't appear in another game the rest of the season as the Baby Bombers took home the league championship two days later.
Scouting Report
Every bit as polished as you would expect from a player with his pedigree, Warren legitimately throws five pitches, three of which are fastballs. His four-seamer has some arm-side run and sat in the high-80's for most of his college career, though he was throwing in the low-90's as a senior and reports from Staten Island had him touching 96 and sitting 94. More than likely, he'll come back down to Earth a bit and settling into the low-90's long-term. Both Warren's two-seamer and cutter sit around 90 mph, and he spots all three pitches well. The fastball trio affords him a tremendous amount of deception, because he has one that moves to the left, one that moves to the right, and one that goes down.
Warren's best secondary pitch is a strong circle change, and he's toyed with both a curveball and a slider in the past. The Yankees, as you probably guessed, had him scrap the slider and work exclusively with the curve. He stays tall in his simple delivery, making his 6′-2″, 200 lb frame seem just a little bit bigger. Warren's pick off move to first is as good as it gets from a righthander; he picked off 17 (!!!) batters in his final three years at UNC. With four years of experience at a major program and in the College World Series, Warren is as advanced and refined as you could ask a college pitcher to be.
Here's a clip of Warren pitching for UNC last May, and another of him with Staten Island.
2010 Outlook
Because he's so polished, the Yankees will send Warren to High-A Tampa to begin 2010, but chances are he'll get bumped up to Double-A Trenton at mid-season. If he's really dominating, Triple-A Scranton is not out of the question. Warren's inning totals have climbed nice and steady (94 IP in 2007, 112 in 2008, 154.2 in 2009), so he's ready to go.
My Take
To be perfectly honest, I wasn't thrilled with the Warren pick at the time. I figured taking a college senior that early was a cost saving move, however I was completely unaware of his improved velocity as a senior, and obviously had no idea that he'd be touching 96 in his debut. His stuff is firm and he's as polished as they come, which is a great recipe for a quick mover and surefire big leaguer. Warren will never be an ace, but he'll be a rock solid back-end arm or middle reliever that will provide a ton of value when he's cheap. Believe it or not, the Yankees do a very good job of pumping out useful big league arms, and Warren is just another part coming down the assembly line. Great value in terms of both round and bonus money.
Photo Credit: Robert Pimpsner, Baseball Digest