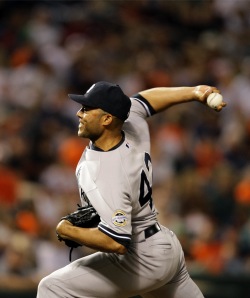 Nine years ago, Voros McCracken presented his theory of Defense Independent Pitching, or DIPS. In a well-researched bit for Baseball Prospectus, he showed that while a pitcher's strikeout rate, walk rate, and, to a lesser extent, home run rate remain fairly consistent from year to year, the number of hits they allow on balls in play does not. Using this data, he concluded that, "There is little if any difference among major-league pitchers in their ability to prevent hits on balls hit in the field of play." This ran counter to conventional thinking, but he brought enough data to the table that his findings were tough to refute.
Fielding Independent Pitching, or FIP, was borne of DIPS. Consistent with McCracken's theory, FIP considers only a pitcher's home run, walk, and strikeout rate. This isn't to say that all balls in play are created equal. Instead, it is to say that balls in play are subject not only to the pitcher, but to the hitter at the plate and the defense behind the pitcher. With those three factors at play it becomes difficult to assign blame. FIP simple views a pitcher through the lens of what he himself controls.
Yet we know that a pitcher does have a degree of control over batted ball type. Some pitchers keep the ball on the ground, like Brandon Webb, while others induce more fly balls, like Jered Weaver. A pitcher's batted ball tendencies add another dimension to analysis. Recently, Matt Swartz and Eric Seidman of Baseball Prospectus introduced their solution: SIERA, which stands for Skill-Interactive Earned Run Average. It attempts to combine batted ball types, in addition to strikeout, walk, and home run rates, in order to get a better gauge of a pitcher's true skill.
While the five-part explanation resides behind Baseball Prospectus's pay wall, they have been fairly up front with the formula. It might seem complicated, but it essentially takes the various factor and runs them through adjustments in order to not only put a value on a pitcher, but scale it to ERA. Peter Hjort of Capitol Avenue Club was kind enough to create a SIERA calculator, complete with pitchers from 2009. But that's not what I'm interested. What gets me thinking more is how SIERA views a pitcher who has been consistently underrated by FIP.
In the comments of Rebecca's post about Mariano Rivera's playoff WAR, commenter CB noted that FIP does not treat Rivera fairly. It consistently estimates his ERA above his true level, and that has become more and more true in recent years. Sure, Mo's FIP is consistently in the low- to mid-2s, because he doesn't allow a lot of home runs, doesn't walk batters, and usually strikes out more than a batter per inning. My question is, does SIERA provide a better look at Mo?
We'll look at the years 2002 through 2009, since that covers the FanGraphs era.
Until 2007, FIP came much closer to Mo's ERA than SIERA. His ERA skyrocketed that year, mostly because of a horrendous April (10.57 ERA), so SIERA, which for Mo was consistently higher than FIP from 2002 through 2007, came closer. In 2008 both formulas came to the same conclusion, and finally in 2009 SIERA predicted a lower ERA than FIP. Problem is, neither came all that close. Once again, Mo performed better than any fielding independent metric could have predicted.
(For those wondering, that counts tERA, though it came damn close in 2008.)
Despite the discrepancy, I do not consider this a bug in SIERA. In fact, I consider it a feature. I mean, if a projection system can accurately project god, well, then where do we have go go from there?
Credit: AP Photo/Rob Carr