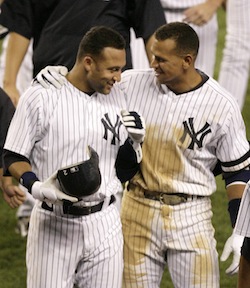 As the sports world has come to focus on the daily minutiae of baseball, we often forget to look at the big picture. We examine lineup configurations for the optimal daily performance. We look at whether or not star players will sign or resign for how much money they're actually worth. We second-guess pitching moves and strategic plays. But now and then, it's worth to let it all go for a little while and enjoy the history of it all.
Beyond the October run, the Yanks and their fans got a glimpse of history, appropriately enough, in a game the team lost. On a Friday night in September — the 11th, in fact — in a game in which the Yanks were beaten badly by the Orioles, Derek Jeter set the record for most career hits as a Yankee. Both teams came together to applaud Jeter's feat, and the fans loved it even if Andy Pettitte and the bullpen couldn't salvage a win on a rainy night.
It should be just the first of many milestones Derek Jeter and Alex Rodriguez reach over the next few years. Assuming that Jeter re-ups with the Yankees — and don't worry, he will — the Yankees are in for years of milestones, says Times beat writer Ben Shpigel. He writes of the projections that predict record-setting careers for A-Rod and Jeter:
If he stays healthy, Rodriguez, who turns 35 in July, is the top candidate to shatter Barry Bonds's career record of 762 home runs. Sometime near the 2011 All-Star Game break, Jeter, who currently has 2,747 hits, is projected to get his 3,000th.

It remains highly unlikely that he will break Pete Rose's mark of 4,256 — he would have to average 216 hits over the next seven seasons — but there is a good chance that Jeter, who turns 36 in June, will end his career with at least 3,400 to 3,500 hits. Only eight players have amassed more than 3,400, and only five have reached the 3,500 mark, beginning with Tris Speaker at 3,514.
Shpigel talked to Kevin Goldstein of Baseball Prospectus about PECOTA and Sean Smith about his CHONE projections. Both analysts believe A-Rod and Jeter to be prime candidates for history. Derek, they believe, will retire among the top hitters of all time, and A-Rod will be right there with him. As long as the two stay healthy, these milestones are well within reach.
For the rest of us — those of us who pay to watch the team play, those of us who are paid to cover the team — we can just sit back and watch history unfold. Maybe A-Rod will be overpaid over the next few seasons; maybe Jeter will get a contract extension that rewards him for being Derek Jeter and not for being a short stop approaching 40. But as history unfolds, we can forget those problems and appreciate the generational talent showing us their wares on the baseball field. It is, after all, what makes baseball great.
Photo Credit: AP Photo/Seth Wenig