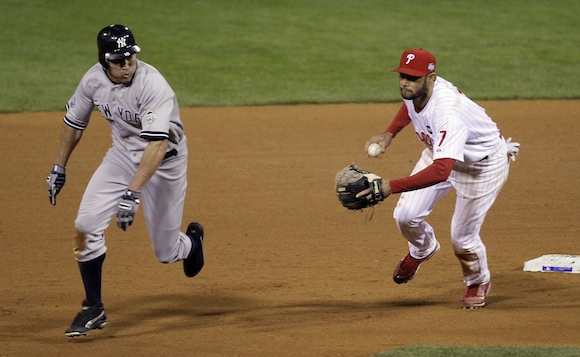 AP Photo/Rob Carr)
"I know where I want to be next year. I want to be here in New York."
Maybe I let myself get suckered in by Johnny Damon last spring and summer. Maybe I listened to him speak in radio interviews and locker room chats in May, after games in August and on Sirius XM as recently as November and dared to believe he was telling the truth.
"This would definitely be the best place for me. I'd sure love to keep taking advantage of that right-field porch."
It would have been simple for Damon to stay in New York City. All he had to do was tell that to his agent and urge Scott Boras to make one last contract work. After all, Damon will be playing his age 36 season in 2010, and with his defense slowing down, he'll need to DH. With that short porch in right field, Yankee Stadium was perfectly suited to Damon's bat, and while Brian Cashman has wisely improved the team's defense, Damon would have had a role to play yet.
"I don't know where else I would want to go to. Obviously, that's not the right thing to say when you're about ready to approach free agency, but I'm very happy with playing in New York, and my family's happy I play for New York. There's no bigger place to go."
Yet, this past weekend just days before he had to report to training camp somewhere, Johnny Damon finally reached an agreement with the Detroit Tigers on a one-year deal rumored to be worth $8 million. He'll inexplicably receive a no-trade clause, and even though his wife was reported to be unhappy with the move and even though the Yanks had extended him a multi-year offer, Damon will take his bat and glove to the pitcher's park of Comerica and hope for the best.
In the Bronx, last week Brian Cashman sounded somewhere between a jilted lover and a shocked businessman — shocked at Scott Boras' hubris and the way Damon and his agent seemingly misplayed this off-season. He offered the incumbent left fielder a two-year deal worth $14 million, and even though that money represented a significant pay cut for Damon, it would remain the best one Johnny had on the table all winter. At the time, Cashman too knew it would be the top offer Damon would get.
"The industry the last two free agent markets seems to be going downward and the player's ages are going upward," Cashman said. "It makes more sense to be patient. My attitude is if this is the place you want to be, you will make it happen. Johnny Damon professed his love for the Yankees, wanted to be here and was given every chance to be here. He's not here anymore and I don't feel that is the Yankees' fault. They have to reconcile why they are not here, not me. If people want to be here and be a part of something, then find a way to work it out."
Cashman was clearly irked at the way the negotiations went down. "Scott Boras said, 'Bobby Abreu's contract is $9 million a year right now on the table so why would we do that? So I expect to see a Bobby Abreu contract.'" the Yanks' GM said. "I hope he does not sign for something less than our offer. That means he should have been a Yankee and that's not our fault."
At the same time, Ken Rosenthal wonders if Boras is to blame. The Fox Sports scribe believes Boras wanted to keep the Cardinals believing that the Yanks were interested in Matt Holliday and therefore never engaged the Yanks on Damon until it was far too late. From what we've heard in the past about Boras and from a business perspective, this conspiracy theory would make sense. After all, Holliday will make Boras far more money over the next eight or ten years than Damon will, and it just makes sense for Boras to push Damon to the side while focusing on his younger and more valuable clients.
Here we are, then, without Johnny Damon. I know my tone here sounds more annoyed than I actually am. I didn't like Damon's defense, and I can see his production completely falling off a cliff this year, especially away from his home run haven. Yet, something about Damon made me believe his sincerity. Today, though, I know how Red Sox fans felt after the 2005 season. Johnny Damon might talk the talk, but when it came time to walk the walk, money — and less than he could have gotten in the first place — ruled the day instead.