The Yankees appear ready to go to war with their current roster. The 40-man is full, and the 25-man roster, other than the final spot or two, seems set. As we discussed a few weeks ago, the bullpen looks especially strong, with not only a number of late inning relievers, but also a couple of long men who can spot start. So why would they want to explore the remaining free agent relievers? Because few of them will require a major league deal. Former Rays reliever Joe Nelson signed a minor league deal with the Red Sox, and a number of others could follow.
If the Yankees plan to sign a reliever to add depth, they'll have to choose from a group of flawed relievers who present some semblance of an upside. This would count out someone like Kiko Calero, who has a solid track record and performed well in 2009. They'll be looking more for scrap heap guys, ones who have played well in the majors, but in this environment won't attract a major league deal. The gut reaction on most of these guys will likely be, "no, he sucks," but there's really no harm in trying out a guy on a minor league deal. You never know when you'll find a Brett Tomko — and let him stick on the roster long enough to pitch well.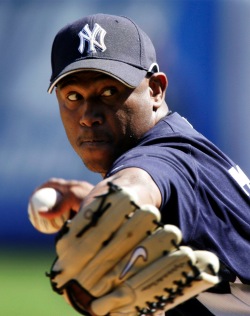 Luis Vizcaino
For half of the 2007 season, Luis Vizcaino was the man. Acquired in the Randy Johnson trade, The Viz started his Yankee tenure on shaky ground, losing a game and blowing two others — though the Yankees would win both — in his first two months. During that time he allowed 21 runs in 26 innings, and was prone to the big inning — 11 of those 21 runs came in just three appearances. Once the calendar hit June, however, The Viz flipped it into overdrive.
For the next three months he'd destroy opposing hitters, allowing just seven runs over 41.1 innings. That included 39 strikeouts and a .182 batting average against. But pitching 41 innings over three months extrapolates to 82 over the course of a season, more than most relievers pitch in a season and more than Vizcaino had thrown since 2002 with Milwaukee. He faded a bit in September and ended the year with 75.1 innings. After signing with the Rockies the next season, Vizcaino made two appearances before hitting the DL with a shoulder issue that would keep him out until June.
The Cubs acquired him in exchange for Jason Marquis at the beginning of 2009, but they DFA'd him after just four appearances, in which he allowed no runs. The Indians then signed him, and then released him after just 11 appearances. I couldn't find much on where he went afterward — he has no minor league stats from 2009, so I assume he just waited and waited. Maybe the rest will help him rebound for the 2010 season. It could be worth a minor league deal to find out.
Credit: AP Photo/Robert F. Bukaty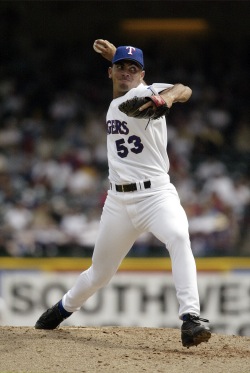 Joaquin Benoit
Though he hasn't pitched since 2008, Benoit presents appealing traits for a reliever. He strikes out a lot of batters, in some years more than one per inning, while keeping his home runs low. That's the main run on Vizcaino, the propensity for the longball. That's hell for a reliever. In the three years before his injury-shortened 2008 season, Benoit allowed less than one home run per nine innings.
Benoit, a former starter who took the bullpen full-time in 2005, features three pitches. His fastball sits at around 91-92, and he has a changeup that has about 8-9 mph separation. His killer pitch is a hard slider, clocked at 86 mph in his phenomenal 2007 season. He really did break out that year, allowing 26 runs on 68 hits in 82 innings pitched, striking out 87 to 28 walks. Best of all, he allowed just six home runs in that span, especially nice because his home park tends to favor home runs.
The rub, of course, is the rotator cuff injury that kept him out for all of 2009. Will his slider still run in the high 80s? Will his fastball still sit low 90s? Can he adjust his pitching style to the limitations of his surgically repaired shoulder? It'll take a spring training invite to find out.
Credit: AP Photo/Ronald Martinez
Russ Springer
This isn't the first time we've mentioned Russ Springer as a bullpen option, and as long as he keeps on pitching it probably won't be the last. Springer actually has roots in the Yankees system, a 7th round draft pick back in 1989, eventually sent to the Angels in the Jim Abbott trade. But if you've read RAB over the past year, you already know that.
Springer is a high strikeout reliever, working with mostly his fastball that clocks in the low 90s and a cutter/slider in the mid-80s. After stellar 2007 and 2008 seasons in St. Louis Springer signed with the A's, where he didn't pitch quite as well but was still serviceable. Over 41.2 innings he struck out 47 hitters to 14 walks, though he allowed a ton of hits. The Rays picked him off waivers in August, and he pitched about the same there, the strikeouts coming down but the hits coming down, too.
What's odd about Springer's 2009 is that his batted ball types completely shifted. He was never a ground ball guy, but he still managed around 30 percent from 2006 through 2008. Then in 2009 it dropped all the way to 19.2 percent, while his fly ball shot up to 61.6 percent, 10 points higher than it had been with the Cardinals. I'm not sure if that's a red flag or a sign that a correction is in order. It's tough to guess at these things when the player in question will be 41 in 2010.
Still, on a minor league deal, the Yankees could do worse than check in on Springer. Maybe the old arm has one more good year left in it.
Credit: AP Photo/Jeff Roberson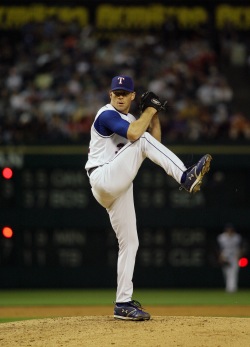 Ron Mahay
For years, we heard baseball commentators declare that the Yankees absolutely needed a lefty in the bullpen. They went through tons of them, but none quite worked out. Meanwhile, a lefty they had traded for Enrique Wilson was busy putting together a solid career out of the bullpen. Finally, in July 2008 the Yankees re-acquired Damaso Marte. With him in tow, the line now is that the Yankees need a second lefty in the bullpen. Wonderful.
The Yanks sent two left relievers away in trades this season and brought back one. Boone Logan has a shaky, to be kind, MLB track record, and there's a chance the Yankees don't even break camp with him. If they want a second lefty they might have to look outside the organization. There doesn't appear to be much interest in Ron Mahay at this point, but the veteran lefty can still provide some value. He's reportedly holding out for a major league deal, but there's no guarantee he'll get one.
As expected of a lefty reliever, Mahay fares better against lefty hitters. His numbers against righties have fluctuated, and were downright horrible last season. At 39 years old he might be cooked. But on a minor league deal, there seems to be little harm. If the Yanks want to look at other lefty reliever options, Mahay could be their guy — on their terms, of course.
Credit: AP Photo/Matt Slocum
The downside
Okay, so perhaps I exaggerated the "no downside" part of the non-roster invite argument. The Yankees stand to lose little by bringing in various spare parts to compete for roster spots for spring training. If they don't come to camp in Tampa, they'll go somewhere else. Many of them will find themselves jobless again by the end of March. Teams bring in players like this every year, at little risk.
The only downside this presents is a lack of spring training innings for the guys the Yankees might want to examine closer. In addition to the regular bullpen guys, the Yankees probably want to get a better look at pitchers like Romulo Sanchez, Ivan Nova, Hector Noesi, Chris Garcia, and Wilkin De La Rosa. Bringing in a NRI means fewer innings for those guys before they head to the minor league complex.
As long as the Yankees can keep a potential NRI past spring training and into the season, a deal makes sense. That would provide true depth, at least through the first month of the season, when veterans on minor league deals can usually opt-out and pursue opportunities elsewhere. That's the kind of deal the Yankees should pursue, and probably are pursuing.