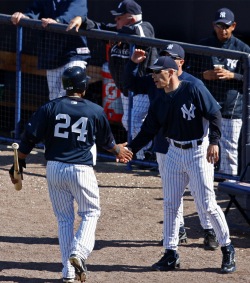 Last year Hideki Matsui held down the fifth spot in the batting order. In the 267 plate appearances when he hit behind, for the most part, Mark Teixeira and Alex Rodriguez, Matsui hit .266/.360/.489 with 7 doubles and 15 home runs. With his departure this off-season, the Yankees had to find someone to replace that production, and probably more. Sorting the lineup ranked high on Joe Girardi's priority list, and there is an early indication that he's finished that task. His lineup card on Tuesday should reflect the Opening Day lineup, and as Mark Feinsand reports, Robinson Cano will hit fifth.
Cano actually saw the second most time in the fifth spot last year, 223 plate appearances. In those he hit .299/.318/.477, a downgrade from his season line of .320/.352/.520. His time in the fifth spot, of course, represents just a small sample, about 34 percent of his season. It's tough to draw conclusions about his ability to hit in that spot from just a third of his plate appearances. We also won't learn much by going into Cano's history hitting fifth. Not only did he hit in front of and behind different hitters, but he also hit there just 61 times in his career before 2009.
The major concern with Cano's bat in the middle of the order is his ability to hit with runners in scoring position. He should have plenty of those opportunities, since the four hitters in front of him could all have OBPs around (or, in the case of Nick Johnson, well above) .400. In 2009 he came to bat 198 times with at least a runner on second, and hit .207/.242/.332, an OPS about 50 percent lower than his season-long number. He has hit a bit better over his career, .256/.291/.398, but that's still not a spectacular mark. It pales in comparison to his numbers with the bases empty, .331/.363/.528.
Why, then, would Girardi choose Cano to hit in this spot? As he tells it, Cano's contact rate, the seventh highest in the majors last season, played a prominent role in his decision. If you look at the contact rate leaderboard, however, there aren't many middle of the order bats near the top. Another factor, Cano's high batting average, seems to make more sense on an intuitive level. Again, with four .400 OBP guys in front of him he'll have plenty of RBI opportunities. If he hits anywhere near his .320 average from last year he'll almost certainly drive in more than 100 in 2010.
Girardi has also said, and repeated, this spring that he believes Cano's numbers with RISP in 2009 don't tell the whole story. "There was a streak when he had made about 10 or 11 outs in a row with runners in scoring position, and he hit nine bullets," he said when initially addressing the situation. "Over the long term that usually irons itself out, but when you don't have 600,000 at-bats, it doesn't iron out. His at-bats, a lot of times were very good with runners in scoring position. I didn't think he had a lot of luck last year." If Girardi is correct, and if those nine bullets find a hole this season, Cano could find himself climbing the RBI leader boards.
In terms of talent, Cano seems to fit perfectly into this lineup spot. Over his career he has demonstrated an ability to hit for average, which should play well with so many men on base ahead of him. Yet he has shown a deficiency with runners in scoring position, which doesn't help his case for the fifth spot. If he turns it around, the Yankees will only benefit. If he does not, there are other options for the fifth spot, including Jorge Posada, Curtis Granderson, and even possibly Nick Swisher. Starting with Cano, however, seems like a solid move to start the season.
Photo credit: Kathy Willens/AP