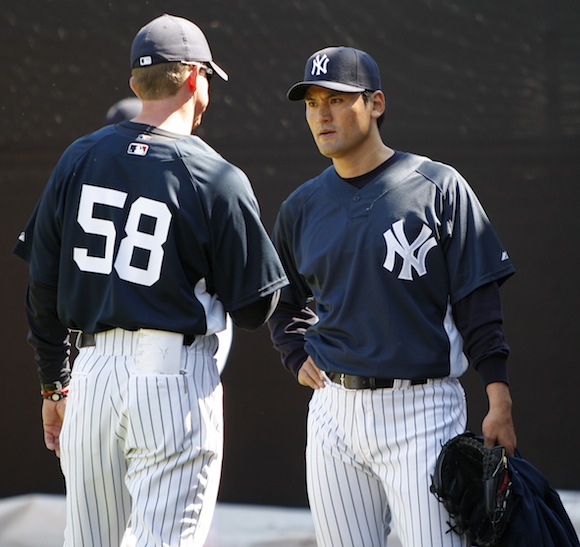 Chan Ho Park and Dave Eiland chat during the newest Yankee's first mound session yesterday in Tampa. (AP Photo/Kathy Willens)
When the Yankees signed Chan-Ho Park, they were adding to a significant strength. Last year, the Yanks' pen had a 3.91 ERA with an AL-leading 40 wins and only 17 losses. The pen's overall 1.25 WHIP (1.25), 8.4 K/9 IP and 2.43 K/BB were all at or near the top of the league, and although we weren't sure what Park's role would be with the team, we knew that the Yanks' pen had gotten even deeper with a pitcher who was 15 relief runs above replacement last year.
With Park in Tampa yesterday, Brian Cashman and Joe Girardi revealed their plans for the right-hander. As he signed a guaranteed contract (albeit for a small price) and the Yanks view him as a key piece of their pitching staff, he is assured a spot on the Opening Day roster. "He can do a lot of things," Girardi said. "He's a guy who gives me a lot of versatility out there."
How that will impact the rest of the team's bullpen is an open subject. "There's clearly a lot of competition," Cashman said. "Hopefully we can stay healthy, but it's unrealistic to expect health. A lot of time this stuff works itself out. I just feel, before we start games, we have a better foundation going into the game of spring training this year than we did last year. We're a little deeper, a little more flexible."
Considering that Edwar Ramirez, Jose Veras, Jonathan Albaladejo and Brian Bruney all broke camp with the Yanks last year, Cashman is certainly right to note the depth and flexibility of this year's pen. Even the worst bullpen the Yanks can assemble is better than last April's, and as the old baseball maxim goes, there is no such thing as too much pitching.
So what would these potential bullpens look like for the Yankees? Let's assume that the Yanks are going to take 12 pitchers north with them to Boston at the start of April. The guys guaranteed to make the team right now are CC Sabathia, A.J. Burnett, Andy Pettitte, Javier Vazquez, Mariano Rivera, Damaso Marte and Chan Ho Park. That leaves us with a series of candidates to fill out the final five spots, but in reality, two of those spots are taken.
Because the Yankees are not going to risk putting them on waivers, both Sergio Mitre and Chad Gaudin are, today, members of the 25-man roster. I fully expect Mitre to be traded before the end of Spring Training, but we cannot assume he definitely will be off the Yanks by April 4. If he isn't traded, the Yanks will keep him around.
We're left with three spots. David Robertson, Alfredo Aceves, Joba Chamberlain, Phil Hughes and darkhorse candidate Boone Logan will be fighting for those three spots. All of these pitchers have options remaining, and that roster flexibility gives the Yanks numerous options. So far, this is a problem 29 other teams would love to have.
Now, the challenging part of this equation is ability. I believe the Yanks want to put the best team forward, but at the same time, they're not going to sacrifice depth for a marginal bullpen upgrade. Last year, based on either BP's Win Expectancy above Replacement Level (WXRL) or Fangraphs' relieving runs above replacement, three of these candidates were among the Yanks' top four relievers. Phil Hughes, Alfredo Aceves and David Robertson were the three best non-Mariano relievers on the 2009 Yankees, and yet, the team seems willing to open up the year with one of those guys at AAA.
For the Yanks, the best AAA candidate would seem to be Phil Hughes. He has an innings limit and should be working as a starter for as long as he can this year. If that means starting the year at AAA and being the first arm called up, that's a risk I'd be willing to take. The Yanks could send Aceves down and keep Hughes in the 8th inning role, but this move reeks of short-term planning at the expense of long-term success. Last year, the Yanks' pitchers enjoyed unexpected health. Can we expect them to do it again this year?
The idea of sending Phil Hughes, Eighth Inning Superstar, to the minors is enough to rankle the heartiest Mike Francesas among us, but it's something the Yanks should consider. With Chan Ho Park on board, they have the arms and the depth to afford to make this move, and if it doesn't work out in April, the Yanks can always summon Hughes from the minors. After all, most of the April 2009 bullpen was long gone before the Yanks popped their celebratory corks in November.