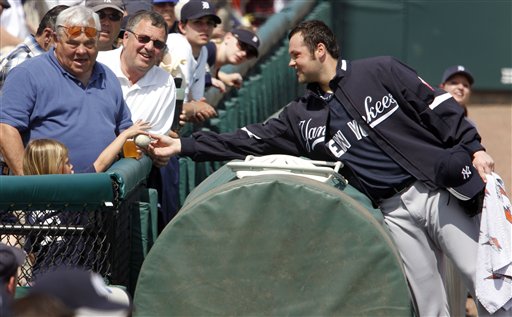 The internets were abuzz this morning with commentary about how Phil Hughes had grabbed hold of the fifth starter's job following his shutout performance last night, which in turn meant that Joba Chamberlain's career as a starter was on borrowed time. There was talk about how he needed to man up, how he could end up in the bullpen or even in Triple-A, and there was a sense that the obituaries on his time as a big league starter were already written. But then something strange happened today.
He pitched well.
The box score shows three innings of one run ball with three strikeouts, but that doesn't include the unofficial 1-2-3 bottom of the ninth in which Joba struck out two more. The run came in his first inning of work, when a well-placed blooper got past a diving Kevin Russo for a double, and a routine single by the next batter plated the run. After hitting 94 with his fastball in his previous start, there apparently was no stadium gun to get an idea of how he was throwing today. Regardless, he was impressive.
"Outstanding," said Girardi of Joba's outing after the game. "Worked quickly. Attacked the zone. He's got to go out and throw more, and that's what you want to see. Quality."
This purported competition for the fifth starter's spot is now three appearances old for everyone. It's only March 17th, and all five candidates have at least two outings left before a winner must be declared. Hughes pitched well, Joba pitched well, Al Aceves has pitched well, even Sergio Mitre has pitched well. This thing's far from over, folks.
* * *
Here's tonight's open thread. If you've managed to get into one of our six fantasy baseball leagues, do us all a favor and post your team name in the comments, so everyone can chat about their strategies and what not. The Devils, Nets, and Knicks are all in action, so have a blast.
Photo Credit: Gene J. Puskar, AP