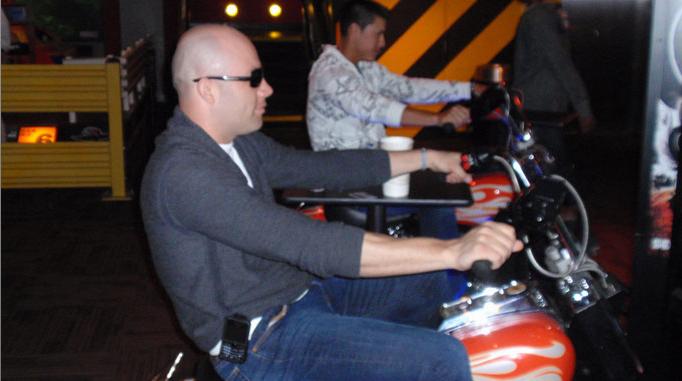 Al Aceves on a motorcycle, otherwise known as the greatest picture in the history of the universe. You can see the rest of the pics here.

Wait … that didn't come out right.
A day before their Spring Training games start, the Yankees had what has apparently become their annual team bonding excursion. Last year they played pool, and this year the whole gang went to an arcade to relive their childhoods. A.J. Burnett won the Indy car game, Andrew Brackman won at skee-ball, and Royce Ring won at Pop-A-Shot. I had no idea what Pop-A-Shot was until I looked it up, and apparently it's that basketball game where the hoop moves around. Never heard it called that before, but it was never my thing anyway.
"It was a great day," said Mark Teixeira. "The fact that we get three or four hours not to have to worry about baseball and not have to compete on the baseball field, it was fun. Playing video games, we felt like kids again. It promotes a light-hearted atmosphere.
"The great thing about this kind of atmosphere is that there's no veterans or rookies, starters or role players, Triple-A or Single-A; everyone is on the same playing field. We're all having fun, really kind of letting our hair down and getting to know each other without competing on the field."
I'm glad everyone had a blast today, because the baseball season is one really long grind. Hopefully they got their fun in now, because they're going to be playing from tomorrow until October 4th, at the very least.
* * *
On to more serious business. Here's your open thread for the night, but we first need to do something about the comments. There's way too many memes and inside jokes going on around here, and worst of all they're repeated like, ten times a thread. We need to put an end to that. It's off-putting to new readers and commentors, which we don't like.The more people that come to the site to talk intelligently about baseball, the better it is for everyone. Let's scale it back a bit on that stuff and focus more on good old fashioned baseball talk, please. Here's our commenting guidelines if you need a refresher.
Anyway, all three hockey locals are in action now that the Olympics are over. Anything goes, just be nice.
Photo Credit: NY Yankees