The Yankees executed the game plan well this weekend. They continued their penchant for taking pitches, which prevented each Angels' starter from pitching the seventh inning. They knocked out Ervin Santana and Joel Pineiro after six, and tagged Scott Kazmir during that inning. The overall line for the Angels' staters didn't look too pretty:
17.1 IP, 22 H, 14 R, 14 ER, 6 BB, 8 K, 3 HR, 297 pitches (just over 17 per inning)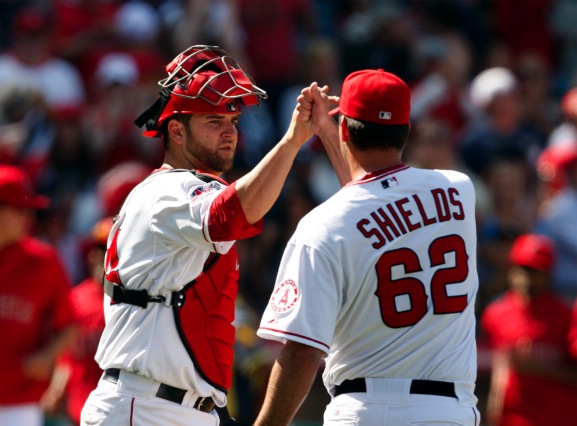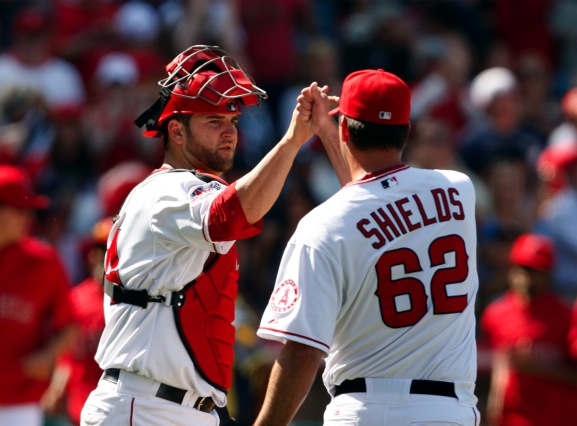 That left the Angels bullpen to cover 9.2 innings during those three days, which usually means success for the Yankees. They take pitches not only to work favorable counts, but also to tire out the starting pitcher. This means more innings for the bullpen, and since most bullpens feature pitchers weaker than the team's starters the Yankees typically feast. At least, that's the idea. Over the weekend the Angels' bullpen pitched very well, allowing just one run in those 9.1 innings. Their final combined line:
9.2 IP, 3 H, 1 R, 1 ER, 5 BB, 7 K, 0 HR
Even with the five walks the Angels relievers allowed less than a base runner per inning, an excellent feat against a lineup like the Yankees. All three hits came during Saturday's affair, a game which the Yankees had well at hand before Scot Shields relieved Joel Pineiro to start the seventh. In the two close games, Friday and Sunday, the Angels relievers held the Yankees to no hits and just three walks while striking out five in 6.2 IP.
This stands in contrast to what the Yankees bullpen accomplished over the weekend. While the Angels relievers were busy keeping the Yankees off the base paths, the Yankees relievers proceeded to blow two close games. That's not an indictment of the entire staff, of course. David Robertson pitched very well in his two-out stint on Friday, retiring both batters he faced. Instead, it was just two relievers who performed poorly for the Yankees, Joba Chamberlain and Damaso Marte.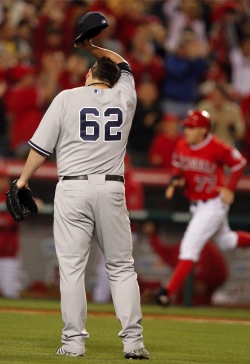 On Friday night Joba opened the inning by allowing a single and a homer. He continued his shakiness, allowing a single and a deep fly ball to the next two batters before settling down a bit and retiring the side on two easy fly balls. On Sunday Marte clearly didn't have it, as he walked a guy and hit a guy before falling behind on Kendry Morales 3-0. There were plenty of questions to ask afterwards, including why Girardi let Marte throw that pitch to Morales. It was also questionable to remove Aceves after his 1.2 perfect innings. No matter the management, though, those two losses are on the relievers who allowed the runs (though Sunday's loss is much easier to pin on Vazquez).
Other than those two performances, the Yankees' bullpen did just as well as its Angels counterpart. Boone Logan, Sergio Mitre, Al Aceves, David Robertson, and Saturday's Damaso Marte combined for the following line:
5.1 IP, 2 H, 0 R, 0 ER, 2 BB, 3 K
The Angels just happen to run into a couple of bad performances. On another weekend perhaps the Yanks take better advantage of Fernando Rodney's wildness, maybe they mount a rally against Brian Fuentes, maybe they can hit Jason Bulger and Scot Shields like the rest of the league has to this point. This weekend, though, the Angels bullpen won. The Yanks bullpen made a valiant effort, but two poor performances from otherwise good relievers were the differences in two games. That will happen.