Remember when I said that there's just no way Cano will keep up this production throughout 2010? It's still equally unlikely that he does, but damn. This has been a pleasure to watch. It must be what people in St. Louis feel all the time with Albert Pujols. Even if he makes an out, he's still hitting the ball hard. He powered the offense in their 4-0 win in the series finale against the Orioles.
Biggest Hit: Cano's first homer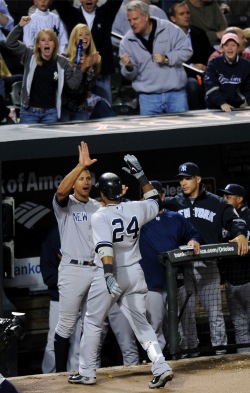 When Burnett has both his fastballs and his curve working, the Yankees don't need much offense to hand him the win. He toyed with the Orioles all night long, inducing ground balls and poor contact on fly balls. Not only were his pitches moving, but he also showed excellent control, throwing nearly two-thirds of his pitches for strikes. That resulted in just one walk, which, combined with the three hits he allowed, amounted to no runs for the Orioles.
The Yankees got the only run they'd need in the first, but they can't count on just one run. Robinson Cano tacked on another in the fourth inning. A-Rod has been in a little slump, 0 for his last 19, so Cano has been coming up with fewer men on base. That hasn't stopped him from brutalizing pitchers. Brian Matusz started the at-bat with a curveball high for ball one, and then went back to the same pitch. This one landed a little lower, high in the strike zone but slow enough for Cano to get all the around on. Into the seats it went, and Burnett got a bit larger lead.
Biggest Pitch: The walk
In the top of the sixth Cano struck again, doubling off Matusz to lead off the inning. Marcus Thames followed with a double, giving the Yankees a 3-0 lead. Burnett had dominated the Orioles for the first five innings, so a three-run lead looked like quite a convincing lead at that time. It was. The largest WPA swing in favor of the Orioles came in a situation where they merely put a runner into scoring position, the first time they'd done so all game.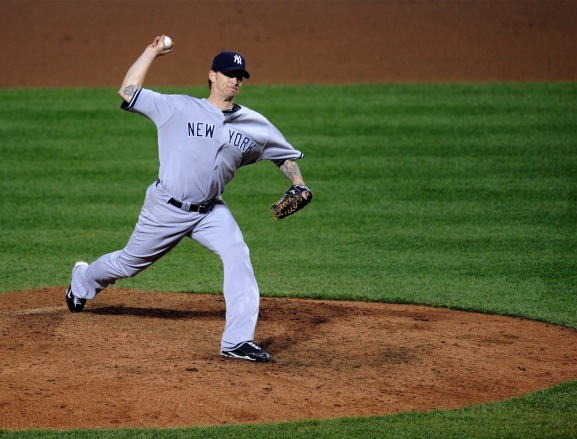 It was one of the rare poor sequences for Burnett. He missed pretty badly with a first-pitch fastball, and then came back with three more. Only one, a called strike two, was close. The final three pitches all missed inside, though Markakis did foul off a curveball before taking a fastball inside for ball four. That was all they'd get, though. Matt Wieters hit into a fielder's choice, and Miguel Tejada popped out to end the frame, ending the Orioles' best chance of the evening.
Hey Mark Teixeira
Teixeira might have gone only 1 for 4 with a double last night, but again made some solid contact. That solid contact hasn't translated into his normally ridiculous numbers yet, but it seems like he's close. Maybe a trip back to the inviting confines of Yankees Stadium will be just the boost he needs. He did, after all, hit 24 of his 39 home runs last season at home.
When Burnett's on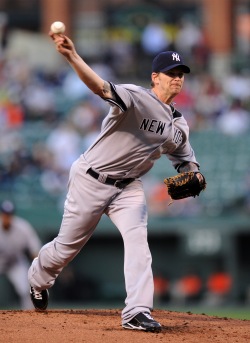 Some games A.J. Burnett will have trouble with his curveball. We saw one of those starts over the weekend, though he mixed his four-seamer and two-seamer well enough to survive 6.1 innings against the Angels. This time he added his power curveball, and it left the Orioles with no chance.
You might notice, on Brunett's FanGraphs page, that he's throwing more fastballs this year than he did last year. If you go to his PitchFX page, you'll see that he's dividing them among his four-seamer and what PitchFX classifies as a sinker. A number of other pitchers have shown the same tendency this season, so it sounds like a chance in pitch classification algorithm. Still, it does seem like Burnett has been mixing his four-seamer and two-seamer a bit more this season.
His strikeouts per nine are way down this year, under six for the first time ever, but his groundball rate has risen. After another nine groundouts last night that figures to increase. Combine that with a low walk rate, and you have a very good, albeit completely different, A.J. Burnett. He's not going to pitch like this every start, but if he has a few more like it in him, we're going to enjoy life plenty this summer.
Robinson Cano…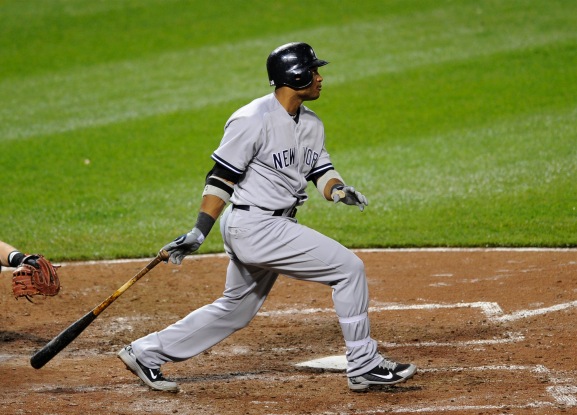 Is there anything Robinson Cano can't do? He leads the league in batting average and is ninth in OBP. He tied the two league leaders, Paul Konerko and Kelly Johnson, this evening, but both hit home runs of their own today, Johnson one and Konerko two, so he's still in third. Also, I'm not completely certain of this, because I used a wOBA calculation spreadsheet and I'm not sure if it exactly matches FanGraphs' formula, but I believe Cano will lead MLB in wOBA once the stats update.
Some Yankees have been in slumps lately. Teixeira hasn't gotten started this season, A-Rod is 0 for his last 19, and Granderson had a pretty poor road trip. Cano has made up for them. Thankfully, when his production starts to even out, the other guys will likely get into a groove. Just another reason to love this team.
Joys
Every minute of that game.
Just so it doesn't go unmentioned, yes, that backhand and throw by Cano was unreal. It was impressive enough that he got to the ball in time to make a play. But that throw was perfect. For his next trick, he'll remove his glove and throw to first left-handed.
Annoyances
None worth mentioning.
WPA Graph
Great game last night, eh? Oh yeah, total domination. Unbelievable. Fuggedaboutit.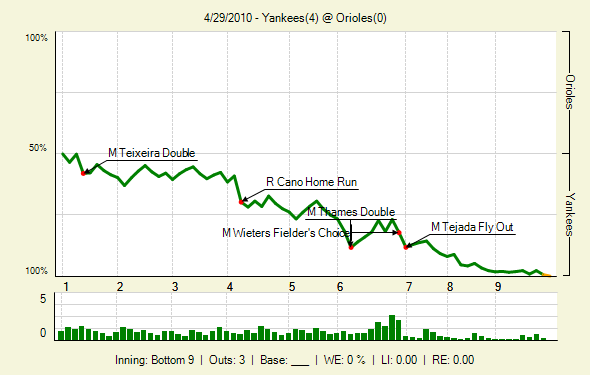 Next Up
The Yanks are back home and will face the White Sox. Unfortunately, Ozzie Guillen just now, a day before he starts a series with the Yankees, realized that Juan Pierre is no good. Andy Pettitte might have to face a slightly better hitter when he opens the series tomorrow night.