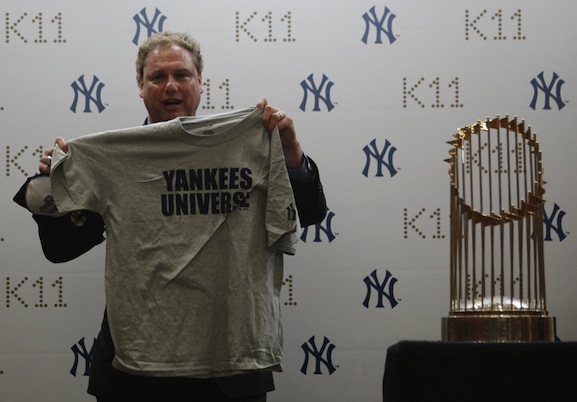 When USA Today released their annual salary survey yesterday, Brewers' owner Mark Attanasio had some choice words for the Yankees. The Brewers, what one might consider to be a mid- or small-market team, make do with what they have, but what they have pales in comparison with the Yanks' coffers, and Attanasio, a Yankee fan by birth, knows this.
?We?re struggling to sign [first baseman Prince Fielder], and the Yankees infield is making more than our team,? he said to Bob Nightengale and Scott Boeck yesterday.
Today, Randy Levine, the Yanks' team president, fired back. While speaking with Andrew Marchand of ESPN New York, Levine had this to say:
"I'm sorry that my friend Mark continues to whine about his running the Brewers. We play by all the rules and there doesn't seem to be any complaints when teams such as the Brewers receive hundreds of millions of dollars that they get from us in revenue sharing the last few years. Take some of that money that you get from us and use that to sign your players.

"The question that should be asked is: Where has the hundreds of millions of dollars in revenue sharing gone?"
In one sense, Levine has missed the boat here. Since purchasing the team for $223 million in 2005, Attanasio has increased Milwaukee's payroll from the meager $27 million the Seligs spent annually to $80 million. The team draws approximately 3 million fans a year, and in a weak NL Central, the Brewers can, more or less, contend deep into the season every year. Attanasio has put his money and the revenue sharing dollars to good work, and in that sense, Levine's charge rings false.
But in another, the Yanks' president is right on the money. The Yankees have access to a media market far bigger than that of Milwaukee's, and the team virtually sells out its entire 81-game home stand. They have paid, according to Maury Brown's Biz of Baseball, $175 million in revenue sharing and are playing by the rules, as Levine says. Until Major League Baseball changes the rules, the Yankees should continue to play by those rules. Spend if you can. Spend if you have the money.
This isn't the first time Attanasio has targeted the Yankees. He was not a happy camper when CC Sabathia turned down the Brewers' $100 million offer to sign an even richer deal with the Yanks, and he knows that teams in Milwaukee's position can't compete, on a dollar for dollar basis, with the teams in Chicago, New York, Los Angeles, Boston and Philadelphia. This clash might just be a media-driven war of words, but the big-market and small-market teams are gearing up to face off. I don't know how they'll fix what many perceive to be a competitive balance problem, but you can be this won't be the last we hear from the Brewers or Yankees.