The Yanks didn't get much off John Lackey last night. They managed just three hits and drew a couple of walks, and it seemed like the only chance they got to score was when he was tiring in the sixth. A-Rod took care of that, though, grounding into a double play with runners on first and second with one out. Thankfully, Andy Pettitte did his part, pitching six innings of one-run ball to keep the Yanks in it. This led to the decisive seventh inning.
Schoeneweis vs. Posada
After striking out Robinson Cano, Scott Schoeneweis had to face Jorge Posada, hitting righty. This would take a different approach, though Martinez and Schoeneweis seems to stick with a plan. He missed inside with a fastball for ball one, and then went back to the fastball but missed high. Jorge took a rip but could only foul it off.
Then Martinez set up low and in for the slider. Schoeneweis hit his spot, or at least came close enough that Martinez didn't have to move the glove. Jorge was ready for it and got the barrel of the bat right on it, maybe a little under. It was good enough, though, and a faster runner might have been standing on third with one out.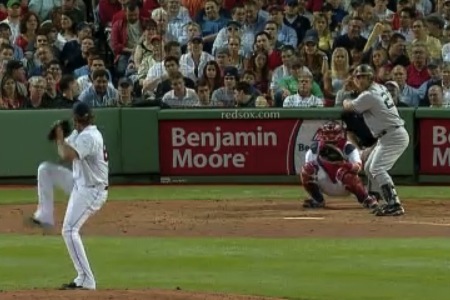 The slider worked the previous at-bat against Cano. After missing with a fastball inside Schoeneweis threw another one and hit a nice spot low and inside. Cano could only foul it off. In a 1-1 count he turned to the slider and dropped it through the back door. He then went outside with the slider and Cano bit on a pitch he had only a small chance of even fouling off.
One batter later, Schoeneweis threw the same sequence to Jorge, fastball-fastball-slider. Perhaps he was going to switch the slider sequence if he got strike two, trying for the backdoor to end the at-bat. This one went right through the zone, though, and it looked like that was the plan. Jorge swung almost like he knew it was coming. Did the sequence to Swisher inform him?
Adding a bit to his predictability, Schoeneweis also went fastball-fastball-slider-slider to Granderson. The first slider he slung across the upper part of the zone for a called strike. The second was the same as the strikeout pitch to Cano, down and away in the dirt. After he missed with a fastball inside for ball two, he backdoored Granderson, dropping in yet another slider for a called — and probably swinging, too — strike three.
Bard vs. Swisher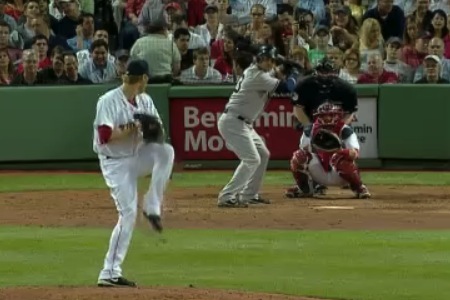 With the two lefties retired, Francona went to his setup man Dan Bard to get Nick Swisher. He started off throwing inside gas, a good choice on the first pitch. Swisher reacted late and just barely fouled it away for strike one. Bard and Martinez did the same for the second pitch, though that one caught a bit more of the plate. Swish put another swing on it, this time making better contact but still only managing to foul it away into the left field seats.
An 0-2 count is not a pleasant place to be with Dan Bard on the mound. The next three pitches he can basically do whatever he wants. He can gas you with another fastball, he can drop a curve on you, buckling the knees, or, as he has done a few times this series, he can throw that changeup. It's not a great pitch, and from what I've seen Bard misses with it frequently. He did, however, manage to drop it over the plate to Johnson the next inning.
Bard and Martinez decided to stick with ol' No. 1 on 0-2, this time going outside. Martinez set up a bit off the plate, as you can see in the screen shot below, and Bard missed by a little. The ball ran back over the plate enough for Swisher to again foul it away. He swung conservatively at it, as he should with two strikes against a hard thrower like Bard. For his own part, Bard reached back for this one, hitting 99 on the gun after hitting 97 on the previous two fastballs.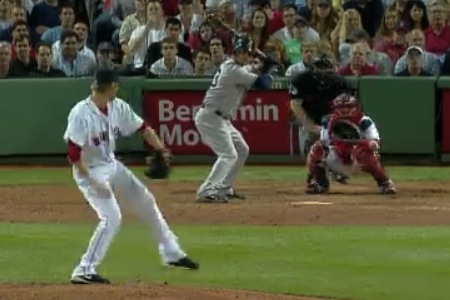 With the count still 0-2, and with Swisher just having seen a 99 mph fastball, he might have been looking for something off-speed. In the booth, Al Leiter thought Bard could try something else. In an 0-2 count he'd have that luxury. This is what makes Bard tough to hit. At 0-2 it's impossible to ignore the possibility of a breaking ball, but at the same time you can't expect it or you'll whiff terribly on the fastball. With a runner on second it was impossible to decipher what Martinez called for. Here's where he set up.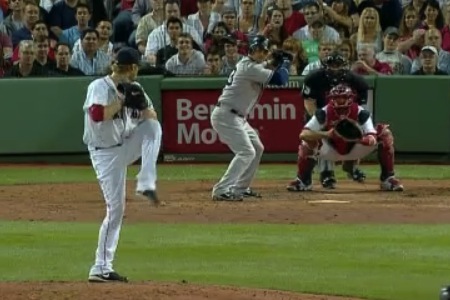 It was a similar spot to the pitch before, and against the lefty a curveball away would have made enough sense. Yet it was neither straight fastball nor curveball. Pitch f/x registered the pitch at just 91 mph. It had the vertical break of Bard's normal fastball, but it had an additional three inches of horizontal break. I'm not sure if Bard meant to throw this or not. The pitch tailed right over the plate, and instead of fighting it off, as Swisher had Bard's previous three fastballs, he was able to get the barrel on the ball, grounding it through the hole between first and second for a base hit.
To miss an opportunity with Jorge standing on second with one out would have been a huge disappointment for the Yankees. The Sox, however, seemed set up. They had the lefty still on the mound to face Granderson, who has looked a bit frazzled against fellow lefties. It seems like he's working on his batting eye in those situations at least, so we'll see how he progresses in that regard. He'll have David Price as his next test.
Bard against Swisher presents a favorable matchup for the Sox. Swisher has some power in his swing, but it comes at the cost of a little bat speed. Or at least it seemed to last year. Maybe that's why Bard and Martinez went to the fastball in all four pitches. It took a mistake pitch, but Swish capitalized and tied the game. Unfortunately, Gardner stood little chance against Bard, but that didn't much matter in the end. Swish did the most important thing, tying the game.