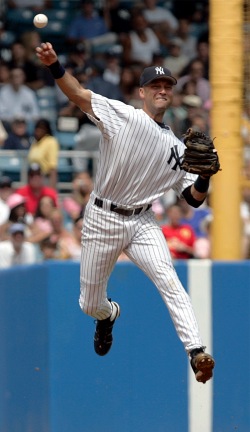 During the off-season we often worry not only about the current team, but also future teams. Hey, there's plenty of space in our brains for baseball and only so many interesting items in the off-season. Derek Jeter's expiring contract fits this mold. He becomes eligible for free agency after this season, though there doesn't appear to be any worry over his future as a Yankee. In fact, the biggest questions have not been of whether Jeter will sign, but of what position he will play during the later years of his new contract.
For now Jeter will stay at shortstop. A few years ago many considered Jeter a mediocre defender at best, someone who made flashy plays and solidly fielded balls he could reach, but who let too many fieldable balls slip into the outfield. Brian Cashman brought this to his attention after the 2007 season and ever since Jeter has made defensive work the focus of his off-seasons. He showed improvement in 2008 and 2009, and we can now call him at least average defensively. But how long will that last?
In a recent blog post Buster Olney lists responses from scouts, talent evaluators, and J.P. Ricciardi regarding Jeter's future position. As expected, many answered left field. That has been the most frequently mentioned destination for Jeter as he approaches age 40. Any evaluator or scout who mentioned this noted that center field would not be a good destination for the same reason that Jeter likely won't stay at shortstop into his 40s. His range likely wouldn't be adequate for the position, though that's somewhat less of an issue in left field. One talent evaluator called Jeter "a natural fit in right field" because of his "athleticism, instincts and strong throwing arm."
If left field is indeed Jeter's ultimate destination then the Yankees have to keep that in mind this off-season. All spring long we've heard that they're hot on Carl Crawford, but would also consider signing Jayson Werth should Crawford find work elsewhere. It would be tough to move Jeter there if either is under contract long term. This is perhaps where right field comes into play. Nick Swisher is also under contract through 2011, though he has a more reasonable $10.25 million option for 2012. That might be the time the Yankees start thinking about moving Jeter, so they could sign Crawford or Werth this off-season and still have a spot for Jeter in the outfield.
Interestingly, a couple also suggested a move to second base. the Yankees have Robinson Cano under contract through 2011, with a pair of expensive options, $14 and $15 million, for 2012 and 2013. One talent evaluator suggests that the Yankees could trade Cano, but I just don't see it with his current contract. I'm also not sure that moving from short to second would make much of a difference. As one scout noted, he might not transition well. Then again, he might not transition to the outfield well. I'm just skeptical that the answer to compensating for diminishing skills at short is a move to second. It has worked for others, though, so perhaps there's merit in the idea.
Ricciardi suggests that Jeter stays at shortstop, saying that he "could see him playing shortstop another five years — 'til the end of his next contract." If Jeter continues his focus on defense then maybe he can stick there for a few years. But through the end of his next contract, five years into the future? Ricciardi compares him to Omar Vizquel, which just isn't fair. Vizquel has always been an elite defender at shortstop, one of the best among his peers. Jeter, though improved, doesn't compare. It's like comparing regular apples and apples that have moved very well laterally their entire lives.
At the end of the article Buster offered his own opinion, so I'll do the same. I don't think Jeter will move off short until 2012 at the earliest, and at that point I think he's destined for an OF/DH role. Perhaps at that time the Yankees will give him a look at short, but if Robinson Cano continues hitting I don't see why they'd get rid of him. There might be an opening in the outfield, though, either in left or in right, so that might be a natural fit at the time. I doubt the Yankees will give it too much thought upon re-signing him, though. The object is to keep Jeter. If he can play short for half of his next contract, I think the Yankees would be happy with that.