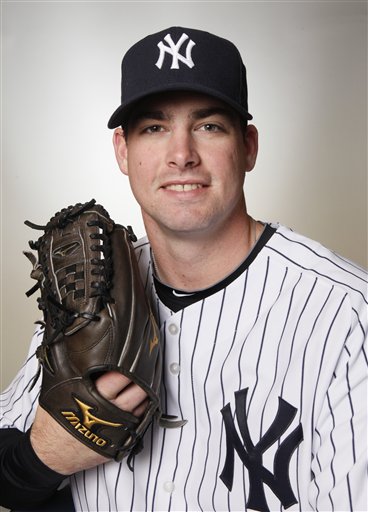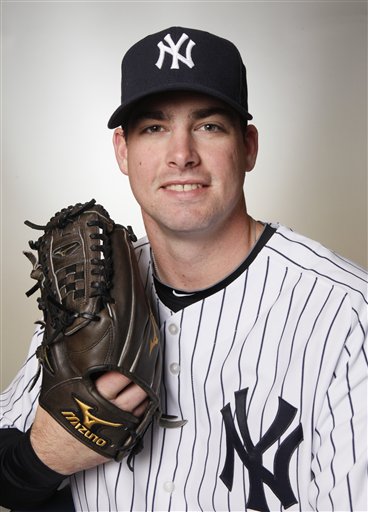 It's been clear since the start of Spring Training that the Yankees are pretty excited about lefty Boone Logan, the other guy they acquired in the Javy Vazquez trade. Considering his awful big league performance coming into the season (5.78 ERA, 4.69 FIP), most of us figured it they were just blowing smoke and trying to pump up their latest acquisition. There's nothing wrong with that, every team does it.
Logan then went out and had a strong showing in camp, allowing just four hits and a pair of walks against eight strikeouts in 10.1 spring innings. That caught our attention, but we still disregarded it until the old "Spring Training stands mean nothing" axiom. After being assigned to Triple-A to start the year, the 25-year-old southpaw from Texas allowed just four baserunners with nine strikeouts in 6.2 innings before the Yankees recalled him to take the place of the injured Chan Ho Park. Again, it's a small sample, so most of us didn't put any stock in it. The prevailing thought was that Logan got the call just because CHoP wouldn't be out very long, and there was no point in summoning Mark Melancon only to have him go stale as the 7th man in the pen for two weeks.
So far, Logan has justified the team created hype, and it appears there's more to his success than just "he's figured it out." Buried in the middle of this trade rumor piece, Ken Rosenthal mentions that the reason the Yanks are so excited is because of the results he's gotten from a minor mechanical adjustment. Pitching coach Dave Eiland suggested to Logan that he should simply lift his leg a little higher during his delivery, allowing him to get his arm out in front and use his height (he's 6-foot-5) to his advantage.
The results were almost immediate, as Logan noticed that his fastball picked up some armside run, his slider picked up some more break, and his changeup came back from the dead. Here's a side-by-side comparison of Logan's delivery this year and from his time with the Braves last year.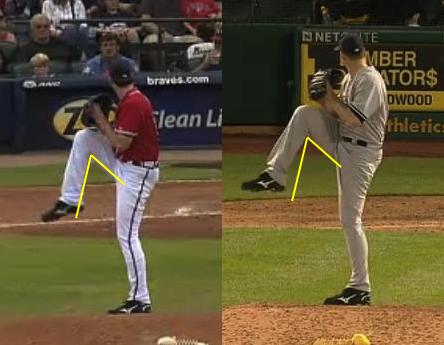 It's a subtle difference, but it's there. His knee isn't any higher, but the front of his leg is. You can also see that he's a little slouched over in the shot on the left, but with the Yanks he's a bit more upright. Seeing the difference is great, but these days we have the means to verify if their effects match up with what Logan says is happening. We're in ridiculously small sample size territory here, but we have nothing else to go off of right now, so let's examine the PitchFX data…


Right away, you see the difference in the horizontal break of both his fastball and slider. The fastball has 1.58 fewer inches of break than it has in the past, meaning it is in fact running back in on lefties, albeit slightly. The slider now features 1.74 more inches of break, which is pretty significant. It's the difference between squaring a ball up and hitting it off the end of a bat. I'm not going to bother to look at the changeup, because you could probably count the number he's thrown this year on one hand.
Let me remind you that we're talking about dangerously small sample sizes here, but at least the data we have supports the claims Logan is making about how adjusted his leg kick has effected his pitches. Whether or not these changes will translate into positive results is another story all together. For all we know, the added break on his two primary pitches could make him even less effective. I wait to pull the wait and see card, but that's exactly what I'm going to do. We have to wait and see.
Logan's success in Spring Training and in Triple-A has been one of the more welcome surprises of 2010, and it's encouraging to know that there's at least a tangible reason such improvement is possible.