Whenever the offense is struggling, we fans tend to get on the players for every little mistake. Did someone just swing at the first pitch after the last batter walked on four pitches? Terrible! Did someone swing at a fastball at their eyes? Awful! Are they swinging early in the count? Unforgivable! It's a product of frustration, both our own and the players'. They're trying to do too much while we're expecting too much.
It's no secret that the Yankees build their lineups around players that will foul off tough pitches to hit, won't expand the zone, and generally just work the count to make the pitcher as miserable as possible. During their recent schneid it's seemed like the team had gotten away from that, but is it true? Have the Yankees been working the count less over the last two weeks or so? Let's look…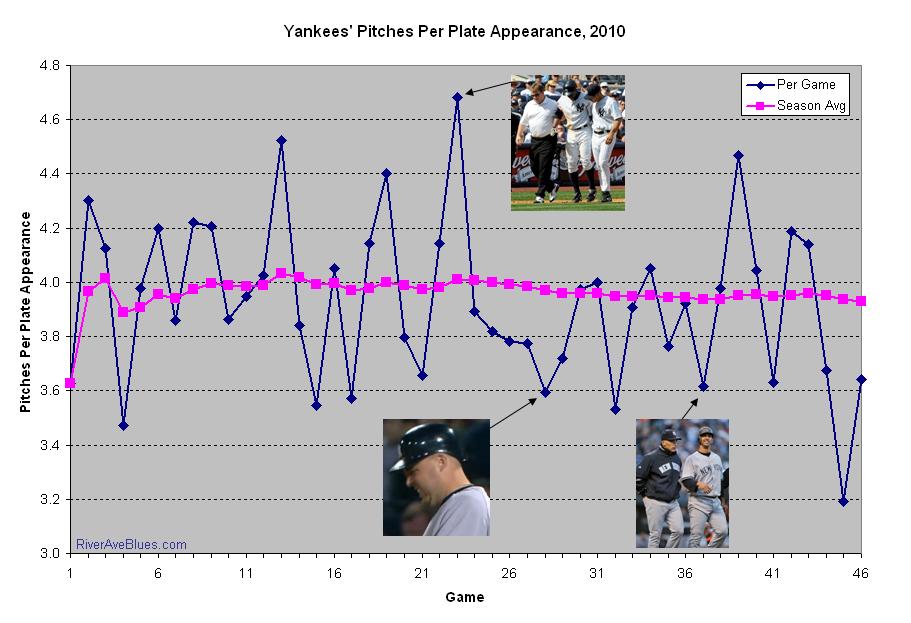 The blue dots are the team's pitches seen per plate appearances for that individual game, the pink is the cumulative total for the season. Remember to click for a larger view.
Just looking at the graph, you can see that lately the Yanks haven't seen as many pitches as we've become accustomed to, and their overall pitches per plate appearance mark has suffered in recent weeks. It's pretty amazing how the slide coincides exactly with Curtis Granderson's injury, but I suspect that's no accident. By no means are we talking about a drastic change here, but it's a very real change nonetheless.
During this streak of ten losses in 17 games, the Yanks have seen 3.88 P/PA, which is just above the 3.86 league average. In their first 29 games prior to this little skid, the Yanks had seen 3.96 P/PA. They've had seven individual games below the league average during this recent slide, but just eight before that. Even worse, there's been six instances in which they've seen fewer than 3.65 P/PA during the last 17 games compared just three in the first 29 games. Clearly, the team isn't working the count like they usually do.
Thankfully, it appears that most of this can be attributed to injuries. Granderson (4.08 P/PA career), Nick Johnson (4.26), and Jorge Posada (3.88) are all currently on the disabled list and have been for quite some time, and let's not forget that Nick Swisher (4.25) also missed a few games with a biceps injury. Replace them with Marcus Thames (3.91), Randy Winn (3.68), Frankie Cervelli (3.42) and various up-and-down minor leaguers, and that's going to put a big dent in the team's usually disciplined approach.
Despite a pair of wins yesterday, the Yankees' offense is struggling, and it's because of the combination of missing injured players and the lack of production from those who are healthy (I'm looking at you, Mark Teixeira). They're not grinding away at-bats like they usually do, but help is on the way. Granderson will play his final rehab game tonight and is expected to rejoin the team tomorrow, and Tex won't do a Jeff Francoeur impression all season long. For now, the pitching has to pick up some of the slack, and overall a little extra patience offensively wouldn't hurt.