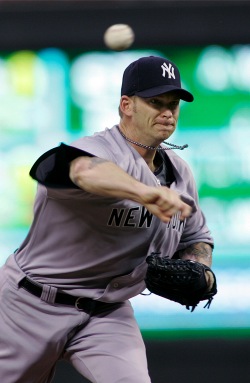 In his rain-shortened start last night, A.J. Burnett threw 75 pitches. He ran into trouble a couple of times, thanks to three hits and two walks, but each time was able to work out of it without incurring any damage. The only thing that came close was Justin Morneau's warning track shot, which I thought was long gone when it leapt off the bat. At the end of five the game remained scoreless.
Burnett's night came to a premature end after those five innings, thanks to the first rain delay, and first game suspension, the Twins have endured at their new stadium. The book is all but closed on him, with only the possibility of a win still looming. Given his limited exposure in the game — he probably could have pitched into the seventh once again — it's tough not to like what we saw from Burnett. He had troubles at times, but where last year he would have let the game get way from him, this time he kept things under control.
One thing that leaps out last night is that he threw his curveball 23 times out of 75 pitches. Burnett has cut back on the curve this year, throwing it just 23.5 percent of the time. It doesn't appear that his decreased curve usage has been an anomaly in a short sample. Even he has admitted several times this season that he's just not feeling the curveball. His increased use of a two-seam fastball has led to higher groundball rates, a positive, but as David Golebiewski of FanGraphs notes, it has been a detriment to his strikeout rate.
It was clear in the first inning last night that Burnett did not have a good feel for his curve. He missed badly with it a couple of times, and didn't hit the strike zone with the five he threw in the first. He went back to it a few times later, only to find similar results. The nasty curve on which Burnett has made his reputation would not help him very much. Yet, as I mentioned above, he didn't abandon it completely. Instead it appeared he took a bit off it, using it more as an off-speed pitch than a breaking pitch. It worked fairly well, generating three swinging strikeouts and another called one.
If Burnett can continue to adjust in-game when his best curveball isn't working, he might be able to avoid the meltdowns with which we became familiar last year. It's pretty clear that he's not comfortable throwing his changeup — he did only once last night, and that was on the ball I thought Morneau had hit into the St. Croix river. If he can keep batters off-balance with that pitch and induce grounders with his two-seamer (eight of the 12 balls in play were on the ground), he can be and effective pitcher even when he's not feeling his best. He demonstrated that last night, and he has put the Yankees in an excellent position to pick up a win.